Siem Reap, Cambodia
Even as it was happening, someone stopped to ask me what it felt like to have doctor fish feasting on my feet.
Well, the best way to describe it is how your leg feels in the first moments you move it after it has fallen asleep. Imagine those thousands of initial needly tingles as circulation starts up again. It's not quite pain, but it's definitely uncomfortable. Now, I'll be the first to tell you that I don't like anybody — human or fish — touching my feet. But this is one of those experiences that seemed truly Asian, and I was determined to try it. Sure I saw doctor fish in a storefront in Prague earlier in the year, but I didn't try it then because that just didn't have an exoticism to it.
So into the tank my feet went, and the fish did their thing. For the first couple of minutes I had to go to my happy place and use every last bit of resolve to not pull my legs out because it was so ticklish. But after that, the feeling became sort of calming, like the constant buzz and pinching of a tattoo needle. And after 20 minutes, did the fish really look fatter? Did my feet really feel softer? No, and not really. But still, it was so worth the $2 experience.
You know you're having a good vacation when you completely lose track of time. On our third heat-exhausted night here, we were trying to figure out what all we'd done and when we'd done it as we talked to fellow U.S. travelers dining at a table next to us. Our calculations: Day 1 – Angkor Wat. Day 2 – Temple, temple, temple, temple, temple, temple, temple, temple, temple. Day 3 – Temple, temple, temple. And that is the answer to "Why go to Siem Reap?" To see temples. Lots of temples. Big temples, little temples, Buddhist temples, Hindu temples, old temples, older temples, crumbling temples, restored temples, close-by temples, out-of-the-way temples. And each one is impressive in its own right. To see those temples, click here and here and here and here.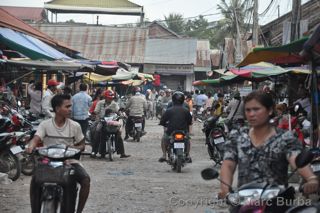 At night, Siem Reap visitors usually head down to Bar Street, which has more familiar food and drink (Italian! Mexican! Irish!). And the night streets are definitely worth a visit. But to get a true sense of what life in Siem Reap is like, we didn't have to go far. After a few days of temple overload, we strayed off the tourist path. Maybe three-quarters of a mile from our hotel was a huge outdoor food market that was definitely not designed for tourists. How do I know? Because not once were we accosted with pleas to buy bottled water or guide books or T-shirts or scarves. It was just a narrow, loud, crowded, fragrant place where people did their daily shopping for fresh meat, fish, and produce. We dodged motorbikes putt-putting along the dirt pathways, fought our way through crushes of people buying food for the evening, and squeezed past traffic jams caused when a couple of small delivery trucks tried to maneuver through the middle of the chaos.
For a quick glimpse of the city, join me on a tuk-tuk ride by clicking on the video below.
Tonlé Sap lake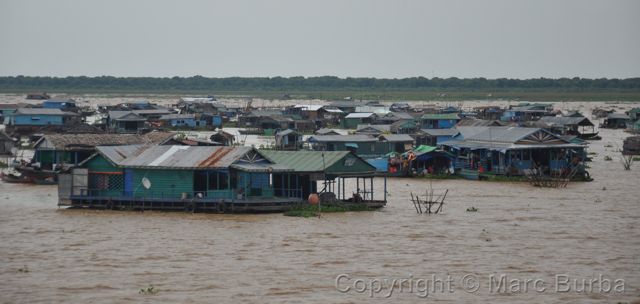 Only about 10 miles outside of Siem Reap is Tonlé Sap lake, the largest freshwater lake in Southeast Asia. We flew over it on our trips between Siem Reap and Phnom Penh and saw how large it was. Even in the dry season the lake is about 1,000 square miles, but during the rainy season it could swell to more than 5,000 square miles. And the people who live and work in the lake's floating villages move along with its rise and fall.
The lake houses a tremendous supply of fish, so we watched as fishermen used nets to pull in their catches. We docked at a small restaurant that offers snacks and drinks, climbing up to a rooftop viewing platform to take in the size of the lake and the villages. Most importantly, for how hot and humid it had been, this was the first time in days that we felt any kind of a sustained breeze.