Czech Republic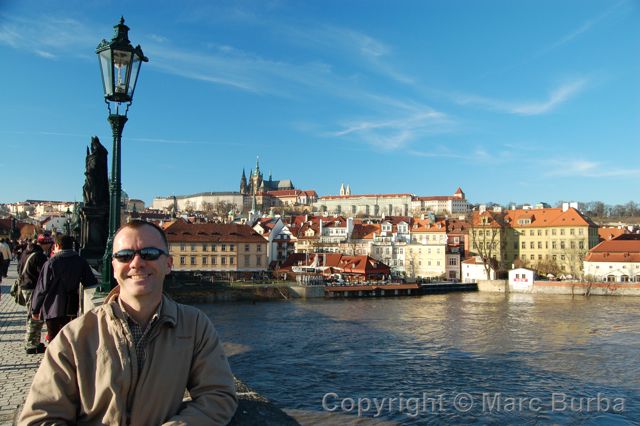 There's nothing like a good stomach flu to dampen a trip.
All my plans for a Czech beer fest aren't gonna happen. Any hopes of sampling a few of the local restaurants are shot. Even my habit of raiding the booze offerings in the Hilton executive lounge had to get put on hold. I was lucky to keep down water and a little fresh fruit.
And because Prague apparently wants to kick me when I'm down, the fire alarm goes off in the hotel at 5 a.m., sending me and other bleary-eyed guests into the lobby and the street in the freezing darkness with no explanation.
Still, it was a great trip.
The winter weather swung wildly. It was warm and sunny when we arrived, then turned cold and foggy the next day. The sun returned for a while, but on our last day it snowed just enough to coat the city in white.
Once my stomach settled, we strolled the Charles Bridge early in the morning before all the vendors set up their carts and tourists clogged the route across the Vltava River between Old Town and Prague Castle. The castle and the Lesser Town look like a painted backdrop of a movie set in the morning light.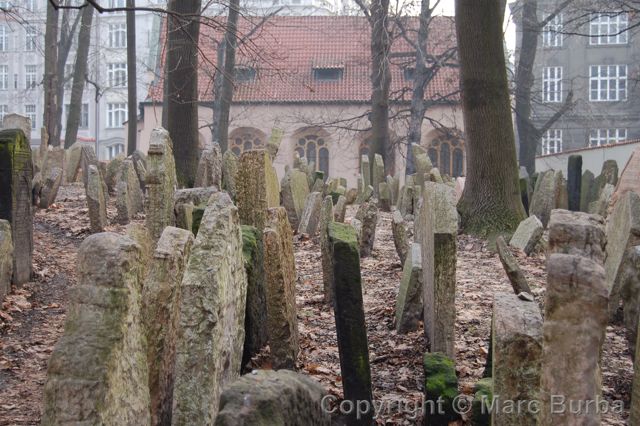 We marveled at the thousands of headstones crammed into the small space of the Old Jewish Cemetery, which was established in the 15th century and accepted burials for about 300 years. Jews had been forbidden to bury their dead outside their district, so generation upon generation was buried at a single site. It is now part of the Jewish Museum.
In the Olsăny Cemetery in another part of the city, we found the grave of Jan Palach, a student who set himself on fire during a protest of Soviet occupation in 1969. A monument a few blocks away marks the spot where he fell. The Olsăny Cemetery is the final resting place of as many as 2 million people buried since the 1600s.
And we found Kabul, an Afghan restaurant tucked on a side street in Old Town with delicious ethnic food.
Sedlec Ossuary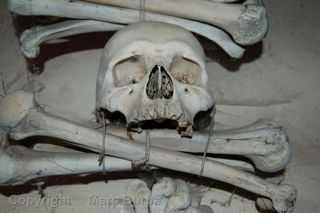 My fascination with death rituals took us about an hour outside Prague, to the town of Sedlec. About 40,000 people, some felled by war or plague in medieval times, were buried in a cemetery here, a suburb of Kutná Hora. A church was built at the cemetery in the 15th century, with a chapel underneath it to house bones from graves unearthed during construction. In the 1870s, a Czech woodcarver was tasked with arranging the bones. Garlands of skulls hang from the ceiling. Thousands of bones are piled into a bell shape, or sculpted into a huge chandelier, or arranged into a coat of arms. Dozens of skulls and crossbones frame an entry. In one macabre display, a bone-sculpted raven attacks a skull. It's a bit creepy to stare death in the face.