Angkor Wat, Cambodia
We waited years for our first breathtaking glimpse of the ancient Hindu temple Angkor Wat. And on this blazing hot May afternoon, soon after our arrival in nearby Siem Reap, we headed to the temple that rose in the 12th century.
Before we were even in sight of the temple's towers, we reached the 600-foot-wide moat that surrounds it. Our car turned the corner, and the temple finally came into view.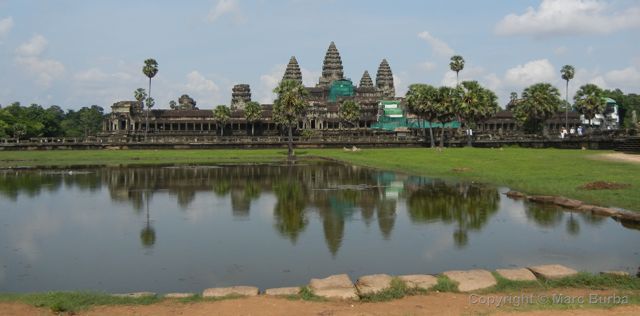 There it was — with ugly scaffolding rising from the structure directly beneath its highest central tower. And the scaffolding was swathed in turf-green-colored plastic sheeting. Wow! That really did take our breath away. Why does preservation work always seem to coincide with our visits?
We walked along the sandstone causeway that crosses the moat to the main entrance and passed through the outer wall's west portico. Once inside, as we headed toward the central temple along a wide avenue, we saw more scaffolding — and more bright green sheeting wrapped around it. Since the dominant colors of the sandstone temple are grays and tans, this construction work doesn't exactly blend. Seriously, no one in this country has heard of camouflage netting?
So our grand ideas of capturing stunning photos at sunrise or getting aerial shots from a hot-air balloon fizzled. But it didn't take long to be awestruck anyway. For the next few hours, we clambered up and down steep stairs and through narrow passageways, admiring immense bas-reliefs and carvings. We ultimately found seats on the stairs of a centuries-old library as the sun set to watch the temple change colors (all but that damned green plastic, which taunted us by staying bright). We still had a few more days to explore temples, though. They couldn't all be wrapped in green plastic, could they?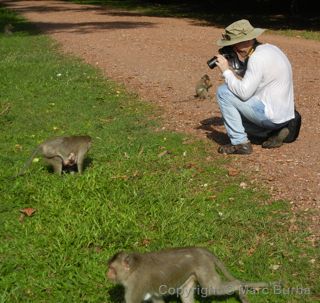 None of the guide books that we had read mentioned animals here. But as we walked around the rear of the temple, on the pathway leading to the east gate, we saw a small group of macaque monkeys eating fruit in the grass near trees. I quietly approached for a closer look. There was a moody dominant male, a couple of females with babies, and several younger animals. A few hundred feet away from this tribe a Honda motorbike was parked beneath a tree. The owner's helmet was on the ground about 50 feet from it, and several monkeys sat on the handlebars, fascinated with the bike's mirrors. They apparently tossed the helmet before deciding to use the vehicle as a jungle gym. The younger monkeys fought each other for prime positions to stare into the mirrors, one sometimes knocking another to the ground. They were having so much fun that they seemed oblivious to me standing a few feet away.