Palau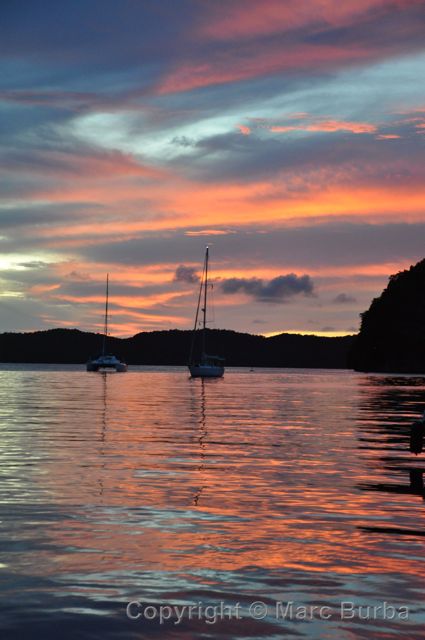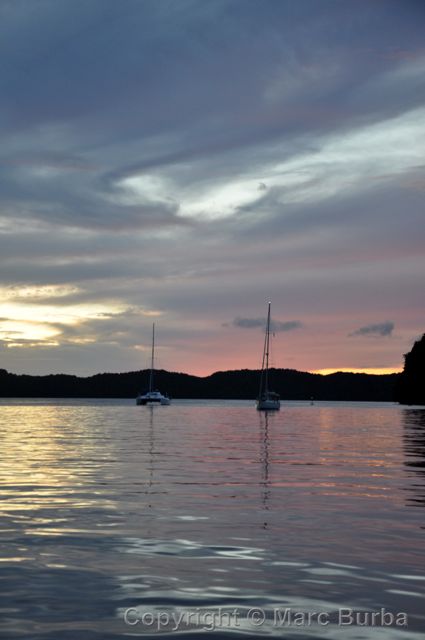 This amazing sunset was one of our final rewards for surviving a few days where a reality show was filmed.
With a Red Rooster beer in front of me, it was the view of Malakal Harbor just beyond the open-air Sam's Bottom Time Bar. The bar is the last stop of the day for divers and snorkelers just back from an excursion with Sam's Tours, a premier diving and adventure tour company in Palau.
Sam's helped us plan our stay in this remote island group east of the Philippines. It was almost Christmas, but with highs in the upper 80s and high humidity, it felt like the middle of summer — perfect for spending time in the water.
When "Survivor" filmed here in 2004 for its 10th season that aired the following spring, one of the reward challenges was a swim in Jellyfish Lake among thousands of nonstinging jellyfish. I had wanted to come here ever since. On this adventure, Palau was the main stop on a two-week island-hopping trip that also included stops in Saipan and Guam. "Survivor" filmed here again in 2007 for its 16th season.

We slept like babies in the cool air-conditioning of our room at the Rose Garden Resort. The resort is on the island of Ngerkebesang, high on a hillside overlooking the main island of Babeldaob. Our room was even higher — up dozens of steps and nestled among the hillside vegetation. Insects sang outside all night, even louder than the air-conditioner's hum. We sat on our private deck and listened to crowing roosters at sunrise, and watched storms bubble up in the late afternoon. The climate change from inside to outside was dramatic: Each morning I had to place my camera on the deck to acclimate it to the humidity again — the lenses kept fogging up. In the open-air restaurant, we enjoyed full breakfasts in the morning before heading out, and delicious dinners and beer at night before bed. A kitten adopted me there, and cuddled up on the corner of my chair during most of my meals.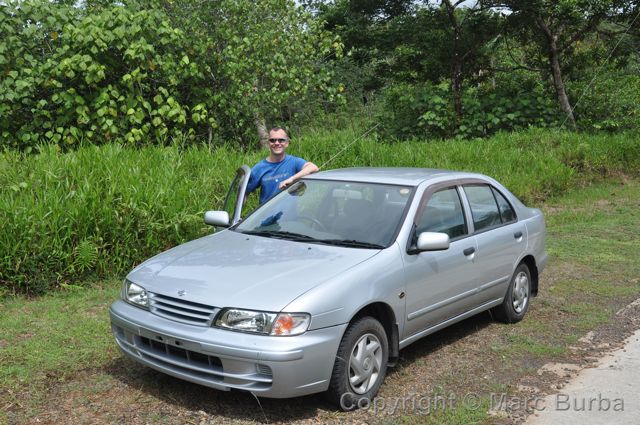 After two days in the water, we decided to strike out on our own for a driving tour of Babeldaob.
Motorists here drive on the right side of the road, but many of the cars are right-hand-drive. I was glad to see that our rental car was right-hand-drive too. I had driven one before, in Australia, and was ready for the challenge again.
So off we went, as dozens of ants marched across the console of the older Nissan. We were armed with a not-so-accurate map, but we knew there was no getting lost since the main road is a big loop of about 45 miles.
Along the way we saw the remains of a pineapple cannery, what we think was a bombed-out World War II Japanese headquarters, and the gaudy Capitol building that stands in the middle of nowhere and looks out of place on a largely undeveloped island.
Our lunch was at a remote resort along a quiet northern beach — quiet except for a talking cockatoo. It was a relaxing midpoint stop during a slow ride on a hot December day.
Join me below for a day of exploring, from an early-morning wake-up call to a full moon at night.
At the end of our stay, we didn't know in advance about the $20 departure tax and $15 "green fee" that is collected from all tourists (cash only, please) before they can go through the security line. Airlines often build such charges into their tickets, but not here. So, having only $15 in cash between us, we were turned away. The airport's only ATM was, naturally, out of order, and we really had no other options. It was almost midnight, and the flight left at about 1:30 a.m. We had left the rental car in the airport lot — doors locked, key under the mat. Luckily, about that time we ran into a fellow explorer we had met during our Jellyfish Lake excursion the day before. He didn't know about the fees either, but had enough to get us all through. It was really the only downside of the stay. A cash-only departure tax is more like a tourist scam. We could picture the native security guy pocketing all the bills.