Guam
This is the first place I've ever visited where tourist attractions come with apologies.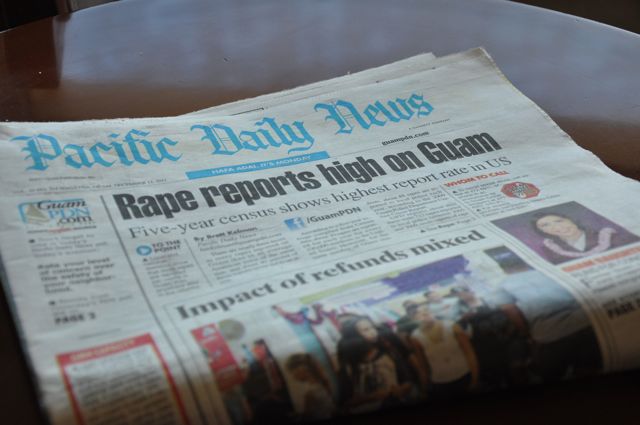 I should have expected as much. On our first stop here, on a brief airport layover en route to Saipan, the headline in the local newspaper announced a triple murder. A few days later — the day we settled in for a visit — the headline is what you see at the right: "Rape reports high on Guam". The tourism board must have been proud to have that paper slipped under every hotel room door (that's seriously where I saw it for the first time).
I guess when you're confronted with those headlines, and your arrival impressions are tainted by TSA and hotel employees with no social skills, it's destined to not get much better. Still, we held out hope to salvage some fun between an overnight flight from Palau and an onward return to Hong Kong. We had 14 hours.
After a few hours of sleep, we struck out in a rental car — tourist map in hand — to find a few notable spots in this U.S. territory.
Japan occupied Guam during World War II until the United States liberated it during a bloody 1944 battle that killed thousands of Japanese troops. Today, the island draws a lot of Japanese tourists and still has a strong U.S. military presence. We figured a good starting point would be the War in the Pacific National Historic Park.
After fighting stop-and-go midday traffic along Marine Corps Drive, one of the main drags on the island, we arrived to find this sign: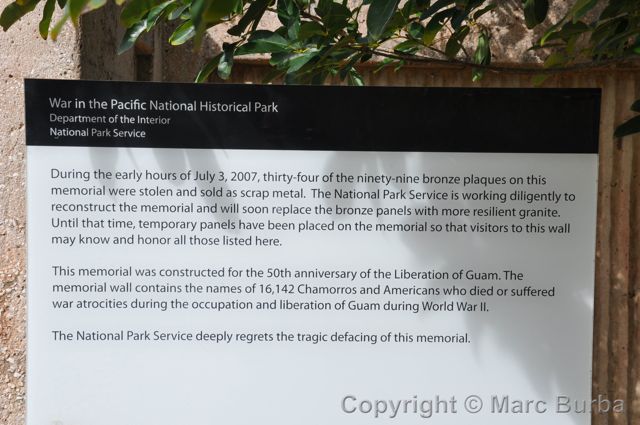 Wow, more and more this place is seeming to be Wild-West lawless. What we saw of the memorial, however, was a nice tribute to the people of Guam who died during the occupation and the U.S. troops who liberated the island. Too bad it had to be defaced.
Another intriguing map point was Statue of Liberty Park in the village of Hagåtña, which promised a replica of Lady Liberty overlooking the water, so off we went.
The sign at the forlorn statue's base noted that it had been vandalized in 1990, and a replica had replaced it. Even the replica was damaged. We started to question our own safety by this point.
Not every stop was bad, though. Latte Stone Park, with several centuries-old building stones relocated in the 1950s, was surprisingly theft- and vandal-free. A curiosity here is the entrance to a World War II-era Japanese tunnel system that's on the National Register of Historic Places. A sign nearby warns to "Enter at your own risk." Since we didn't have flashlights (or weapons to protect us from any thieves or vandals lurking inside), we were satisfied to look at the entrance.
After a few more brief stops and more crawling traffic along clogged Marine Corps Drive, we decided we had seen enough. So we dropped the car off early and headed back to the airport, figuring we could at least relax in the United Club lounge for a few hours before the flight back to Hong Kong. In most club lounges just about anywhere in the world, televisions are tuned to a cable news network or local news. Here, the staff was glued to a "Teen Mom" marathon on MTV. Yeah, it was time to leave.