Palau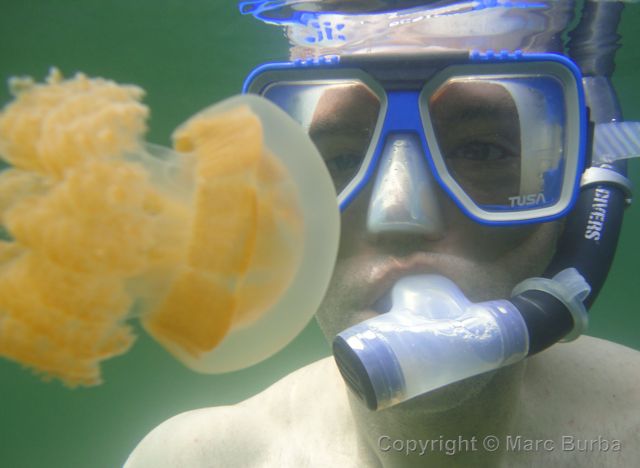 At first, all we saw was green.
After two days of swimming and snorkeling in the crystal-clear waters of Nikko Bay and around the Rock Islands of Palau, this marine lake was murky and almost lime green near the surface. Still, we knew a reward awaited, so we swam almost blindly toward the middle.
After a few minutes I caught a quick glimpse of a glowing figure pulsing by beneath me. A few yards farther and a couple more apparitions came into view.
Then three. Then a dozen. Then hundreds. Then thousands.
And just like that, I was in the midst of thousands of nonstinging, golden jellyfish in a destination I had dreamed about since seeing it on CBS's "Survivor" back in 2005 — Jellyfish Lake.
The gentle and delicate creatures migrate across the lake each day following the sunshine to acquire nutrients for the algae living in their tissue.
The palm-sized jellies brushed past us, bumped into us, and danced before our eyes. Even though dozens of other people were in the water with us, the lake is so large and murky that it felt like we were alone with the jellyfish. Enjoy the video of my swim below.
The Rock Islands
Jellyfish Lake is in Palau's Rock Islands, southwest of the island of Koror. The snorkeling here was better than anything I had experienced in Hawaii or Fiji. Colorful fish swam inches from us as we snorkeled in warm water that ranged in depth from about 6 feet to more the 100 feet, with sometimes-steep drop-offs. I was jealous of the divers who left on other boats in the mornings to explore shipwrecks and sunken World War II-era planes. Maybe that will be a new learning experience for me. Check out the fish encounters below.
Nikko Bay
We eased into our Palau adventure with a day of kayaking in Nikko Bay, complete with a swim in a marine cave during which I climbed up the steep limestone at its mouth and jumped in from a ledge about 30 feet up. Me and heights don't go well together, so it took a little coaxing from our guide before I finally relented.
I also swam through a marine tunnel to reach Disney Lake, a marine lake in the bay. The tide was rising, so only a few inches of space remained between the tunnel's limestone ceiling and the water level. My snorkel scraped along the ceiling, and I scraped my head more than once, during the claustrophobic passage. Like Jellyfish Lake, it was a freaky experience. Join me during the tunnel passage by clicking on the video below.
Find out more about our Palau adventure by clicking here.