Saipan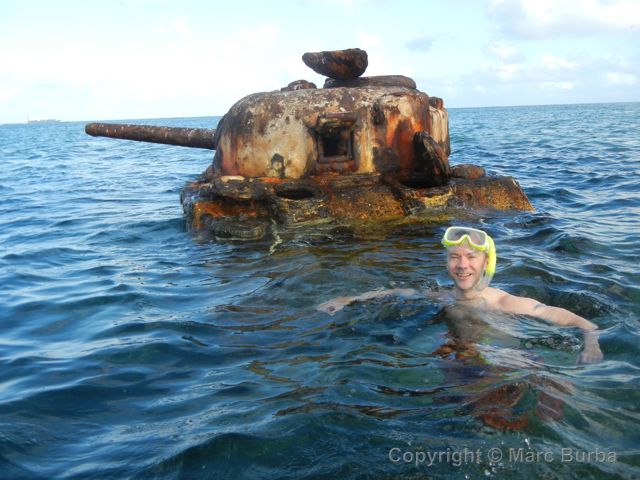 A few hundred feet off Oleai Beach on the west side of this remote Pacific island sit two rusting Sherman tanks that have been stranded in the shallow water since a World War II battle. They're a popular draw for swimmers and snorkelers, as well as fish that dart in and out of the sprockets and treads that have become part of the reef system.
This island in the Northern Marianas chain, almost 6,000 miles west of Los Angeles and 1,500 miles south of Japan, was the site of a prolonged assault that left thousands of U.S. and Japanese soldiers, and thousands of civilians, dead. Today it attracts mainly Japanese and Korean tourists who pay their respects at the sites where their ancestors were killed or committed suicide during the fighting. American tourists aren't as common in this U.S. commonwealth, primarily because of its distance from the U.S. mainland.
Over the three-week battle in June and July 1944, more than 70,000 U.S. troops landed here. More than 3,000 were killed, and 13,000 were wounded. The casualty count rivals D-Day, which took place earlier that June. On the Japanese side, about 30,000 troops died, including about 5,000 who committed suicide by jumping from cliffs or blowing themselves up with grenades. About 22,000 civilians died during the battle too — some jumping from cliffs on the northern end of the island onto rocks or into churning water below for fear of being taken by U.S. troops. Click on the video below for a tour of the key sites.
Before we started our self-guided island tour, we stopped at the American Memorial Park Visitors Center. The center, run by the U.S. National Park Service, has a short video and static displays detailing life here before, during, and after the war. The helpful staff gave us information about how to get to main sites as well as a few lesser-known places. We even got waterproof cards to help us find underwater airplane and shipwrecks, which made me want to learn how to dive. A Driving Tour of Historic Saipan map (about $4) helped us find even the remote spots and told us about their importance.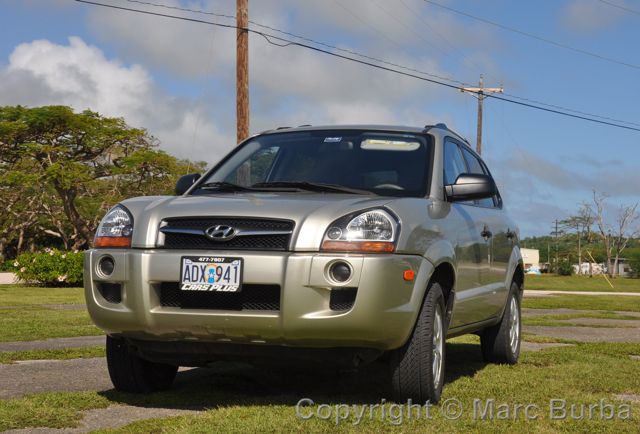 Our best investment here by far was springing for a rental vehicle. We saw tour companies that primarily catered to Asian visitors making brief stops at memorials, but by striking out on our own we went at our own pace, walked around a bit more, and looked for the out-of-the-way places where tourists rarely stop. Even after three days, we had put less than 100 miles on the little Hyundai Tucson. The cost for a few days is comparable to a single round-trip taxi ride between the airport and a Garapan hotel.
We have to give credit to the island government for employing security guards at many of the remote historical sites. Tourists are easy targets for thieves, and petty crime is all-too-common on islands, as we learned living on the Big Island of Hawaii. From a brief stay on nearby Guam, I'm guessing crime there is as common as an ocean wave. Here, we were often the only visitors walking around a memorial site or a scenic overlook. It was good to know we were never completely alone.
Probably one of the least visited spots is within sight of the island's airport. Tanks and other weapons from all over the island have been brought to the former As Lito Airfield Complex, where they rust near shells of Japanese administration buildings along crumbling roads. We found the site with our map after driving on a few roads that seemed to go nowhere. We stopped here twice during our stay, and didn't see another soul either time. A large part of the complex has been reclaimed by vegetation taller than me, so we could only guess what it hides.
For a break from history class, there is Managaha Island, just off the coast near Garapan. It's a nice snorkeling spot, but it quickly gets overrun with Asian tourists wearing lifejackets and water wings in the shallow water. Tour guides made sure they stayed clustered within a roped area, presumably so they wouldn't float off into the Pacific. We found a quieter stretch of white-sand beach by walking to the side opposite ferry landings. Fallen trees partially blocked access, but the payoff of a few minutes on an empty stretch of beach was worth the effort of navigating around them.
Spend a minute on the water by clicking on the video below.
Eating
There's a surprising lack of information about places to eat, so every day we hoped for the best with our stops. These are our top choices (I couldn't find Web sites for any of them):
• Java Beach Espresso and Cafe at the Park, Garapan. Telephone 233-1010/1012. For a morning coffee or a great Eggs Benedict for breakfast, and lunch and dinner specials, find this small place along Micro Beach Road near the Hyatt hotel and across from the American Memorial Park.
• We found two good Thai restaurants, each with different atmospheres. Mai Thai Spices is farther south, along Beach Road in the island's San Antonio area. It's nothing fancy — just a counter and a few tables and chairs — but the food is great. It appears to cater more to locals. Telephone 235-3173. The Thai House Restaurant on Beach Road in Garapan is more visitor-oriented, with a darker dining room for a more formal experience. The Pad Thai is excellent. Telephone 235-8424.
• A good chain is the Hard Rock Café, which anchors the DFS Galleria in Garapan. This upscale indoor shopping center looks out of place amid the small, local businesses and homes that surround it. The Hard Rock has friendly staff and live entertainment most nights.
• For snacks, try Herman's Modern Bakery along Airport Road. We had our first taste of their treats in the form of coconut macaroons on the short flight over from Guam, and we were hooked. Stop in to choose from a large variety of cookies, cakes, bread, and other treats.