Istanbul, Turkey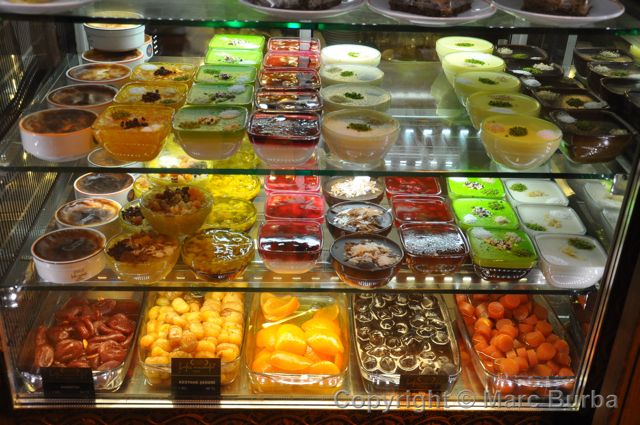 There was no way we could just pass by a window display like this.
This is Edebíyat Kıraathanesí, a cafe that serves all the sweet treats of Istanbul candymaker Hafız Mustafa. It was just around the corner from our hotel in the Old City, and it was one of our first stops after we arrived. We started slow that first night — just some pistachio and milk pudding, Turkish delight, and traditional tea.
And then we went back.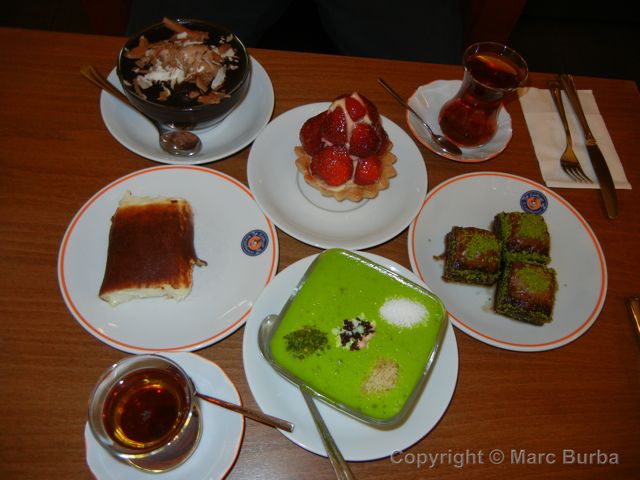 The desserts on this night, our second visit, were our dinner. This is what our table looked like right before we dug in for a sugar overload that was so bad but oh so good. Clockwise from the top left: chocolate pudding covering a cream-filled eclair, a strawberry tart, baklava drizzled with honey and chocolate with ground pistachios on top, my pistachio and milk pudding, and chicken breast pudding (yes, a sweet, thick pudding made with boiled chicken, milk, sugar, and cracked rice). And more tea.
Edebíyat Kıraathanesí isn't just a haven for tourists. The bright rooms were filled each night with a good mix of natives and foreigners, old and young. The people at the table to the right of us on this night spoke Turkish, while off to the left came a British accent. A woman behind us was a Yankee. She took a photo of our treat-filled table too. And before our Istanbul visit ended, we came back here a third time.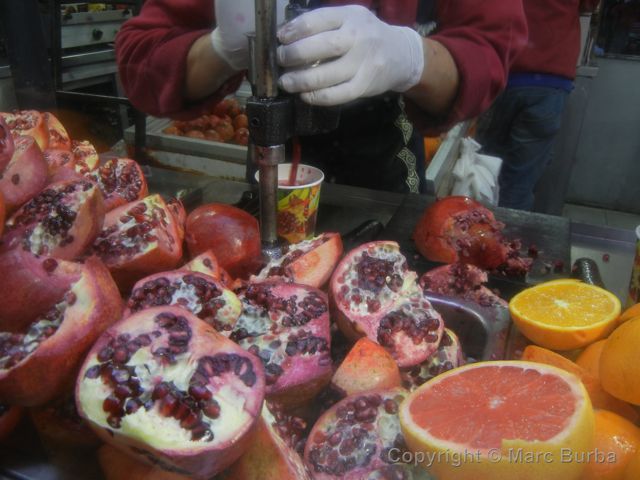 Istanbul's street food is just as good. Vendors set up shop in the usual tourist traps, and also along the narrow lanes where the locals go to eat and shop and play. There's nothing like a dose of healthy, fresh-squeezed pomegranate juice (or orange juice or grapefruit juice) after a long day of sightseeing. On a cold night, I bought a hot cup of salep from a street vendor. The thick and sweet milk tea has a sprinkle of cinnamon on top. I drank it slowly, but still burned my tongue.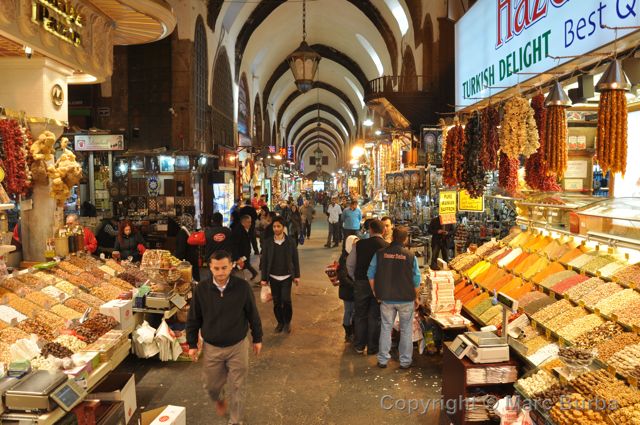 And then there are the spices. We learned long ago that loading up on trinkets to remember our trips is a waste of money and space. Mementos from Iceland and Brazil and Norway gather dust or stay hidden in boxes, saved from the donation pile by guilt. I guess that's why the crowded and chaotic Grand Bazaar didn't impress me. Cigarette-smoking touts making half-hearted pleas to draw us into a stall selling the same mass-produced trinkets or knockoff clothing we'd already seen 50 times that day had no appeal. Now our souvenirs are the tastes and the smells of a city. In Istanbul, there are a lot of choices.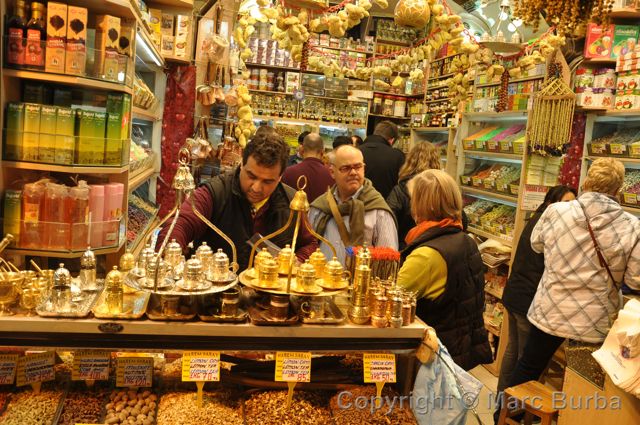 We headed to the spice bazaar near the Bosphorus to be overwhelmed with mouth-watering aromas and tastes. A lot of the stalls end up looking the same, with the same offerings of spices, tea, nuts, and candy. The trick is to find a reliable vendor that will properly package any purchase for a long flight. We settled on Harem Saray, drawn in by the samples and settled on by good word-of-mouth. Over three stops at Harem Saray in two days, we walked out with three flavors of Turkish delight, pistachios, cashews, sesame-covered peanuts, and vacuum-sealed bags of Ottoman spice, chicken spice, and meatball spice.
You'd think that all we did here was eat, but there was so much more to see and do. The food was just our energy for full days of touring the sights. From ancient mosques to ancient towers to an ancient underground cistern, and even a cruise up the Bosphorus Strait to an ancient hilltop fortification, we fell in love with the city.
The Istanbul experience is more than tastes and smells. It's also sounds. Click on the video below for an evening prayer call from the Blue Mosque, which echoes throughout the Old City.