Tromsø, Norway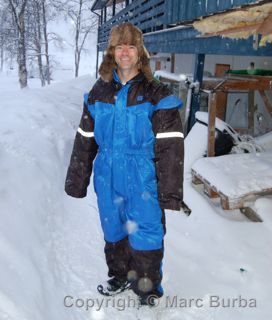 I wanted to do something unique and memorable for my 40th birthday. I got a whole lot more than I bargained for.
I decided to see the Northern Lights, and pair it with some outdoor adventures in the Arctic Circle. So we arrived in Tromsø, Norway — the Gateway to the Arctic — in late January, a day after a storm had dumped several inches of snow on the city and shut down the airport. We were lucky to get in. But the gray clouds were darkening and closing in again.
The first snowflakes began to fall soon after we dropped our bags at our hotel near the city's main shopping area. It was early Saturday afternoon.
Saturday night: More snow.
Sunday: Snow.
Monday: Snow.
Tuesday (my birthday): Snow.
By Tuesday, the local paper was reporting record accumulations, people being rescued after avalanches, and more avalanche dangers.
I got my adventure.
Tromsø is in the aurora borealis oval, making it one of the best places in the world to see the Northern Lights during the long, dark winter days here. Plus, it's above the Arctic Circle. This was my first of two trips so far crossing 66 degrees north latitude.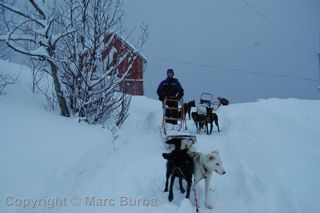 My birthday adventure was dogsledding in the Lyngen Alps. Our guide picked us up in Tromsø and drove through the storm, over slick roads and past small avalanches to get us to the town of Oteren, where dogs and sleds awaited us. We suited up, got the dogs and equipment into a four-wheel-drive pickup and headed out to the sledding route. The snow was so deep that the truck got stuck in the woods along the way. And the snow was still coming down. As night fell (around 3 p.m.), we started sledding. The eager dogs strained to pull us through the deep snow but managed to get us through woods and fields. As we stopped in a clearing for a meal over an open fire, the snow stopped, the clouds cleared, and the Northern Lights began to flare in the ink-black sky. With no clouds anymore, the temperature plummeted even further, to the low teens. We finished our meal, which included reindeer stew, and headed back to the truck, then to our host's home for hot coffee. The aurora continued to dance in the sky during the long drive back to Tromsø. Not even the city lights could obscure the show of green streaks and dancing purple and pink ribbons. The show lasted for hours.