Iceland

The hot water feels so good as I settle in. My body vanishes just below its milky, pale blue surface as a nearby power plant chugs steam from smokestacks. Heads and shoulders seemingly attached to nothing bob here and there. I bob to a far corner, find a natural seat on a rock, and reach down into the squishy sediment at the bottom. I bring up a handful of white glop and start smearing it all over my face and neck.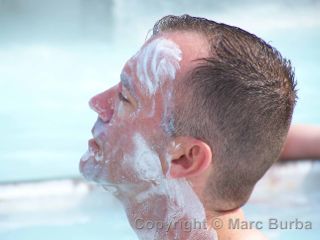 The sprawling Blue Lagoon doesn't seem crowded simply because of its size, though there are easily 200 people here. This reservoir of geothermal seawater is about 45 minutes outside of Reykjavik, and even closer to the country's international airport. It's a popular stop for travelers on layovers. The lagoon is fed by volcanically heated water that first runs turbines at the neighboring geothermal power plant and generates heat for a municipal water system.
People began bathing here in the 1980s and noticed positive effects on psoriasis and other skin problems because of the mineral-rich water and that white glop, which is silica mud. They also clean and soften skin.
The water is completely renewed every two days, and the temperature is constant between 98 and 102 degrees. With the do-it-yourself mud treatments — slather, rinse, repeat — and the pure exoticness of the place, it's easy to spend hours here. We soaked three times over the course of a weeklong spring visit. A few months later, we were back again to experience it in the freezing cold and long darkness of a Scandinavian winter. Each time, our skin came away as smooth as a baby's bum.
Still, I will never forget my first time.
Not just the Blue Lagoon experience, but the international experience. My partner had decided on this strange land for a birthday trip. So, passport in hand, I boarded a plane to leave the country for the first time. That five-hour, red-eye flight seemed so long. Now it seems so quaint.
What a great place to begin an adventure. Want to climb on a glacier? Done. Walk under a waterfall? Check. Feel steam rising from a volcano? Been there. Ride an Icelandic horse? Giddyup! Eat a puffin? Yum.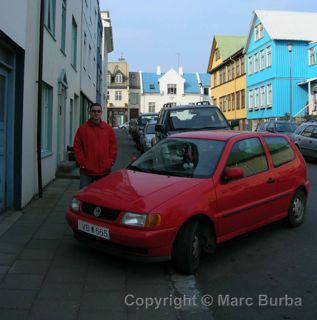 Economical, fuel-efficient pocket cars outnumber the monster four-wheel-drives that are common in the United States. Countless bumpers are scuffed from drivers trying to squeeze into narrow parking spaces on narrow streets. If those spaces are too small for parallel parking, it's nose in and up on the sidewalk — pedestrians be damned. The few highways in and around the capital city quickly shrink to two-lane roads that head out over old lava flows that remind me of a Pennsylvania coal region landscape, or the Big Island of Hawaii.
During our first visit, the northern latitude kept nighttime brief. It still was dusk at 11 p.m. and light started creeping in around 3 a.m. It was a rare week of sunshine and temperatures in the 60s.
We returned the following year in winter, when there's only a few hours of daylight and it's freezing cold. At this time of year, the geyser Geysir, which hurls steaming water hundreds of feet skyward, and the great waterfall Gullfoss become giant ice sculptures.
Iceland is a land of contrasts: glaciers and volcanoes, barren land and powerful rivers, bland food and outstanding hot dogs. No matter where I travel, this will always be one of my favorite places, because it opened up the world to me.