Hawaii: Kauai
One of our biggest regrets during our two-year stay in Hawaii was that we only visited the island of Kauai once. Maui became our place to relax, and Kauai just ended up taking a backseat. But during our one weekend there, we tried to take advantage of all it has to offer.
It has a feel all its own. Oahu has the tourist crowds and the chain restaurants. The Big Island is wetter and a bit rough around the edges. Maui has beautiful weather and is more upscale. Kauai, I think, falls somewhere between Maui and the Big Island — it has its upscale parts and its rough edges. It has sunshine and rain. And in some ways, it feels more remote the other three main vacation spots.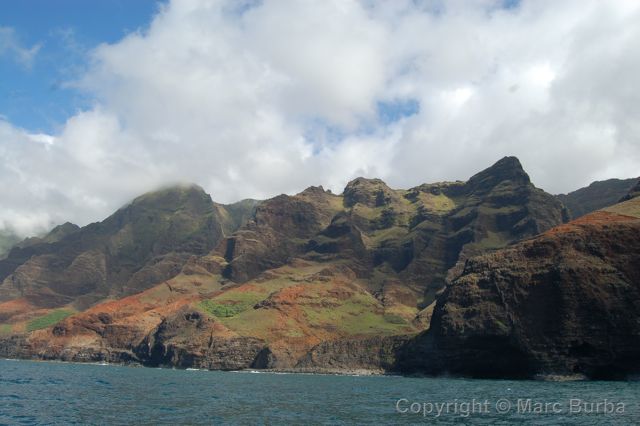 The remoteness really comes into focus during a sailing tour of the Na Pali Coast. Our four-hour sunset sail was on a 55-foot catamaran operated by Capt Andy's, one of several tour operators on the island. We ate dinner on the water while taking in some of the most dramatic, colorful cliffs anywhere in the state. On this day, we saw plenty of marine life swimming near the catamaran: humpback whales, spinner dolphins, and sea turtles.
We had hoped to see Waimea Canyon, too. We did, for about five minutes before clouds and rain closed in over the sights. It stayed socked in the entire weekend. Oh well.
The Big Island
To learn more about my experiences on the Big Island of Hawaii, click here.
Oahu
To learn more about what Oahu has to offer, click here.
Maui
To learn more about beautiful and relaxing Maui, click here.