Hawaii: Maui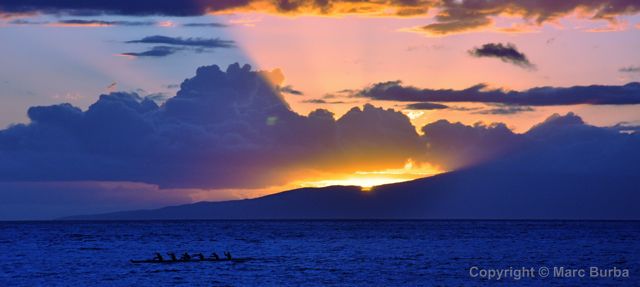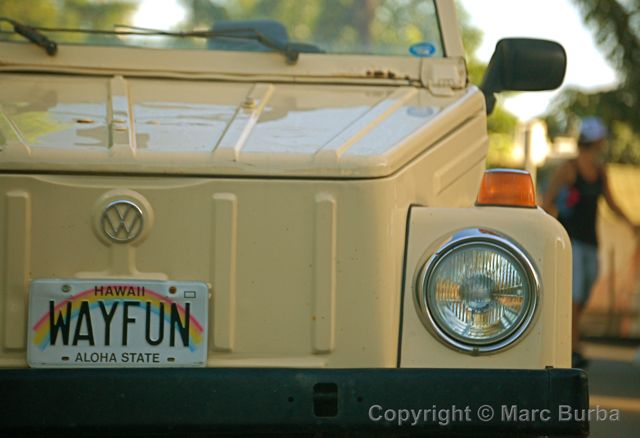 When I left Hawaii after two years of living on the Big Island, I was pretty surprised as I looked through all my photos to not find more from Maui. But then I realized that it's the place we regularly went to relax, and being tourist-minded rarely was part of the equation. We have a good friend and gracious hostess here, so many of our visits were just to kick back and visit local restaurants or walk along the beach. We really were on island time for a while.
A return
More than a year later I returned to Maui as a visitor instead of a Hawaii resident. I was able to enjoy seeing friends and gorging on food and drink and just being a tourist for a few days. I got back on island time again, and it was good. Click on the video below to unwind and relax.
Ono eats
"Ono" is Hawaiian for "delicious." Luckily, a longtime resident introduced us to her favorite restaurants, and we quickly adopted them as our own. During our most recent visit, carving out time for stops at our haunts was our top priority. Sure, hotel dining is convenient, but why not hop in the rental car to find the places that locals love? Here are a few excellent choices, with prices ranging from pretty cheap by Hawaii standards to "I don't want to even look at the bill" expensive.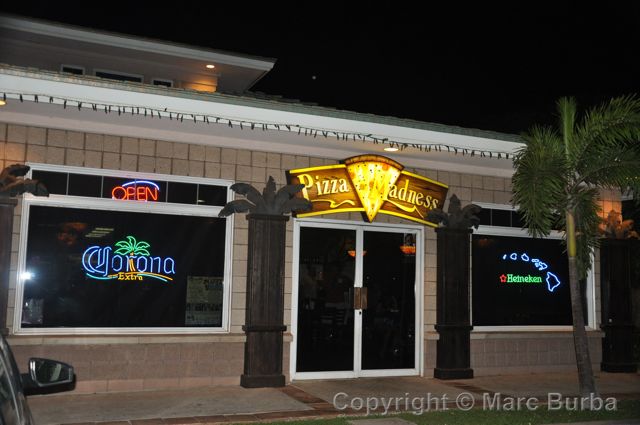 Pizza Madness: This small restaurant in Kihei has only about a dozen tables, and they're usually full. It's a simple menu of salads, sandwiches, spaghetti, sides, and of course pizza and beer. We usually start by splitting a half-order antipasto salad (it's huge) before digging into a pizza with fresh-made dough and homemade sauce. Several flat-screen TVs are tuned to various sports channels (we will always remember this as the place where we learned about the crash that led to the unraveling of Tiger Woods' career), and in the evenings we sometimes find a balloon sculptor entertaining the keiki. The Pizza Madness motto is "Better living through pizza." It's at 1455 S. Kihei Road, in the same building as a Maui Dive Shop. In fact, an interior door opens to the dive shop store.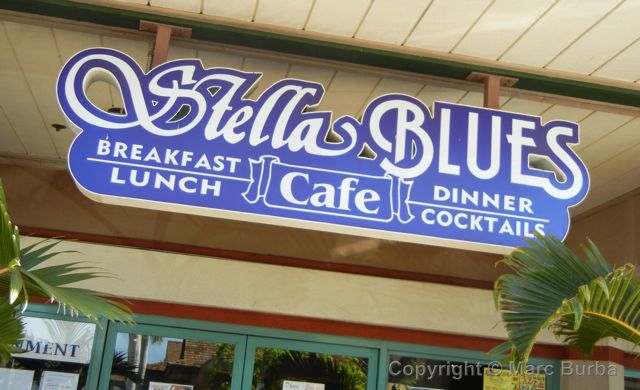 Stella Blues: The owners named it after a Grateful Dead song, and the Deadhead theme is alive and well on framed posters lining the walls. But even if you're not a rabid fan of the band, you'll easily become a fan of this Kihei restaurant. This is our spot for breakfast, and without question our favorite restaurant on the island. On any given trip to Maui, we end up here at least two or three times for the Eggs Benedict, which has a thick ham cut atop an English muffin and is topped with homemade hollandaise sauce. It's got homefries on the side and hot coffee in a signature cobalt blue mug. In the evening, we'll opt for a dinner of locally caught fresh fish, though the extensive menu has dishes for any taste. There's also live entertainment each week. Stella's is at 1279 S. Kihei Road in the Azeka's II shopping center.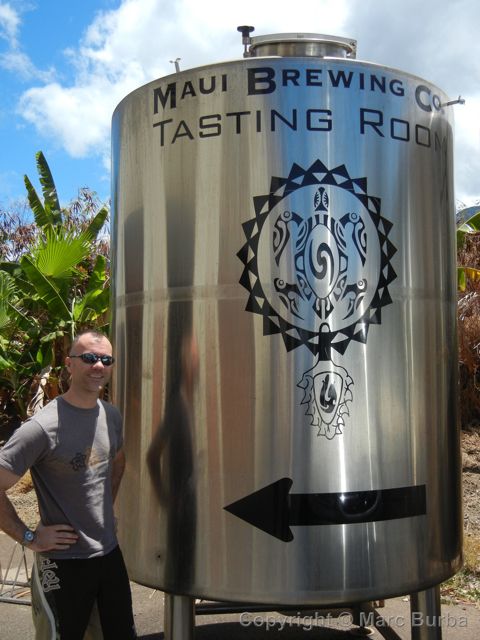 Maui Brewing Co.: When I moved away from Hawaii, leaving behind my Coconut Porter beer ranked among the great tragedies. Even though it is finding it's way into the mainland market, it's still tough to find. On our most recent trip here, we decided to make a pilgrimage to the source. The brewery itself in Lahaina has a tasting room and regular tours of the small operation that only started in 2005.
A few miles up the road is a brewpub with even more local beers available, as well as your standard pub fare (the Maui onion soup is excellent). It's a great stop in the middle of the day to pass the time sampling the latest brews.
The brewery is at 910 Honoapiilani Highway No. 55 in Lahainatown. Its hours are limited, so check the Web site (the link is on the right) before heading there. The brewpub is in the Kahana Gateway Center at 4405 Honoapiilani Highway No. 217.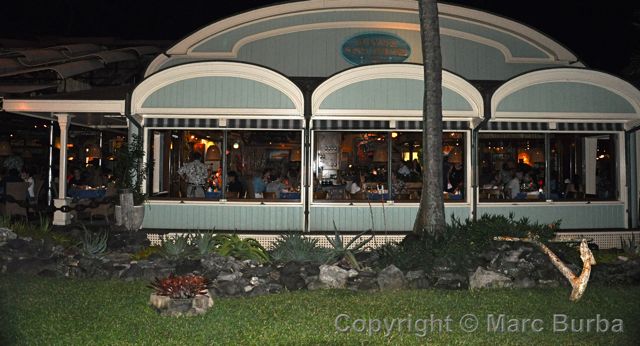 Mama's Fish House: This restaurant outside of Paia doesn't look like much from the road, but the parking lot was packed on the night we visited (it's packed every time we pass). And with good reason. On our first visit here with friends, I had never before heard so many contented sighs at one table. Each bite is the perfect mixture of flavor. All that goodness comes at a price — dinner for four was well over $300. It could have gone even higher if we hadn't shown restraint on drinks and dessert. But the service is outstanding, the beachfront setting is breathtaking, and the valet parking means you don't have to waddle as far back to your car. It's at 799 Poho Place, Paia, at Mile 8 on the Hana Highway outside of town. Look for the fishing boat at the entrance.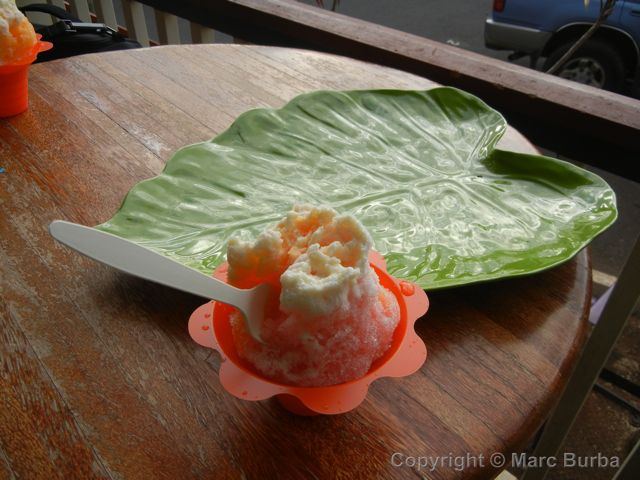 And of course, no trip to Hawaii would be complete without enjoying an authentic shave ice. Don't settle for crushed ice with the consistency of a sno-cone. A shave ice is just that: shavings from a block of ice. It's fun to watch it being made. It's even better to eat. For a demonstration of the process (you'll see how the one in this photo was made at Green Banana Cafe in Paia), click on the video below.
Whale watching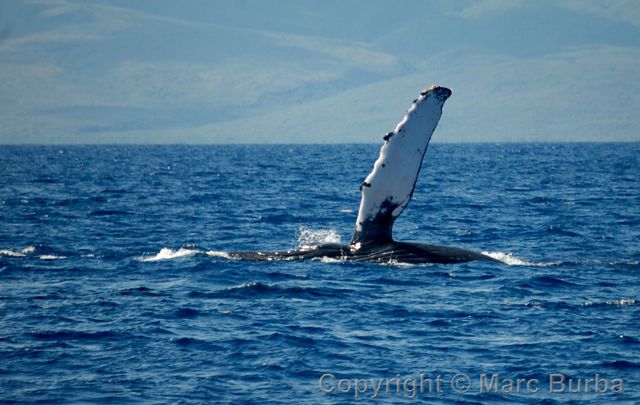 In the wintertime and well into spring, Lahaina is a base for whale-watching tours, which last about two hours. Even though we could watch humpback whales breaching from the lanai of our Big Island home, being close up with them on the water gave us a better appreciation of their size. We chose Pacific Whale Foundation tours because of their reputation for education and conservation. A link to the site is at the right. The whale-watching season begins in late November or early December and lasts into May, but winter months are the prime time for an up-close encounter.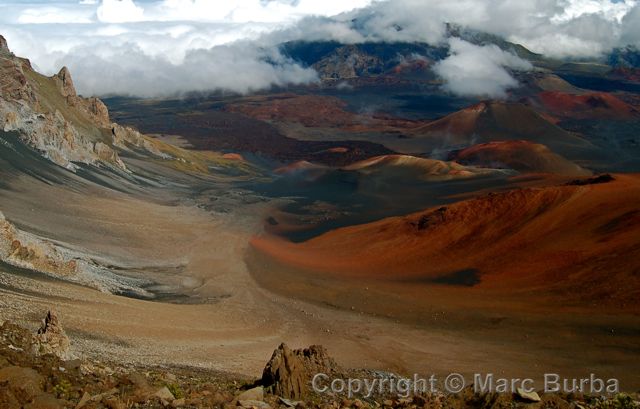 Another must-do is the upcountry drive to the summit of Haleakalā. It's a great day trip along the steep, narrow roads to the colorful landscape atop the mountain. Don't adjust your screen — these really are the colors you'll see here. The drive is between 35 and 40 miles from Kahuliui, and will take about 90 minutes — longer with stops for scenery and eating.