Cusco, Peru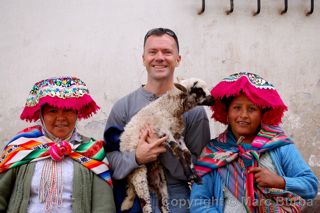 FYI: Altitude sickness is real. And it sneaks up on you.
We felt fine when we arrived in Cusco (elevation about 10,800 feet above sea level) after an hourlong flight from Lima, but we braced for the effects of oxygen deprivation while we acclimated. After an hour or so, though, no headaches or nausea. Would we escape the effects? The staff at Hotel Monasterio offered us coca tea upon our arrival, which we gladly accepted and sipped in the lobby as they processed our reservation. We knew that the tea is a common remedy here for altitude sickness, because it helps the blood absorb oxygen. Better safe than sorry.
With our bags safely in our oxygen-enriched hotel room, we walked the couple of blocks to Cusco's main plaza, the Plaza de Armas, for our first glimpses of the city. And then it hit: A feeling of pure exhaustion, with just a hint of nausea and a touch of a headache.
We figured we'd take a brief nap; it ended up lasting about three hours. So that's what altitude sickness feels like.
By the evening, our lethargy had passed and we felt good to go. We kept drinking the coca tea though.
Five-star luxury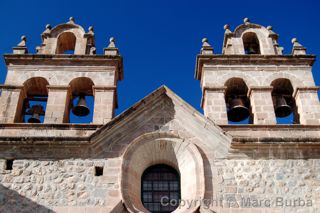 The Hotel Monasterio is a five-star Orient-Express hotel in a former monastery that dates to the late 1500s. Soft Gregorian chants echo through the archways and courtyards. A stunning chapel is laden with gold, while religious artifacts and paintings are preserved and displayed throughout the property. A 300-year-old cedar tree towers over a fountain and flowerbeds in the central courtyard, which is a nice stop just for a morning coffee or tea. The lobby is elegant, and the restaurant is fantastic. It's where I got my first taste of guinea pig, a common dish in Peru.
This part of the world is on so many bucket lists. How many people stare at their screensaver shot of Machu Picchu and wish they could be there? Cusco is the gateway to the Machu Picchu experience, and it was our base for about a week. To learn more about our journey to Machu Picchu, click here.
There's so much else to see in the area around Cusco called the Sacred Valley. We wanted to drink it all in, and luckily we carved out enough time do it after our Machu Picchu adventure. To learn more about those sights, as well as our time in Lima, click here.
Corpus Christi festival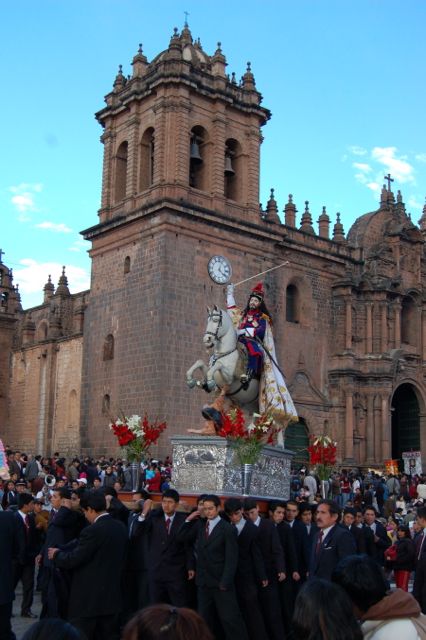 After a day of touring the Sacred Valley, we returned to the Plaza de Armas to a crush of people in the late afternoon. This was the the Corpus Christi festival, the Catholic festival of the Eucharist that takes place 60 days after Easter Sunday. Men hoist heavy wooden platforms carrying statues of saints and virgins onto their shoulders. Many of the men are barefoot, and the strain of the weight and pain of the load is obvious on their faces. One platform came dangerously close to tipping over — onto spectators that included me — after a few men lost their balance. They regained their footing just in time.
The statues, 15 in all, are carried down the stairs of the Cathedral of Santo Domingo for a procession around the plaza. Musicians and dancers in colorful Andean costumes and masks complement the festive spectacle. Thousands of people, sometimes standing 10 to 15 deep, strained on their tiptoes to get a glimpse to the performances.
Afterward, celebrants and spectators migrated to a smaller plaza a couple of blocks away for a dinner of traditional Peruvian dishes.