Peru's Sacred Valley and the capital, Lima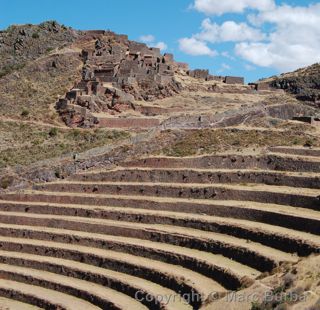 There's a perfect drinking game to play during any tour in the area around Cusco: Take a sip anytime the guide points out "Inca ruins." And chug anytime the guide uses the phrase "Inca terraces." You'll be sloshed within an hour.
Of course we were here to see Inca ruins and Inca terraces, but I did chuckle while hearing variations of the same script day after day. It didn't take away from the wonder of seeing the Incas' architectural and agricultural feats, though. They're still standing, and in some cases still productive, centuries after construction.
With Cusco as our base, we braved narrow mountain roads and hugged the Urubamba River to visit main towns and a few out-of-the-way places in the Sacred Valley of the Incas.
There's so much history in this one area of Peru. Not even a week here can cover it all, though we gave it a good try.
We know better than to take a tourist bus. We don't like being crammed into tight seats with 50 other people for anything. And yet we did it anyway, for a tour of the Pisac market and the Inca fortress at Ollantaytambo. God, some tourists are embarrassingly dumb. We felt like we were on a third-grade field trip waiting for people who wandered off past the appointed meet-up times. By the end of the day, once we squeezed out of our seats back in Cusco, we had headaches — and not from altitude sickness. The next day we hired a private guide to take us to Moray and Maras, as well as some ruins above Cusco. We traveled on our own schedule, learned more, and saw more. And we took roads less traveled.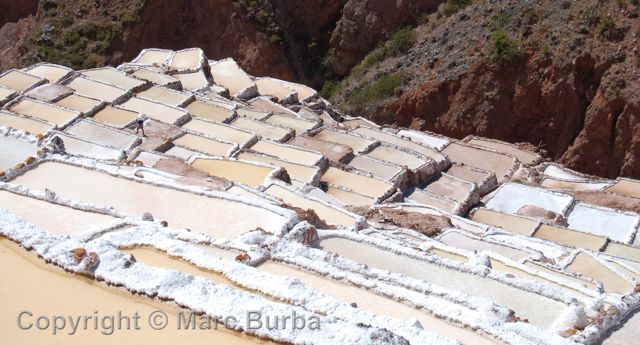 Who ever would have thought salt would be so amazing? After our visit to the agricultural terraces of Moray, we headed out to Maras, where thousands of terraced salt pans line a hillside near the town. On this sunny June day, the white salt is as blinding as snow. We watched men and women tend to their pools, collecting the salt to use or sell just as generations have done before them. Few tourists were here, yet it was one of the most memorable sights during our stay in the country.
We bookended the trip to Cusco with a couple of nights in Lima, a bustling city that has a rich history in its own right.