Traveling in style to Machu Picchu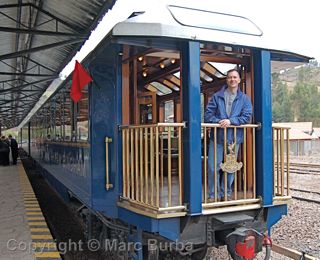 Some people dream of completing a challenging four-day hike on the Inca Trail to reach Machu Picchu. Me? I'll take the train.
There really is no decision here: Mud, altitude sickness, and camping, or a luxurious ride, a three-course brunch, and a champagne sendoff. Our Machu Picchu experience was a dream trip, so it was going to be first-class all the way aboard the Hiram Bingham luxury train.
We boarded the elegant blue and gold Pullman-style cars in the town of Poroy, just outside of Cusco. Musicians and dancers entertained us while we sipped on champagne and waited to pull out of the station.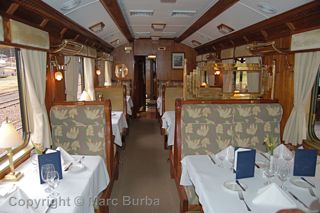 Even though the train has a capacity of 84 guests, on this late spring day only about 25 were riding. The four-hour trip wound past mud-brick homes in the Peruvian countryside and along the scenic Urubamba River. Guitar players strummed traditional music in the rear observation car after our meal.
We arrived in Aguas Calientes, the small town at the base of Machu Picchu, and boarded a bus with our Hiram Bingham guide for the trip up the steep switchbacks to our home for the next two nights and our first glimpse of the 15th century ruins.
The slideshow photos tell more about the experience than words ever could. Watching the sun rise over the mountain and touch the ruins, hiking up to the Sun Gate for a different perspective, finding a quiet place to sit and absorb the majesty in the late afternoon — the sense of wonder and awe and serenity just cannot be put into words.
This is one of the times that I truly pitied the people packed into tour buses on day trips. Guides rushed them from highlight to highlight and then herded them back onto buses to return to their hotels. Efficiently in and out.
Problem is, Machu Picchu must be absorbed slowly to be appreciated. A two-hour visit just won't do. There are too many paths, too many vistas.
That's why we were just as pleased with our decision to book two nights at the Machu Picchu Sanctuary Lodge, the small (and only) hotel adjacent to the site. Yes, the cost will take your breath away as much as the ruins will, but it gave us the chance to see the sun rise and enjoy quiet contemplation in the late afternoons after the tour groups left. And at night, the guests-only gourmet meals, free-flowing drinks, and live music are an experience in themselves.