Mostar, Bosnia-Herzegovina
Even though the historical city of Mostar was our destination on this winter Saturday, we spent much of the day skirting it for other adventures in the vicinity.
It was bright and sunny, and all I needed to explore was a light shirt as we climbed the steep, ankle-busting stone paths of Poćitelj, a centuries-old hillside enclave about 20 miles south of Mostar that is now more of an artists colony. The Mediterranean climate made mid-February tolerable, and I had shed the heavy coat and sweater I had worn earlier in Sarajevo.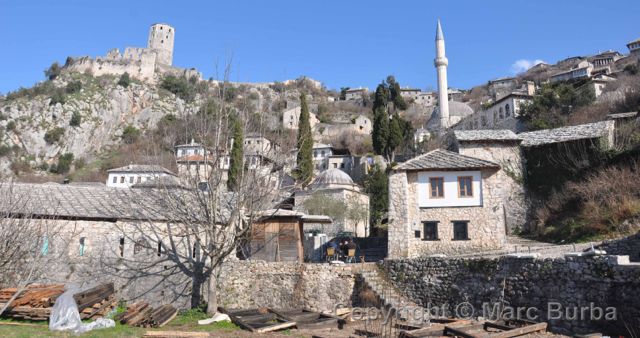 There were few artists here today though — just a couple of carloads of people stopping by, maybe on the way to Dubrovnik, to climb to the hilltop fortress or absorb the sun's warmth at an outdoor coffee shop. The fortress offered a stunning view of the town and a bend in the glimmering, aqua-colored Neretva River below.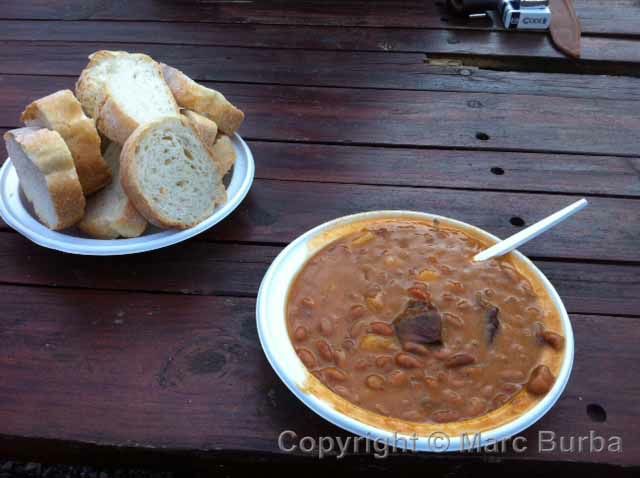 In Blagaj, home to the source of the freshwater Buna River and a cliff-hugging onetime monastery for Turkish dervishes, my guide met up with some of his friends at the Blagaj Eco Center.
In a narrow valley between two cliffs, near a loose collection of wooden tables, a bean stew cooked in a cauldron over an open flame. A few people in the group welcomed me with a heaping bowl of it, along with bread and strong coffee. I turned down a beer; some of the guys already had enjoyed a few, and I would have felt guilty to take even one bottle of the remaining stockpile. A foreigner in their midst was an oddity, so they regaled me with tall tales until my bowl was clean.
High above on one of the cliffs, a few specks of color on its tan face were the only indication of some kind of activity. A couple of adventurers were attaching bolts for a new climbing route as a half-dozen others watched from below, tending to supplies and handling ropes. We scampered up a couple hundred feet of loose rocks and boulders to meet the group and check the progress. Even though nightfall was still about two hours away, the sun was already casting the valley in deep shadows. After a few minutes of enjoying the view, we climbed back down, I thanked my new friends for their hospitality, and we headed, finally, for Mostar.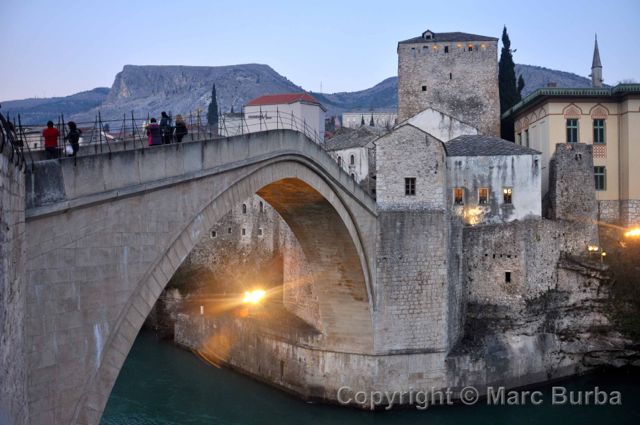 We rolled into the city at dusk. Even though we saw an occasional reminder of the country's civil war throughout the day, it hadn't been front and center. But now, here it was again.
It was a jolting dunk back into the sad reality of today's Bosnia-Herzegovina. Ghost buildings — nothing but concrete shells with gaping window frames and tops open to the sky — lined a main street. They were intermingled with inhabited apartments and businesses, but even those facades were heavily scarred.
We stopped a couple of blocks away from the Neretva River and descended a flight of stairs to the Old Town, where the Old Bridge arched 75 feet above the river. What's old, though, is really new — the bridge was a target of relentless shelling by Croat forces over a few months in 1993 during the Bosnian War. It had been built more than 400 years earlier to stand the test of time, but not modern warfare. It eventually crumbled into the river.
An ambitious reconstruction began a couple of years after the war ended, and the bridge was completed in 2004. Like many of the surrounding buildings, it has regained the old-world charm. The area was designated a UNESCO World Heritage Site in 2004.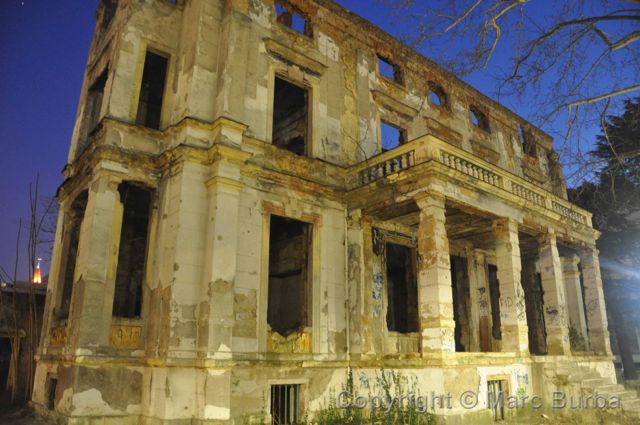 But just beyond the beautifully restored bridge are stark reminders of a city under siege.
Along what was once the front line, ruined buildings are a part of the cityscape. Multistory structures that were once apartments or offices are now just concrete and steel frames. Even renovated storefronts have battle scars on upper floors. This is a part of the city that day-trippers to the old town likely will miss. I think it fascinated me more.
We stayed in Mostar well into the night, stopping at a small restaurant for a fig cake to energize ourselves for the long drive back to Sarajavo. Little did we know that there would be one more detour along the way.