Macau
It may not have a giant pyramid, but it's got a lotus leaf that rises 52 stories. Its tower rivals the Stratosphere, though the Stratosphere has it beat by about 40 feet. As far as a gambling mecca, Las Vegas probably still has the edge over Macau, but then again, it's a Wynn-Wynn.
This special administrative region of China draws high rollers from all over Asia, but its history as a former Portuguese colony also brings in tourists. Its biggest claim to fame for me, I guess, is that Matchbox toys were made here in the 1980s after production stopped in England. I still have a few from 30 years ago. Now, though, I'll remember it more for its historic buildings, a grand prix, and some pretty cool cemeteries.
I will not remember it for the food, though. We were happy to find an Italian restaurant and a Starbucks, along with our hotel's Western-style breakfast, to sustain us for a few days. Most restaurants we found tried to draw us in with those faded, back-lit, green-tinted, 1970s-looking photos of questionable meat chunks floating in God-knows-what. We passed. But, fasting is OK once in a while, even if it's not intentional. We lost a few more pounds exploring the historic center on foot because it's such a walkable city. Around each corner is another historic building, park, or temple.
The nausea-inducing ride over on the TurboJet Ferry from Hong Kong is an experience in itself. The hour-long service across the Pearl River Delta operates 24 hours a day to accommodate high-rollers from Hong Kong Island, and offers service well into the night from the international airport. It's a nice ride if the water is smooth, but if it's choppy, expect a few surprise launches. I didn't eat or drink on the way there or back, either, just to be safe.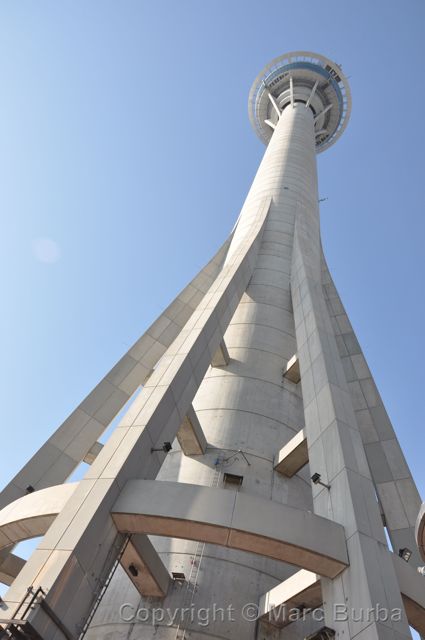 In the city, we saw a few people jumping off a perfectly good building — the 1,109-foot-high Macau Tower.
A branch of the AJ Hackett bungy jumping business has set up camp on the Level 61 observation deck — 764 feet up — for the world's highest bungy jump. While it was fun to watch a few screaming Asian tourists plummet off the side of the building, I was content to keep both feet on the deck. Me and heights, you know…
For the less-thrill-inclined, the two observation decks at levels 58 and 61 still offer great views of the city, nearby Taipa island and the bridges leading to it, and mainland China. On this day, we were able to see a blanket of smog settling in, leaving a thick gray smudge between the ground and the blue sky above.
At night, we stopped by the Wynn hotel and casino for regular shows at its dancing fountain. It's on a smaller scale than the Bellagio fountain in Vegas, but it has impressive displays nonetheless. Click below for a taste of the show.