Macau cemeteries
The last thing I expected to find in the Asian gambling mecca of Macau was a collection of historic cemeteries.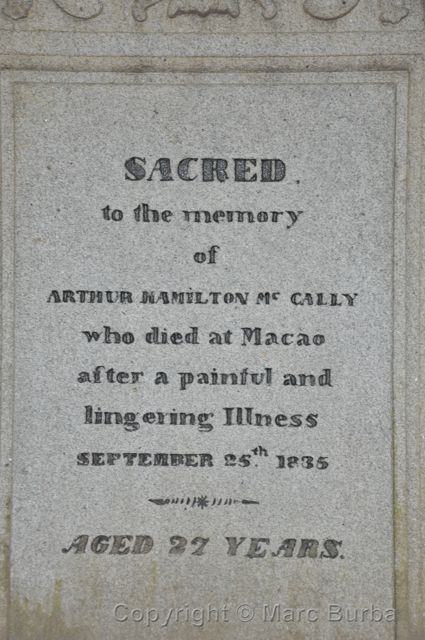 Yet here they are — graves dating back to the early 19th century, many with fascinating carvings telling about the lives and deaths of the dearly departed. The memorial on the left leaves little to the imagination about Arthur Hamilton McCally's demise in 1835: he died "after a painful and lingering illness." Arthur is buried in the Old Protestant Cemetery, which dates to 1814. It was, as the name implies, a place for Protestants to bury their dead. The British East Indian Company bought this land for Protestant burials, since Catholics and Chinese here did not want Protestants laid to rest on their soil. The cemetery is the final resting place for naval officers and "ordinary seamen" who traveled from North America and died here.
On our way to visit the Guia Fortress here, we spotted another old cemetery on a hillside behind a locked, rusting gate and in the shade of dense trees and brush. This one was of the same era as the Protestant cemetery, but appeared all but forgotten despite its place next to a main road. There was no way to get inside and explore. I was limited to peering down over a protective concrete retaining wall.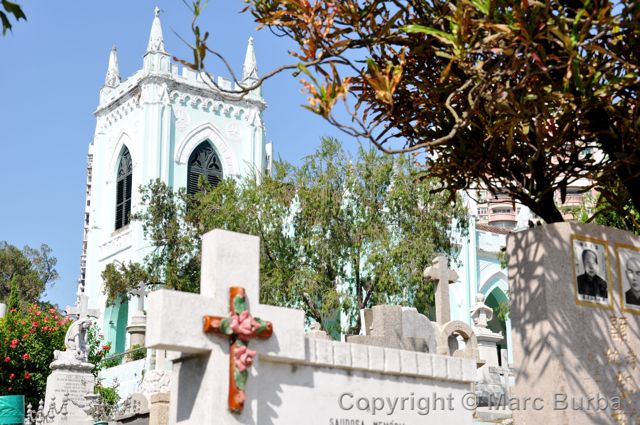 From the hilltop Guia Fortress we spotted the cemetery of St. Michael the Archangel, which surrounds a small, green chapel and is itself surrounded by clusters of high-rise apartments. This place's elaborate gravestones crowded among the trees would look more at home in Eastern Europe.
Epitaphs in Chinese, Portuguese, English, and other languages are side by side in this little Catholic churchyard.