Tallinn, Estonia

This Baltic country's capital is known for the fortress walls and watchtowers that surround its medieval Old Town, its cobblestone streets, and its quaint town square.
But screw all that for now. Let's go poke around the abandoned prison!
Patarei Prison and Sea Fortress, at the edge of Tallinn Bay, lurks off a road about a mile from the charming town center. Charm, though, ends here — the prison is down a paved but crumbling road surrounded by barbed-wire-topped fences. It's not as much a destination as a place you'd stumble upon in a slasher flick before being dismembered. A waiter at one of the pubs we hit the night before recommended we check the place out "if you like that kind of thing." Hmmmmmm…
The triangular-shaped sea fortress was completed in 1840. It became a prison in 1919, and closed in 2004. A few artists have taken up residence in a group of low buildings outside its main entrance. A big, pink, crucified Jesus hangs from an outer wall.
In one of these buildings is what passes for an office, where a girl takes our money and points us inside. There are no guided tours, at least not today. It's basically pay 2 euros and have at it.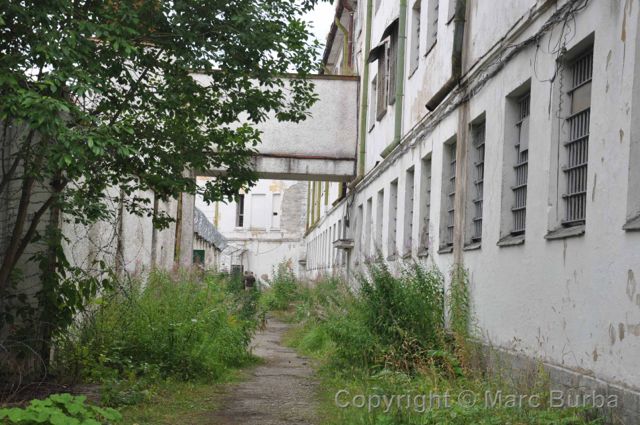 We step through a gate into an inner yard, and I have two distinct thoughts: "This is what Chernobyl must look like," and "Maybe this isn't a slasher film — I've stepped onto the set of 'The Walking Dead.' "
Weeds as tall as me have taken over a long walkway that once was probably 15 feet wide and is now at most a 3-foot path down the middle. The weeds are intertwined with Slinky-circles of barbed wire. Plaster and paint have fallen from exterior walls in places, exposing the original brick, and cut electrical and communication wires hang uselessly below barred windows. And this isn't even the creepy part.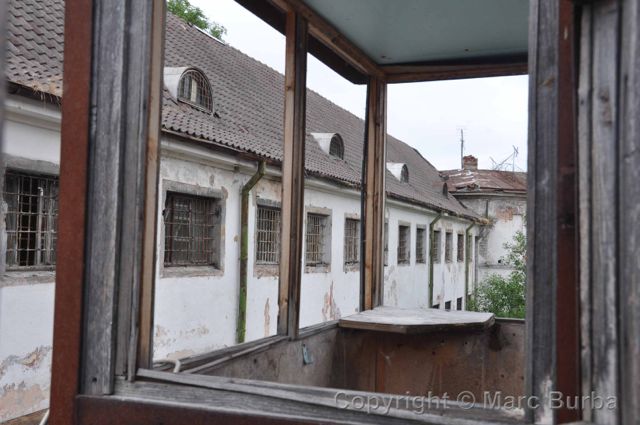 We step through a doorway of an inner wall to the walking yards, where prisoners once got fresh air and exercise. It's like a line of kennel cages with a dog run on one side. Guards could look down from a catwalk through welded wire mesh to monitor prisoners in concrete cells furnished only with a bolted-in-place wooden bench. The benches have rotted, and weeds have engulfed the cells too. The catwalk isn't much safer — the wood up here is rotting, and a few holes are showing through at its far end. A rusty ladder takes us a floor higher to an empty guard tower, now stripped of windows and furniture.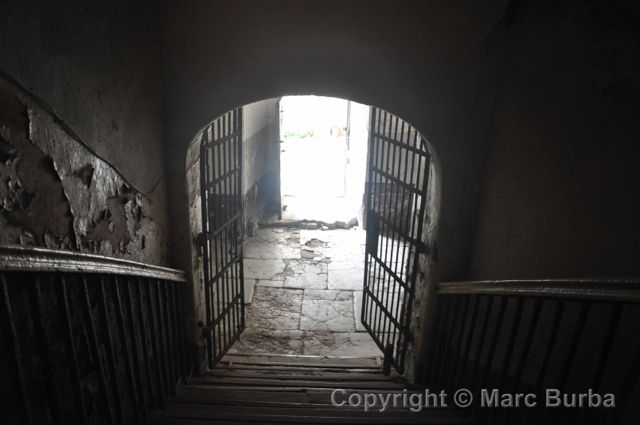 Then we head inside, to a dark stairway with peeling paint that leads to two upper floors of cells, offices, a recreational area, and a medical wing. Limp curtains hang from broken, barred windows. Old rotary and push-button phones, remains of old computers, and God knows what else are piled high in a narrow office. Communist-era medical equipment with Cyrillic lettering sit frozen in medical offices. A few rusting hospital beds litter rooms and a hallway. Heavy cell doors open onto rooms still fitted with bolted-to-the-floor tables and chairs. It is not a safe place for kids.
And on it goes. The prison hasn't changed much since it closed, other than falling into greater disrepair. The whole place really does have a "Walking Dead" vibe. I half expected a biter to be lurking behind every heavy door and down every dark hallway (There's no electricity here, so the only light comes through the windows.)
The prison is only open a few months of the year, for a few hours a day. This makes sense since there are no lights and Estonia gets mighty cold and mighty dark mighty early in the wintertime. The prison Web site, which has bafflingly little information, says that the place has welcomed art and music festivals, and hosts parties and an occasional rave. Music videos have been shot here too. I guess generators are brought in for that.
• • •
Intriguing as the prison is, we didn't neglect the city's history in Old Town. It reminded us of a fortress town we'd visited a few years earlier in Romania, minus the muddy streets.
Now, two things are pretty much guaranteed on any trip. One: We will do an extraordinary amount of climbing narrow, steep stairs. Two: A major sight will be swaddled in scaffolding and ugly green plastic netting. We were not disappointed on either count here.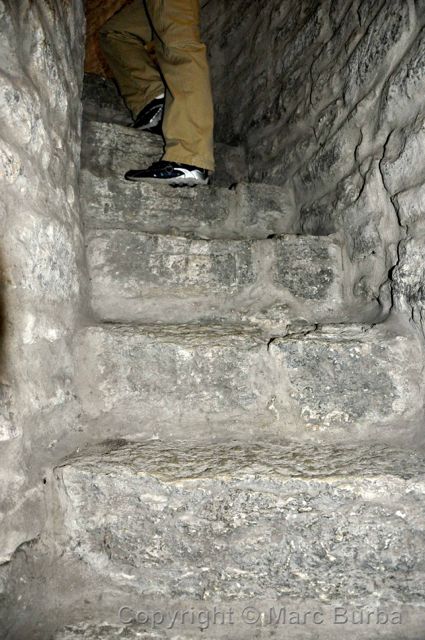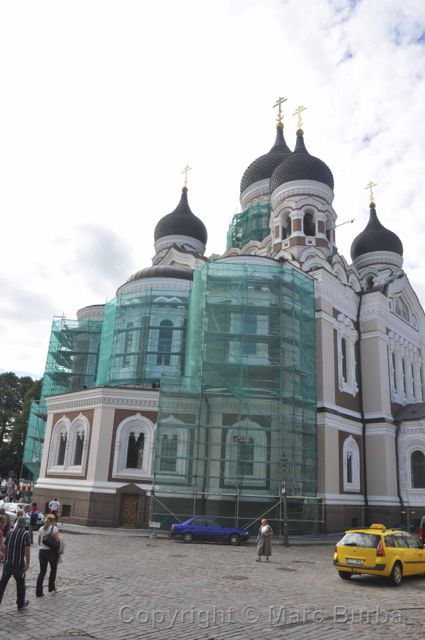 We climbed Helleman Tower, one of the city's 26 red-roofed watchtowers. It allows access to a 650-foot stretch of the fortress walls for a nice view of the lower town. The tower now is used as an art gallery, where a few large but nonintrusive works are on display in upper rooms. It was once used as a prison and a weapons storeroom.
We wanted to also see one of Old Town's new buildings: the St. Alexander Nevsky Cathedral, a Russian Orthodox Church built in 1900 on Toompea Hill. But it wasn't to be — the onion-domed exterior was covered in scaffolding and netting. I took a few creative close-ups without any of that in the shot, but the overall view was disappointing from any angle.
For a summer weekend, Tallinn wasn't jam-packed with tourists. It was crowded, sure, but there was still breathing room. We had no problem finding good food and drinks, and getting tables. I guess that's because Estonia isn't at the top of the radar for a vacation. Too bad, tourists, you're missing out. On the other hand, lucky us.
• • •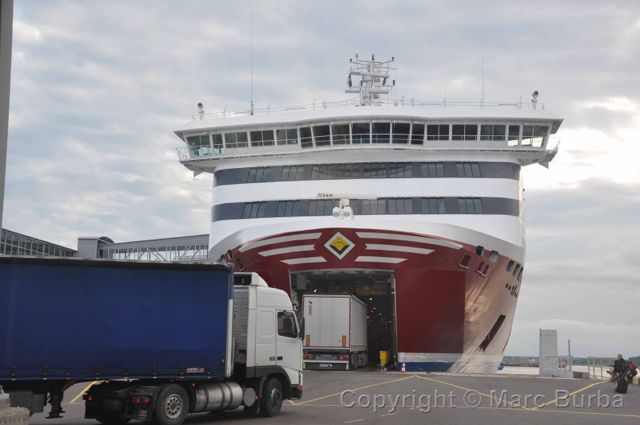 Early on Sunday morning, we arrived at the port on Tallinn Bay and watched lines of cars and heavy trucks drive into the bowels of the Viking XPRS, a cargo and passenger ferry that would take us across the Gulf of Finland to Helsinki. Then we joined a crush of hundreds of people making the same trip and boarded the upper decks. Find out more about that part of the adventure here.