Romania: In search of Dracula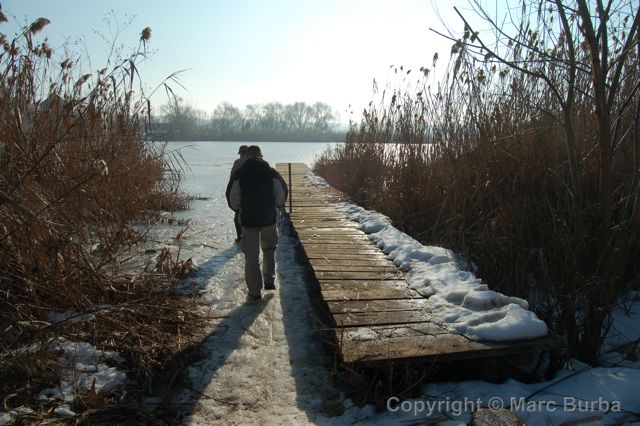 About 20 miles north of Bucharest, on an islet in the middle of a lake, is a monastery where the headless remains of Vlad the Impaler are supposedly buried. It was reachable only by boat, but in late January, the lake was frozen solid. So we walked across.
The morning sunshine left a treacherous film of water on the ice surface. We listened for cracking sounds as we skate-walked the 500 feet or so across, but it had been so cold for so long there was no danger of falling through.
Safely on the snow-covered little island, we passed a tied-up, barking dog and walked to the 16th-century, tan brick monastery, where a priest/caretaker led us inside. Near the altar, a plain, flat, rectangular stone in the floor — about three times larger than surrounding stones — had a framed photo of Vlad, a couple of candles, and a vase of flowers sitting on top of it. This marks the spot where the inspiration for Bram Stoker's "Dracula" is said to be buried. There's an extra charge to take photos of the stone (which we calculated to be the equivalent of about $15), so we declined.
The lines between legend and fact blurred on this adventure as we traced the Dracula myth from this lake to a hilltop castle and a centuries-old citadel in Transylvania. Our hunt for Dracula (actually Vlad III, a 15th century Wallachian prince who battled the Ottoman Empire's expansion into the region and reputed for impaling his enemies on stakes) took us through dark passages of medieval fortresses and up damp staircases inside centuries-old castles. Our trail went in reverse — starting at the burial site and ending at Vlad's birthplace in the citadel town of Sighişoara.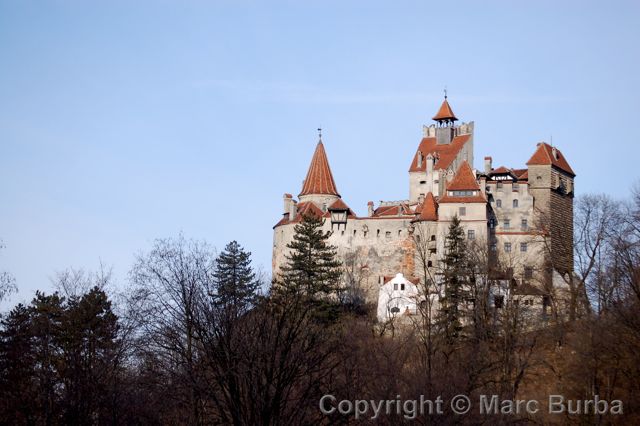 Romania still is emerging from the shadow of communist rule. Traveling into the countryside is like stepping back in time, with elderly women wearing babushkas, and farmers guiding ox-drawn carts alongside sputtering Dacia automobiles on pothole-pocked roads. Locals cash in on the Dracula legend by offering lots of cheaply made souvenirs to eager tourists, especially around Bran Castle, which is widely marketed as the home to the Dracula of Bram Stoker fame. The real Vlad, however, may or may not have stayed here or been imprisoned here. That history is sketchy, but just about anyone around here is willing to tell a tale to link Vlad to the castle. Still, it really was a royal residence in the early part of the 20th century, and several rooms are decorated with ornate period furniture to match the style of Queen Marie.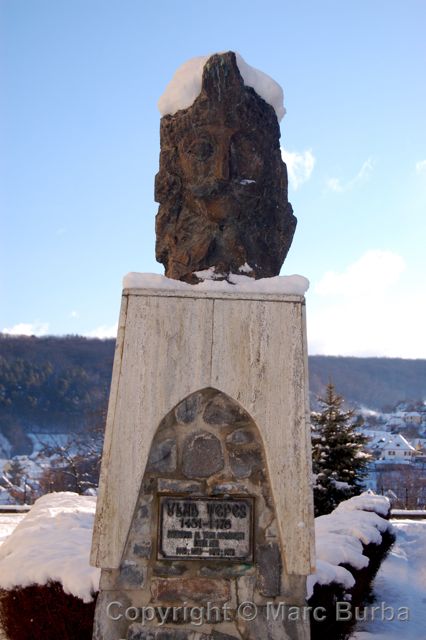 Deeper in Transylvania is the Sighişoara citadel, the 12th century walled town in which Vlad was born in 1431. It is one of the best-preserved medieval towns in Europe. During a night walk along the narrow, cobbled streets, I half expected fog to roll in and a dark figure with a cape to emerge from the shadows. Alas, only a few residents and a couple of dogs did. Few tourists were here in winter — the town got about 2 inches of snow during our stay.
A monument to Vlad, with his bust atop it, stands in one of the citadel's squares. The building in which Vlad was born has been turned into a kitschy and overpriced restaurant, but of course we ate there on our last night.
Up the 175-step Scholars' Stair, a covered walkway with exposed timbers and dim lights on a hillside, are the Church on the Hill, which has stood since 1525, as well as a school and a graveyard. For the best view of the citadel and the surrounding city, though, we climbed the clock tower that stands as the main entrance to the old city through a passage at its base.
On our last day, our overnight train to Hungary did not leave the station until late at night. We spent the cold afternoon and evening by the fire of a local pizza place, ordering more and more food and coffee to justify our stay before heading over to Casa Dracula for dinner. Finally, as midnight approached we settled into our sleeper cabin for the rickety and groaning six-hour ride to Budapest.