2014 Spicewood Destruction Derby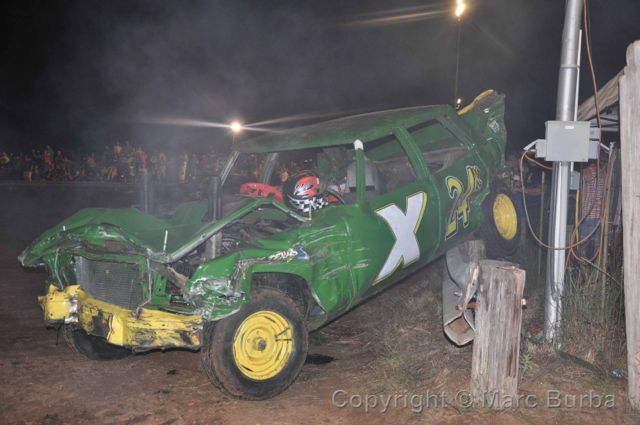 In the end, it all came down to one hit. Three friends going at it in the main event, in three tough cars.
"I will definitely be sore in the morning," says Mike Crandall, one of the final three. "There where some pretty hard hits between Tommy Farrell, Joe Bartole, and I."
Mike had to settle for a second-place finish after that last hard hit, when his John Deere green and yellow 1976 Oldsmobile Delta 88 ended up off the ground and hopelessly stuck.
That hit, courtesy of winner Tommy Farrell, made everybody in the crowd cringe a little as Mike's car bounced up onto the steel guardrail right next to the announcer's tent and the trophy table. Inside, it all happened fast.
"I didn't really feel anything in the car," Mike says. "The car climbed the guardrail pretty quick: I was more worried about the people behind. The first thing that went through my head was 'How was I gonna get loose?' "
Once it was clear the Mike wasn't going to get loose and Tommy had won, the crowd cheered, and a lot of folks came over to get a picture of the car hanging off the rail.
I'm glad the crowd enjoyed the show. I'm all about getting the crowd on their feet," he says.
Joe had to settle for third place.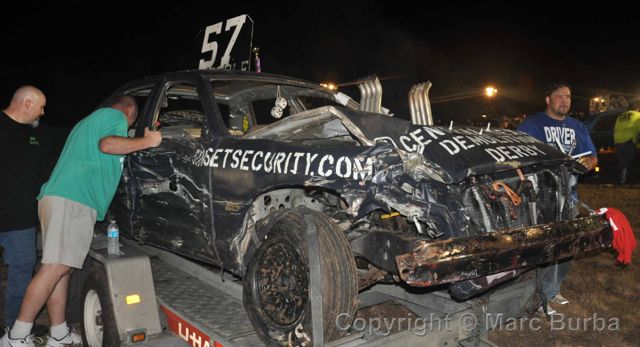 "It is a little difficult going up against friends, but we are all out there for the same thing: to have fun, put on a show, and hopefully come away with prize money," Joe says.
"My car performed beyond my expectations. I had a different engine/transmission, a new transmission cooler, and probably the newest full-size car — a 2000 Mercury Grand Marquis," he says. "You're always a little nervous on how they are going to hold up out there. I got a hole poked in a radiator hose, which eventually caused my engine to overheat and stop running. After it cooled several minutes it started, and I drove it on the trailer."
See the full championship heat below.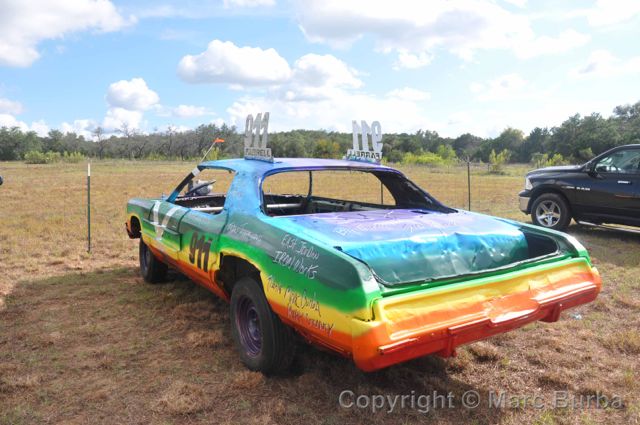 Tommy promised to leave paint swirls on other cars to mark where his 1973 Chevy Impala landed hits. The multicolored paint job was a hit with the crowd too, getting him a trophy for favorite full-size car even before the first heat. He left, though, with two trophies — and a $1,000 first prize. It's his third Spicewood victory since 2010.
The car was still bright (and running) at the end of the night, but a lot of that paint ended up on other cars.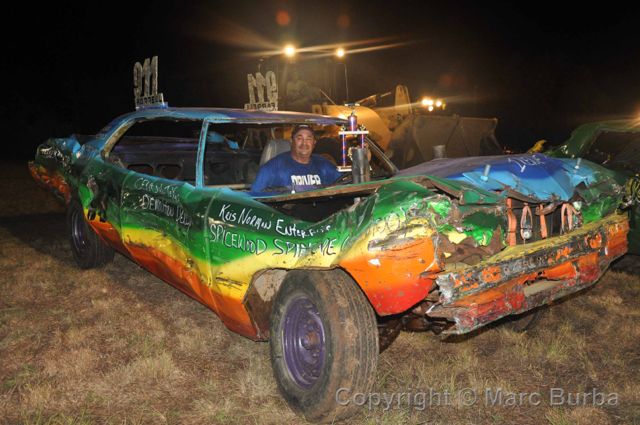 He prefers Old Iron cars — the big Detroit brutes of the 1960s and 1970s, and his Impala this year made his case.
"For me it's all about the Old Iron cars — 1973 to 1976 GM cars. They take less work to build and they are just tough," Tommy says. "My favorite is probably the 1976 Impala. Just a good all-around tough car. The front bumpers are extremely tough for a stock car. They can be reused multiple times. The '69 to '75 Caddys are good. Most Dodges are pretty good. The crown jewel is probably what they call the round-back GM wagons — getting really hard to find."
He said the good derby cars of a new generation are the 1982 to 2003 Ford Crown Victorias, Mercury Marquis, and Lincoln Town Cars. "With some work, these cars are really getting tough." Joe Bartole proved that point with his third-place 2000 Marquis.
This is the first year that drivers and and have been able to keep up with derby information and the progress of cars thanks to a Facebook group that Tommy created: Central Texas Demolition Derby.
"I am very happy about the site on Facebook and all the chattering going on. It has grown more than I thought it would," he says. "I feel this site is going to be responsible of getting more cars to show up. It is showing that by the comments from people all over Texas. I feel we will have a decent turnout this year because of the site."
The compacts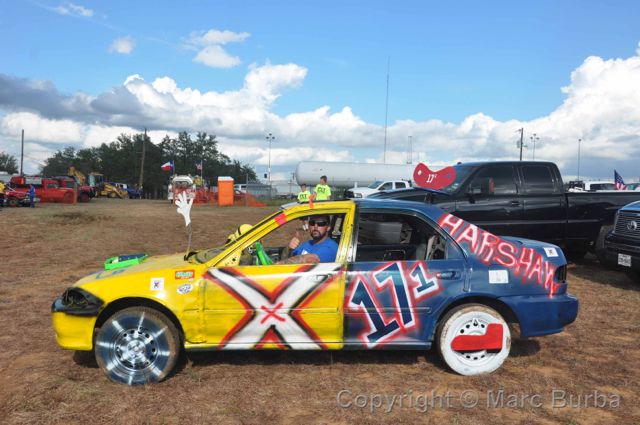 Jason Harshaw's 1997 Honda Civic was the crowd favorite among the compacts. It was tough too — what else can you expect from a Minion?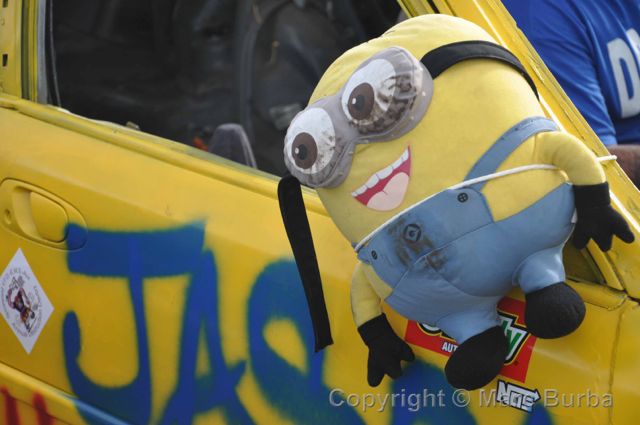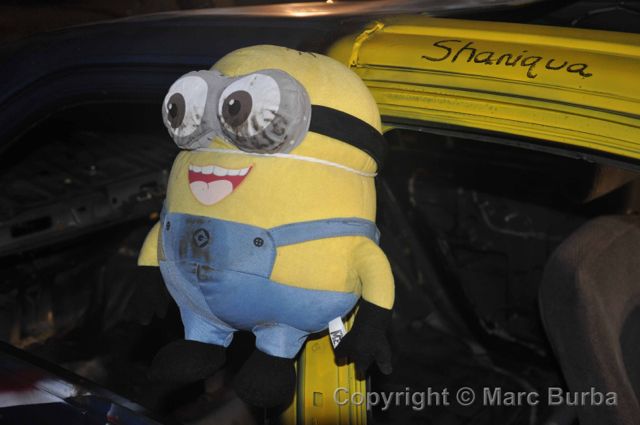 He and his boys stripped the car and put it back together in about a month. And Jason rigged some surprises too. A wind-up key stuck out of the roof. Red feet were attached to the rear wheels. A white glove on the windshield wiper waved at the crowd. It farted powder. It squirted water at anyone who got too close. At the end of the compact heat, it even spit fire. Well, that wasn't supposed to happen.
Jason held out the longest in the longest event of the night. In the end, it came down to him, Billy Calhoun in a Buick Century, and Jeremy Turner in another Honda Civic — this one decked out as a miniature DeLorean time machine from "Back to the Future." Jeremy's car quit first, and Jason sealed his win with one final smack to the Buick. The Minion ran just long enough before the engine caught fire. But that was enough to collect his trophy and prize money.
The women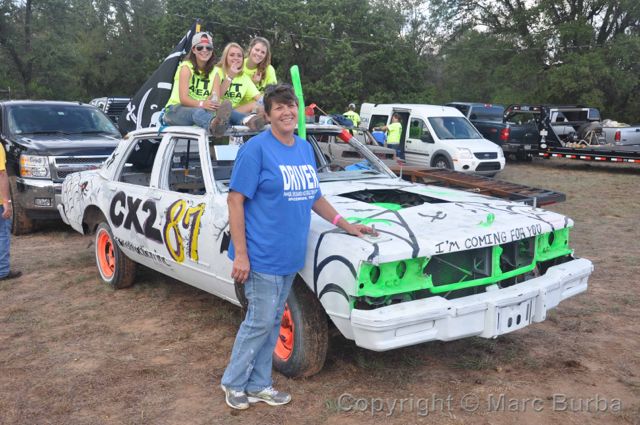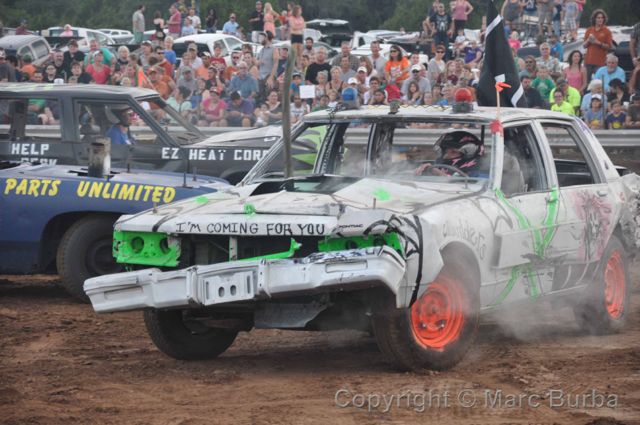 Women have been running in demolition derbies for decades. Years ago, their event was called the powder puff. But this year, there was nothing soft and fluffy about it. These ladies can hit!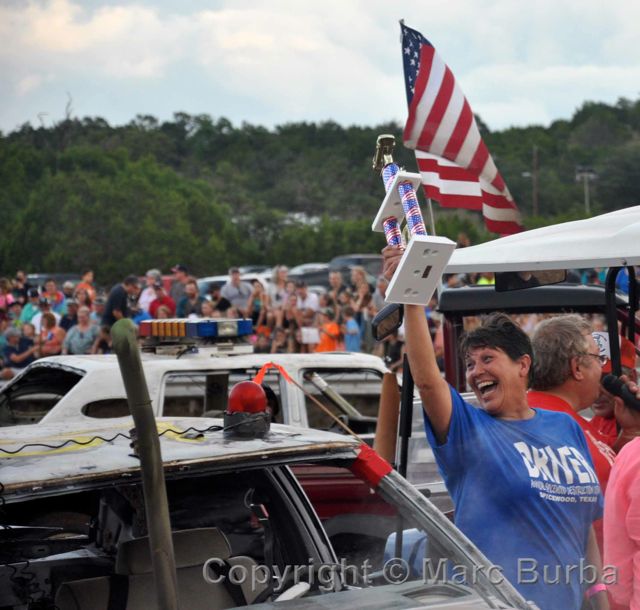 Jeannie Hodde took first place in her event, in a 1985 Pontiac Parisienne. It's a family affair — her nephew Brian Crawford from nearby Briarcliff also runs at Spicewood. He won the consolation later in the night.
"This was my fourth derby," Jeannie says. "I only run at Spicewood. I really do have a blast. I love every minute of it. Brian had run in 2010 but I was unable to go. In 2011, I looked up the site to find the date and I saw they had a women's heat. I asked Brian if it was really just women and so he helped build a car for me and has been building them ever since.
"I'm not sure what makes it so much fun other than it just being such an adrenaline high."
Event organizers this year said they may drop the women-only heat for 2015. Women would compete with the men.
"I am not really sure about direct competition with men, so that is something I will have to consider if they drop the women's heat," Jeannie says. "It could be time for me to retire my derby days; we will just have to see. Of course, I may have to try it, at least once."
See videos of the other 2014 heats here.
To find out what all goes into getting a car ready for competition, click here.