2014 destruction derby, Spicewood, Texas

Tommy Farrell's 2014 Spicewood Volunteer Fire Department destruction derby car probably once looked something like this.
But that was 40 years ago, and his 1973 Chevrolet Impala has been through a lot since then. It's about to endure even more, but at least it'll go out with a bang.
For the thousands of people who mark this Burnet County fund-raiser on their calendars every September, it's all about a few minutes of metal-crunching, engine-smoking, mud-spinning action. For the drivers, though, getting their cars into the ring is often a long process — and a big investment.
One of those drivers is Tommy, a 12-year Spicewood derby veteran from nearby Marble Falls. His work begins months before derby day.
"For me, it takes from start to finish — stripping, welding, and installing all the goodies — about two months of working every weekend. But I don't work every weekend, so I start about four months before the derby to get one done," he says.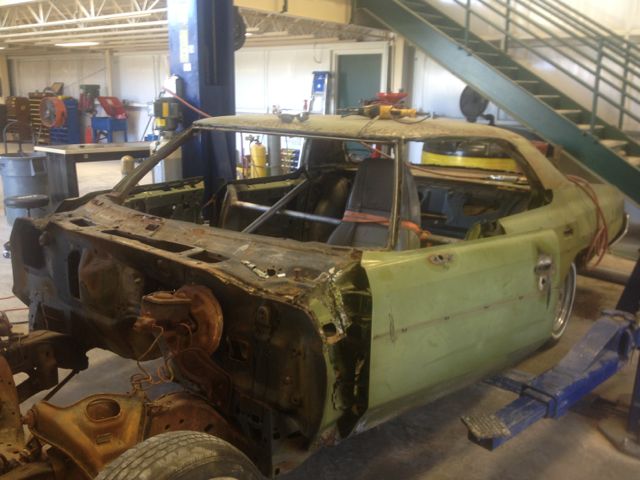 The work involves a lot more than knocking out windows and painting. Tommy first strips a car completely — hood, fenders, and doors all come off, as do body bolts and rubber mounts. If the car has a motor and transmission, they're pulled out too.
"I always use my motor in my cars. It doesn't matter what type of car it is, it gets a small-block Chevy engine, turbo 350 or 400 transmission, and a Chevy rear end," he says.
The amount of work involved depends on the car make.
"Putting Chevy stuff on another car doesn't always come easy. But I can make it work," he said.
Then the focus turns to the bumpers — properly welding one can take all day.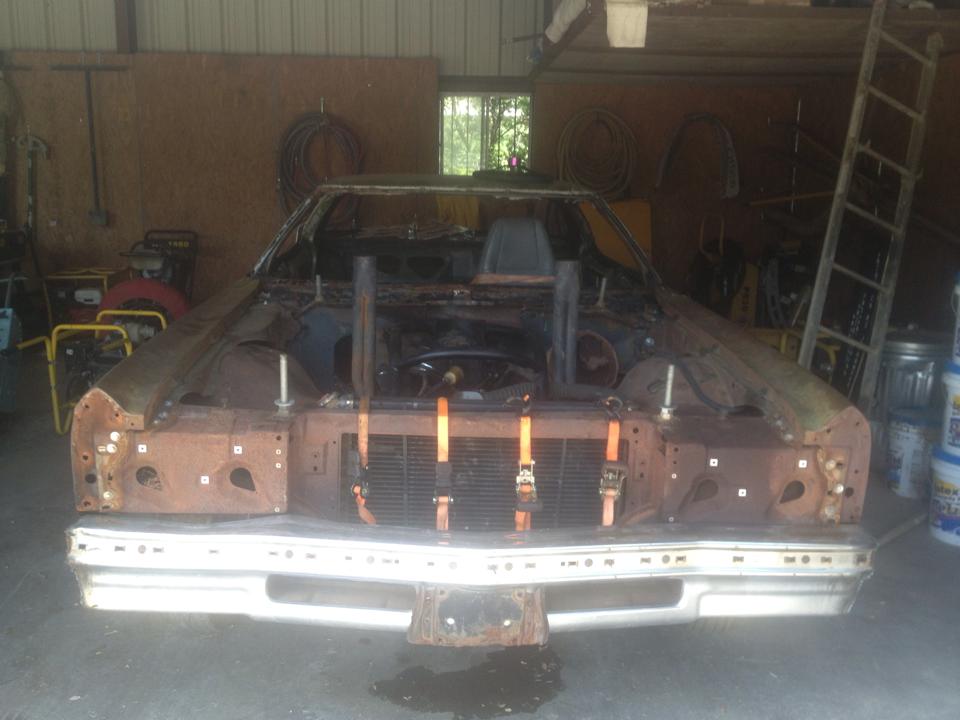 "To me it's important to have that front bumper not to come off. The rear is not as important on this Impala. The rear bumper just needs to last until the back of the car goes up into the tuck," he says. "The tuck is where you notch the frame or heat and dimple the frame. You then fold half the trunk lid into the trunk. This allows the back of the car, to where I notched the frame, to bend into the open space. This will make the back stronger, and most the time it keeps the back of the car from coming up and getting in your line of sight."
Then more equipment goes on: a two-piece slider driveshaft that will contract and expand with the car and not allow U-joints to break; the fuel tank; the transmission cooler (a steel box with a small radiator-type cooler inside that is filled with ice); the shifter; and the floor-mounted gas pedal.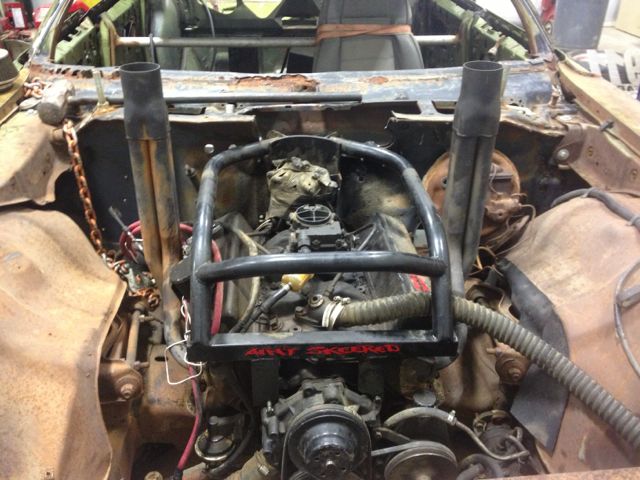 After that, more welding: the door bar behind the seat, which keeps the seat from breaking and falling backward; the doors; the trunk lid; and chains to the front frame, which are then attached to the motor to keep it in place in case the motor mounts break.
Tommy straps the transmission to the cross member instead of bolting it to let it flex and slide a little bit during hits, keeping it from breaking the transmission case and bell housing. He installs the radiator, and wraps hoses with duct tape to keep them from bursting and give them longer life in case they contact the fan. He puts on wheels with heavy-wall bias tires with tubes in them.
After all that, "Then just get stuff taped up, zip-tied up, get the battery charged up, make sure all connections are checked, and get it painted."
Easy, right?
See the finished product — before and after the derby — by clicking here.
Demolition derbies were a much bigger part of the American landscape in the 1970s and '80s, when heavy, durable cars ruled the roads and the tracks. But it's getting harder to find good, exciting, and reliable derbies. That's what makes Spicewood an exception. 2014 is its 22nd year, and it's still going strong.
"I hope derbies don't die out, but here in Texas for the most part it's getting hard to get car counts up," Tommy says. "Bad economy probably doesn't help.
"Too many different rules out there make it tough. I want to build a car that I can get multiple derbies out of. It's a lot of work for little pay, and it's getting expensive to build a car. … $750 to $1,000 to win is nice, but just barely covers most cars — nowhere close to my cost on mine. I have about $7,000 in one of my cars.
His car this year is no exception. The $500 purchase cost for this Impala was just the start. All of the extras add up.
• $450 in tires and tube
• $100 in the front bumper
• $125 in the transmission shifter
• $150 in the gas pedal
• $100 for the steel gas tank
• $150 for the transmission cooler
• $75 in washers/plates
• $125 in the battery box
• $150 in the 4D battery
• $150 in the transmission lines
• $200 in the steering shaft and wheel
• $600 in a slider driveshaft
• $5,000 for the engine
• $100 for race fuel
"And no telling what I spent on miscellaneous stuff," he says.
"It's not about the money to win, but it is nice. It's all about the derby for me, and being the last car running. It's always a good night when it is over and you can drive your car back on the trailer."
Tommy's been in 22 derbies, and made it to 13 finals and three consolations. His first Spicewood derby was in 2003.
"I came in with a 1978 Ford LTD. It was purple and had different-colored polka dots all over it. I won the prettiest car that year. I always think it's important to make my cars look good for the crowds, plus it gets me a fan base going," he says. "I came into Spicewood for the first time and really thought I had it together and had a good chance of winning the derby. I had come to several of them in the years before and thought, 'I can do this and win.' Well that didn't turn out like I planned, and I was handed my ass to me pretty quickly.
"It took me six years just to get my first top three, seven years to get runner-up, and eight to finally get my first Spicewood win. The last five years I felt I could have had all of them."
In 2009, a broken driveshaft cut that short.
"The car that won was barely running or moving," Tommy says. "I just had to sit there with a car that was running great but not moving."
The next year was better.
"I won my first Spicewood derby on Sept 11, 2010, with the red, white and blue flag car. When it came down to me and the last guy I could hear the crowd yelling 'USA,' and that was pretty cool. After I got out of the car I went over to the stands where one of my sons was, and I was flooded by a ton of people actually wanting me to sign things — that was just awesome. I was there signing stuff until the last car was pulled off the track.
"The crowd is the big deal: it's large, it's loud, and just all about derbies. … It's always cool to see the fans waving, yelling, and giving you the thumbs-up sign."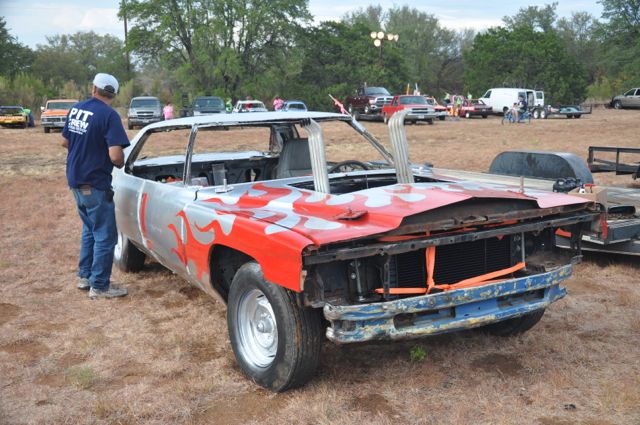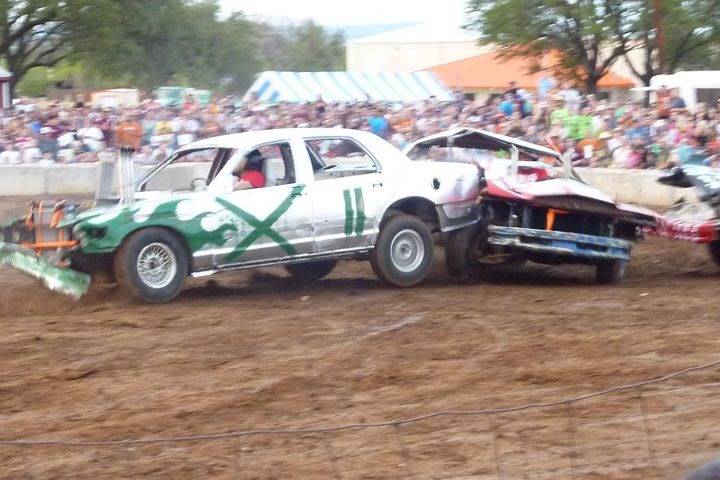 He brought the same car in 2011 and 2012: a 1972 Cadillac. In 2011, he went up against his son-in-law, who was running in his first and only derby.
"We both picked the same heat with two other cars; in this heat they were taking it down to two cars, and those two would go to the finals," he says. "So we are out there, I had already got one car out and that left me and my son-in-law to take the other car out. The last car had stalled and I was trying to get myself in position to put a good hit on it, and from out of the blue my son-in-law hit me so hard that it broke my distributor. I just sat there wondering what the hell just happened. I just got sucker punched and didn't make it to the finals."
He fixed the car for the consolation, but got knocked out by car that ended up running on three wheels.
He brought the same Cadillac back in 2012 and won the derby. The car also won a derby in Killeen.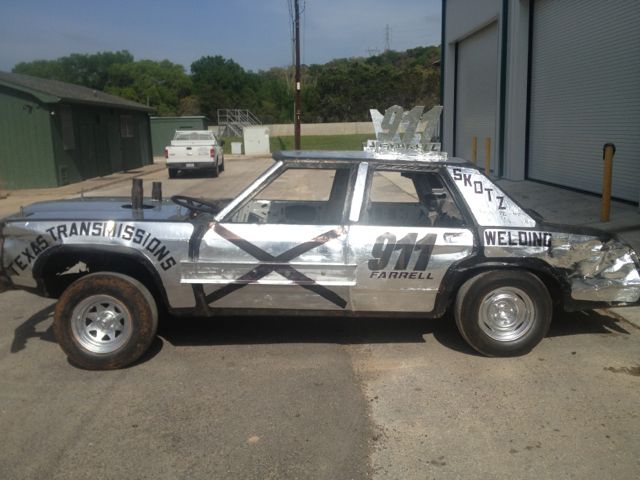 In 2013, he brought a 1987 Ford Crown Victoria to Spicewood.
"This car was a beast. I went all out on it: bad-ass motor, newly rebuilt tranny. I was in a heat that was pretty long and made it to the finals, but heading back in the pits the transmission was acting up," Tommy says. "My new quick-connect fittings weren't allowing the proper flow through it. Went into the finals with best car and was out there for a minute or so before the tranny burned up. Just sat there and watched the rest of the derby from my car."
He said the Crown Vic went on to win both derbies in Waco in 2014, and still has more life in it.
So what makes a good derby? For Tommy, it's the enthusiasm of the crowd, and having good-looking, great-sounding, well-built cars that last.
And what makes a driver happy?
"Well, for me it the things that the crowd doesn't see," Tommy says. "It's the feeling and satisfaction of catching that one car off guard and there is nothing he can do about but just hang on and take the hit. When you have that bead on a car and that guy knows it, you can see his eyes knowing this one going to hurt.
"I hit a guy so hard one time in Burnet, it knocked him over and when popped up, his helmet was gone. But through all that I had stopped my car in front of him to give him a chance to get his helmet back on; I took three pretty big hits for that, but in the end it's only for fun and not worth somebody getting hurt. He came up to me afterward and laughed about it. He asked what was wrong with my car after I hit him. I told him nothing — I was just protecting him from getting hit until he got his helmet back on."
Drivers compete, but they also cooperate — at least around here. Tommy gave the original engine and transmission from his 2013 Spicewood car to fellow driver Joe Bartole, who will be using it in a car in this year's Spicewood derby.
"I like helping out other guys — as I replace or upgrade thing on my cars, I will give my old stuff to others to help them out," Tommy says. "I get asked, 'Why do you give the stuff away and not sell?' and 'You are giving to your competitor.' The stuff is just stuff, and I have made great friends in being this way."
Still, he mostly works on his derby cars alone.
"For the most part, I do 90% of the build myself, always with the help of my son Sam, who is 10. Ever since he was 4 he has helped me on every car. Almost every time I work on them he is there. He is my greatest fan and that really is what keeps me going on these," Tommy says. "I almost quit not too long ago — I went and did a derby in Burnet and the car broke right off the bat. I was tired of working on them for two minutes of derbies. I told everyone that I was going to retire, and it broke his heart and he started crying. So I dusted myself off, got renewed about it, and have won four out of the last six derbies I was in. I am really back to enjoying the hell out of it and meeting new drivers and making new friends with them.
"I have made some good friends from the Spicewood derby, trying to hit and destroy each other one minute, and when it's over having a beer with each other."