Destruction derby 2012, Spicewood, Texas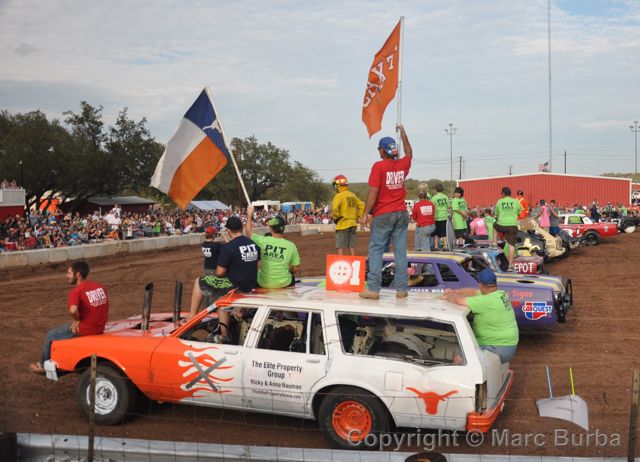 Ah, the good old days.
For Cody Williamson's Chevy Caprice, that would've been last year, when the old station wagon had a relatively straight body and a relatively new paint job. There it is in the photo to the left, in the foreground during the driver introduction for the Spicewood Volunteer Fire Department's 2011 destruction derby.
Cody brought the wagon back for 2012. It looked a lot rougher — sagging tailgate, crumpled fenders, and a stronger weld to keep the doors shut. But it was still recognizable as a Caprice. And it could still run, which is what really mattered. For a demolition derby, the condition of the body is secondary to making sure the engine and the transmission and the driveshaft hold out for just one more minute to win.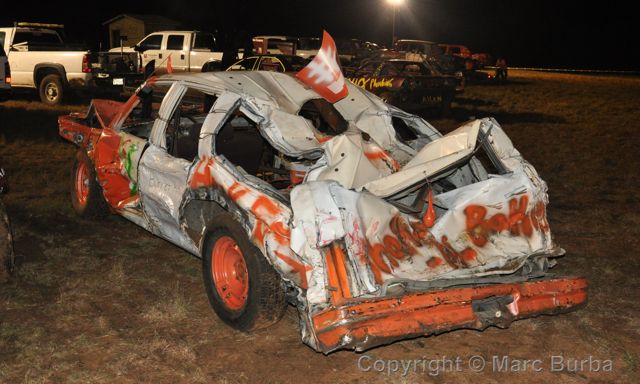 He and the pit crew did their best to coax the car to continue after each event. They took a torch to it. They hit it with a sledgehammer to straighten it. They brought in a front-end loader to shake it and bend it back into shape.
And they succeeded for a while: it was still running for a later heat.
By the end of the night, though, it looked like the old wagon had seen its last competition. Hell, it looked like it had been put in a crusher.

The annual derby is a big fund-raiser for the rural fire department west of Austin and about 80 miles north of San Antonio. There was a lot of déjà vu at this derby, the department's 20th. About half of the cars entered, including Cody's old Caprice, had competed before and were ready to give it another try. Some of them sported new paint jobs, while others looked just as they did when they limped off the field in years past — they had just been pulled and prodded enough for one more contest.
Even the weather was identical to 2011: rain threatened all day and kept the sky dark, but as the start time neared, the sun broke through and the sky cleared for a perfect night. And my pre-derby stop for dinner was the same: Opie's BBQ, just across Highway 71 from the fire department, for brisket.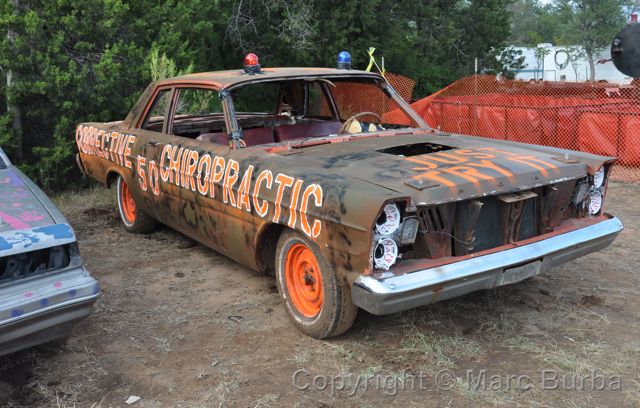 Two of the new cars this year were two of the oldest: a 1965 Ford Custom and a 1968 Buick Electra 225. The Ford, sponsored by Corrective Chiropractic, ended the night in worse shape — its front end was practically unrecognizable after its last event.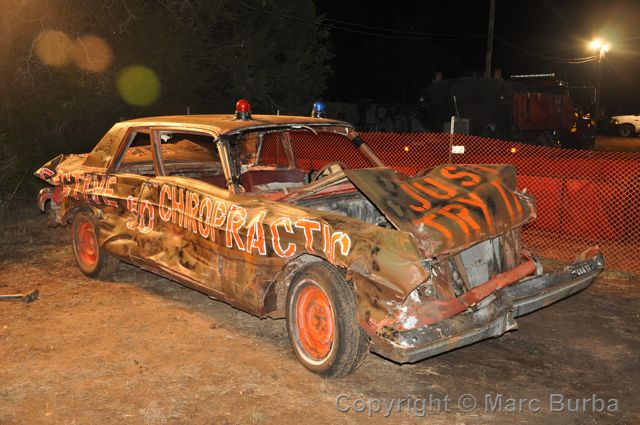 The poor old car couldn't even move at the end of the night.
For videos from the 2012 derby, click here.
And don't forget about the 2011 derby page, here.