Morocco   اﻟﻤﻐرب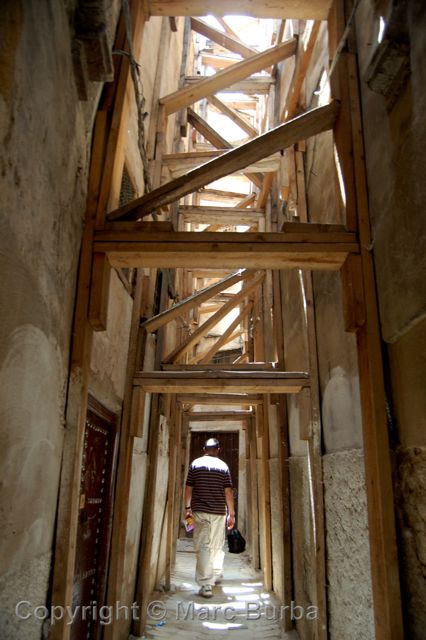 I began to question our decision to stay in Fez medina almost immediately. Our driver from the airport led us inside the walls of the old city to a riad — a traditional Moroccan house — we selected off a Web site.
We walked deeper into the maze of crowded, unpaved, and increasingly narrow pedestrian streets where vendors hawked spices, meat, perfumes, and scarves. Stray cats were everywhere, and — did we just pass a mule?
We turned into a dark alley around a corner and between vendor stalls. "Alley" is generous: We could put our arms straight out and touch the buildings on either side.
Even in the middle of the day, sunlight had to fight to find its way into this narrow passageway. A claustrophobic scaffolding of wooden support beams rose several stories. The horizontal posts kept the centuries-old walls from leaning in any farther and potentially collapsing onto each other.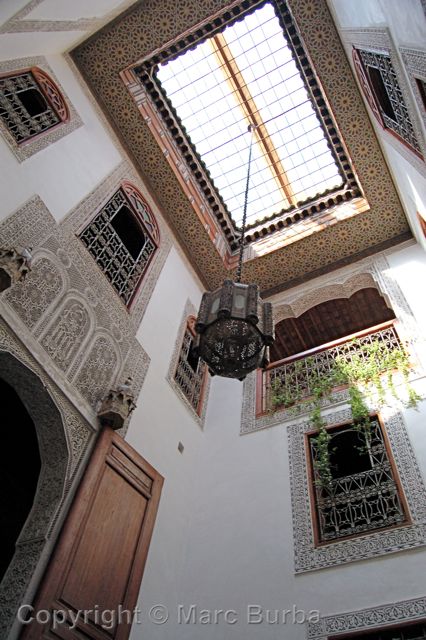 Finally, our door: heavy wood with metal inlays and a knocker. We opened it. And we stepped inside the most gorgeous, sun-dappled, soaring interior courtyard we had ever seen. Intricately-laid tile kept the floors cool on this blistering late-May day. Decorative metalwork filled windows of upper rooms and laced bannisters. A chandelier hung from a skylight, which was surrounded by colorful tile patterns. Wow. I think we'll like this place.
Welcome to Dar El Menia, a restored 250-year-old residence with a rooftop terrace that overlooks the medina. It's owned by an Englishman who employs a local family to cook and oversee the property. It was so quiet, even though it's in the middle of the medina chaos — perfect for my first visit to the African continent and first stay in a Muslim country.
Over the next few days, we spent hours at a time getting lost in this chaos that is a UNESCO World Heritage site.
We marveled at the beauty — and cringed at the smell and poor working conditions — of a leather tannery. We politely sipped tea while getting a hard sell from a carpet vendor. We sniffed soaps and spices and perfumes in open stalls. We visited the only mosque open to non-Muslims. We ate tagine at an outdoor restaurant table steps from the bustle of daily life. We relaxed in a cafe that draws international travelers.
And at the end of each day, we retreated to our oasis: Dar El Menia's rooftop terrace to listen to prayer calls as the sun set.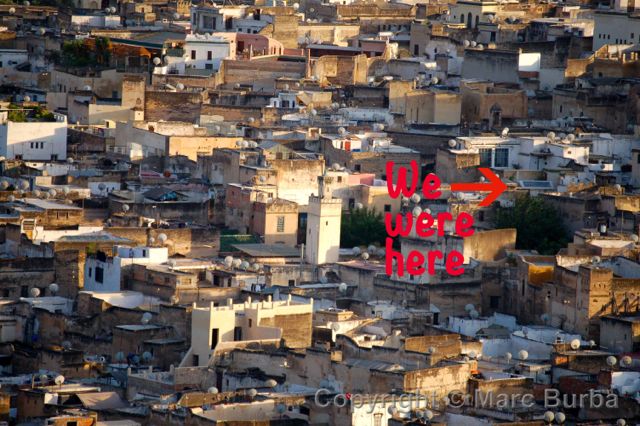 We spent a day at another UNESCO site nearby. Find out more about that here.