Along the Kenai Peninsula, Alaska
It is 222 miles from Anchorage International Airport to Homer — about 4½ hours of driving. But to see nature at its best and its worst, we need to slow down and make a few stops before getting to the end of the road.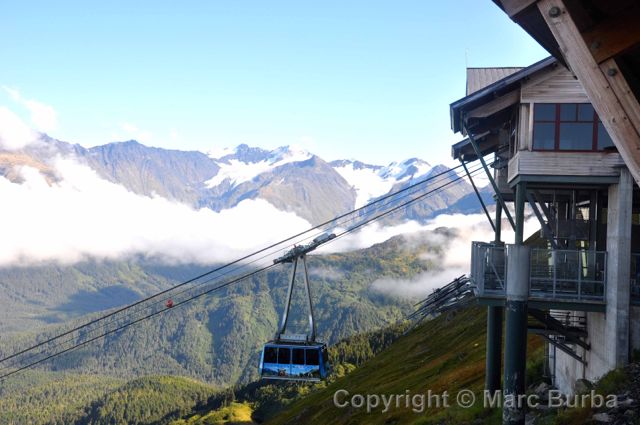 We head south out of Anchorage in our rental Jeep Patriot, and most signs of civilization quickly fade. It's just a road, a parallel railway, and lots of scenery. First stop, about 40 miles outside of Anchorage: Alyeska Resort in Girdwood. An aerial tram here climbs through clouds to 2,300 feet for better looks at mountains, glaciers, and Turnagain Arm, the waterway that can become a torrent or a mud flat depending on the tide.
The late-summer air is already brisk, but perfect for a steep switchback hike above the mountain tram station for better views. Even though the trail is only about a half-mile long, it leaves us breathless because of the quick elevation change. My lungs are burning. The payoff is an unobstructed view for miles — we even spot a moose grazing far below. There's a chair lift here for skiers. It's idle now, but the season is only a couple of months off.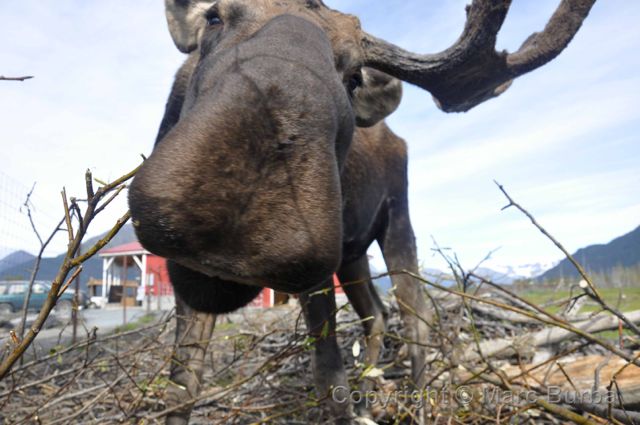 A few miles from here is the Alaska Wildlife Conservation Center, which cares for native animals that arrive at the facility injured or orphaned. Brown and black bears, elk, musk oxen, and bison live out their lives in relative comfort, with regular feedings and space to roam. They have to tolerate the hundreds of visitors who stop by each day, but some don't mind — Nelson the moose seems happy to mug for the cameras as he chomps on twigs.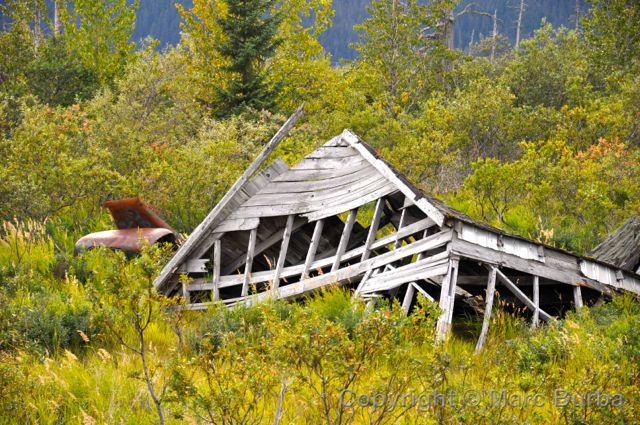 All along this stretch of the Seward Highway is evidence of the 1964 Good Friday earthquake, a magnitude-9.2 disaster that killed more than 100 people in Alaska, and 16 others in Oregon and California in a tsunami it generated. In this part of the state, it caused the land to drop as much as 8 feet. Remains of destroyed buildings still poke up from the marshland in the original Portage town site along the road. Ghost forests dominate the landscape — stands of bleach-white, dead trees killed when saltwater from Turnagain Arm inundated them after the land dropped. Today all that's here is a railroad stop.
We follow the hairpin around the eastern end of Turnagain Arm and deeper into the Chugach National Forest. Seward Highway splits off here and we continue west along Sterling Highway toward Homer. We pull off in Cooper Landing, along the Kenai River about 100 miles south of Anchorage, for a late lunch. The Sunrise Inn and Café is one of a few stops for food and fuel before heading into a more remote part of the state: the Kenai National Wildlife Refuge. I enjoy a lean buffalo burger in the café with kitschy and cute salt and pepper shakers on each table before getting behind the wheel again.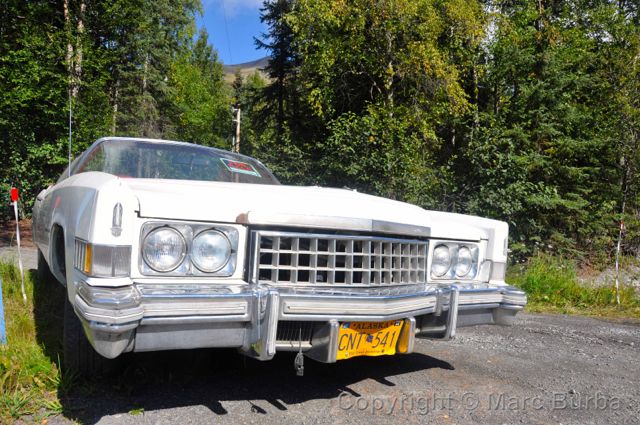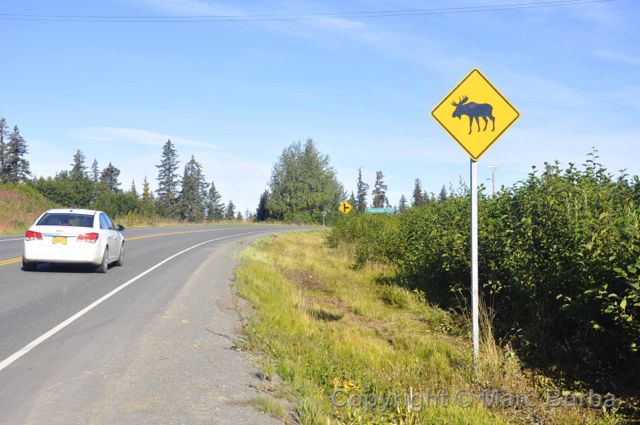 A couple of miles from the café, a 1973 Cadillac Eldorado is parked along the side of the road. The white convertible with red leather interior is for sale. It's a rare Indianapolis 500 pace car replica — only 500 were built. With the top down, it seems out of place this far north. A plug-in cord for an engine block heater hangs below the front bumper. It looks like it's seen a lot of harsh weather over its 40-plus years. A pristine example could fetch $20,000 to $30,000. This one is offered at $4,250.
The next significant town, Soldotna, is only about 45 miles away, but it seems much farther. The drive is beautiful, past forests, distant ice-capped mountains, and moose crossing signs. It's mostly a two-lane road, and "traffic" is an occasional line of four or five vehicles instead of the urban racetrack I'm used to. I swear about every fifth car is a Subaru — I have never seen so many of them in one trip.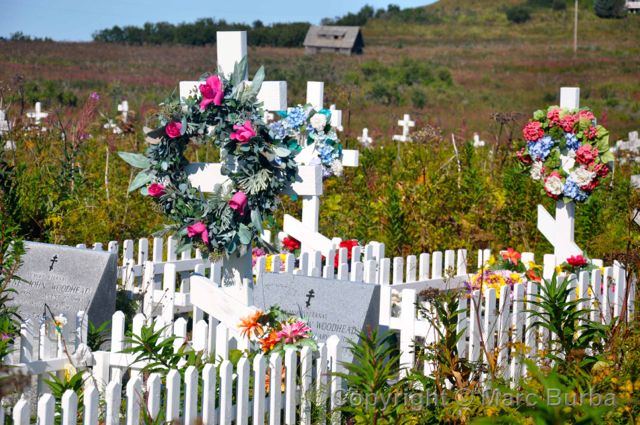 It's another 40 miles before our next stop, in the village of Ninilchik. Travel forums told us to find the Holy Transfiguration of Our Lord Chapel in the village. The little Russian Orthodox church's silhouette is on the road signs announcing the town, with arrows pointing to a rutted dirt path. It's a bumpy ride to the century-old whitewashed building with a green roof and five domes, surrounded by a white picket fence enclosing an overgrown cemetery. The grave markers are Orthodox crosses with three crossbeams. Just outside the fence is the separate American Legion Cemetery, with more-common headstones and American flags placed atop veterans' graves. An infant's grave is adorned with a mournful white chainsaw-carved bear clutching a cross. The boy was 3 months and 3 days old when he died in 2005. Below the church and cemetery is the actual village of about 800 people, on the Cook Inlet.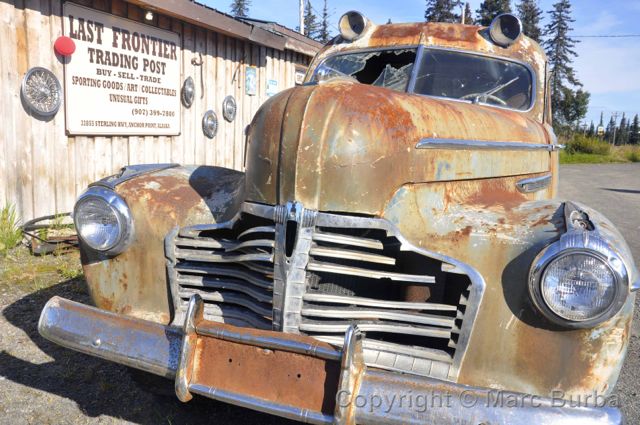 By this time it's late afternoon, and Homer is getting closer. As we enter Anchor Point, which is designated the westernmost town in North America accessible by a continuous road system, I have to use some of that road to pull a U-turn and backtrack to the Last Frontier Trading Post. Sitting out front is a huge, rusted ambulance. A handwritten sheet of paper taped to the driver's door window tells some of its story:
"It's a 1941 Defense Plant Ambulance (Buick). Only 503 of these were built for the war effort by the Flxible Coach Works. This has Alaska history. Story was it came down from Fairbanks to Wildwood when it was a military installation. Defense Plant started in Aug. 22, 1940, which makes this one of the earliest ambulances they had! (Should be in a military museum). Will sell for $2500.00 cash! Don't snooze!"
Actually, this vehicle is even rarer. Of the 503 coaches built in 1941 at the Flxible plant in Loudonville, Ohio, only 403 were mounted on Buick chassis, according to the book "Professional Cars," by Gregg D. Merksamer. The other 100 were Cadillacs. The 1941 output was the company's final full year before much of the plant was retooled for World War II production.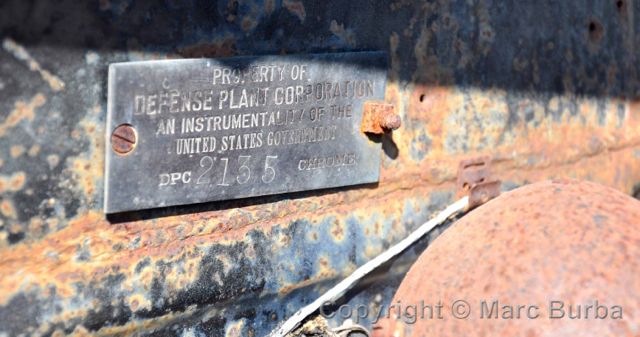 Scott Woline comes out of the trading post to talk about the beast of a vehicle, telling me how it was saved from a crusher a few years ago by its former owner, before he discovered it and brought it here on a trailer that was almost too short to haul it. He opens the hood to show me the numbered metal plate attached to the firewall identifying it as U.S. government property. He suggests the car would make a great piece of rural yard art or even an as-is museum piece. I can't argue with that — it's weathering gives it character, and it may be too far gone to be restored. He tells me it will go up for auction soon, and he hopes it will stay in the state.
I call him back a couple of weeks later to find out what happened at the auction, and he has good news: it was purchased by a man in Seldovia who plans to get it running again and give it new windows, but otherwise leave it unrestored and use it as a parade car.
It's after 5 p.m. before we finally reach the end of the highway and arrive in Homer, our destination for this Labor Day weekend. Find out more about that part of the adventure here.