Fairmount, Ind. — James Dean
James Dean will always be an enigma. No matter how much is written about him, or how much is speculated about his life, or how many photos exist, he'll remain a mystery. He never reached his full potential. No one will ever know what he could have been had he not died in a car crash on Sept. 30, 1955.
I guess that's what intrigues me, and why I wanted to learn more about him. As I traced his life to his childhood home in rural Indiana, I discovered an entirely different side of the eternal 24-year-old — not as a Hollywood superstar, but as a regular kid who excelled in school and never forgot his rural roots. It humanized the legend.
Along the way, I came across a man working on his bucket list, two sisters passing the day at a museum, and a feisty "Granny" who likes to check on Dean's grave. Sometimes the simplest of trips bring the best memories.
• • •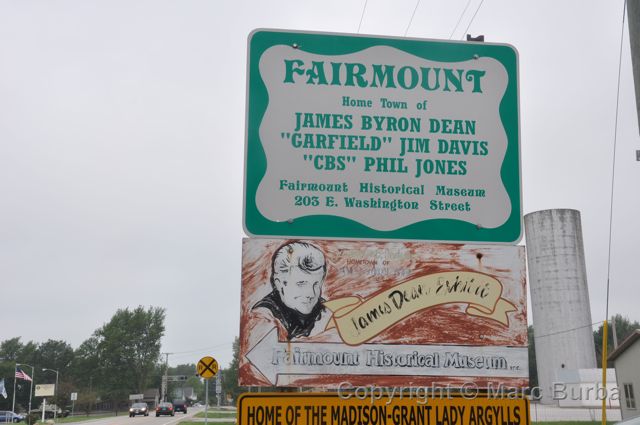 Fairmount is a place you have to aim for — chances are, you won't just stumble upon it while traveling through Indiana. It's a few miles off the nearest interstate, along a straight two-lane road past flat fields and old farmhouses. The main intersection just inside the town limit is, to no surprise, marked with a four-way flashing stop light. In one direction off Main Street is James Dean's final resting place and the farmhouse when he spent much of his youth. In the other direction are a small memorial park, the town's museum, and the school where he fell in love with acting and excelled in sports. When I arrived in town on a midsummer Saturday, it was still too early for the museum to be open, so I headed to the cemetery.
On this hazy, muggy morning, I was the only living being in Park Cemetery, an older graveyard in which headstones rise above the ground rather than resting flush with the lawn. It was easy to find the grave I was looking for — a metal sign points the way along the dirt and gravel drives. At the top of a small rise, mingling with lots of other late Fairmount residents, is James B. Dean. Coins, charms, cigarettes, and personal notes line the top of his grave marker, as well as a small ledge at its base. A lipstick kiss is near his name on one side. The stone's edges are horribly chipped, by people who want to take a piece of it with them. It's a sad desecration — a lack of respect that blurs the line between fan and fanatic. A few feet away are the graves of Marcus and Ortense Winslow, Dean's uncle and aunt who raised him after his mother died. They outlived him by decades — Marcus dying in 1976 and Ortense in 1991. The graves of Dean's father and stepmother also are nearby.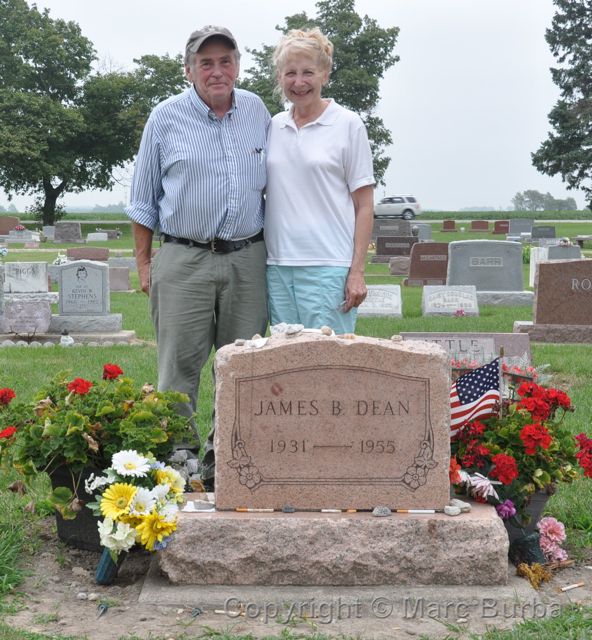 I spent a few minutes alone at the graves and then walked back down the hill to get a feel for the rest of the cemetery. Soon, a small SUV ambled up the path and stopped a respectful distance from Dean's grave. The driver didn't notice my rental car, which was parked on the next drive. As I returned, a man called out "This is what you're looking for," pointing to the headstone.
"I know," I replied, "I've been here for a while already."
The man introduced himself, and his wife, as T.K. and Melissa Hutton. They drove in from Missouri, taking the back roads on their way to Nova Scotia. T.K. made his way here to visit the grave — something to cross off his bucket list. He was a teenager when Dean's films were released. The Huttons, like me, were waiting for the local museum to open and decided to make this their first stop. We chatted for a while, I pointed out where the Winslow family farm was up the road, and we headed back into town. They beat me by a few minutes; I stopped to take a few photos.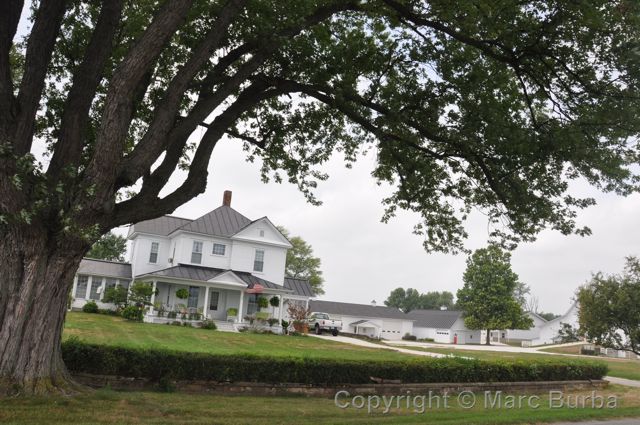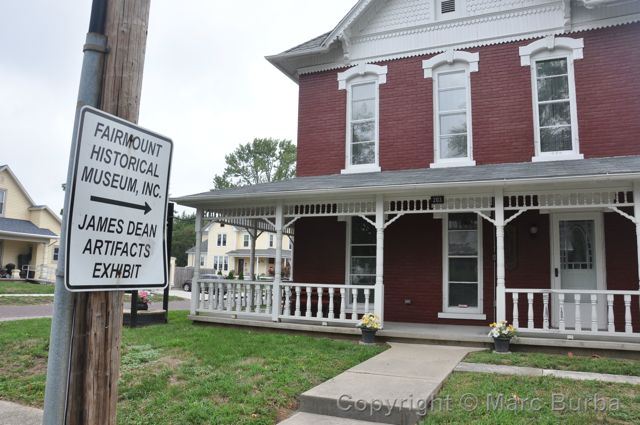 When I arrived at the Fairmount Historical Museum, volunteer Jean Marrs was already talking with the Huttons, explaining the displays and offering the background about Dean's early years in Fairmount. Her sister, Sue Freiberger, sat in the front room that houses a couple of desks, a few souvenir cases, and a display of Garfield the cat memorabilia for sale — Garfield's creator, Jim Davis, also hails from Fairmount. Marrs pointed out some of the highlights of the collection: personal letters, a piece of the house facade from the movie "Giant," the actual sink and telephone from Dean's New York apartment, the wooden pole he used to vault as a high school athlete — then let us wander the exhibit rooms.
Mementos in display cases chronicled young James' years in and around Fairmount — baby clothes, drawings, sports ribbons, even his first motorcycle. Other rooms held artifacts from his rise to stardom, first in New York on the stage and small screen, then in California for the three films that will forever define him as a star. It's an amazing collection, largely on loan from his family.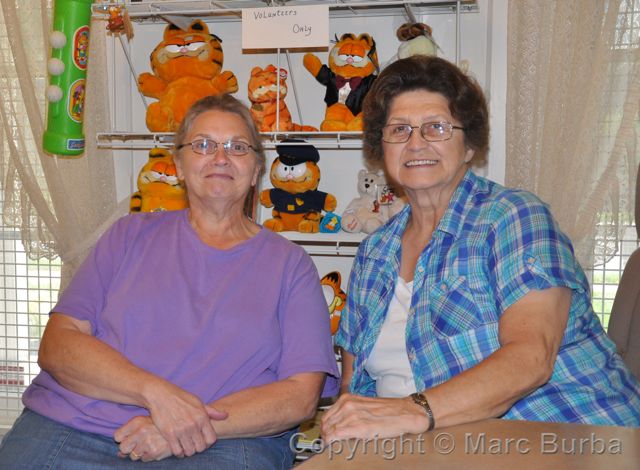 After poring over the artifacts in each room, and checking out the museum's other collections, I stopped in the front room to talk with the sisters keeping watch over the museum. The Huttons had already left — they had many more miles to travel. I, on the other hand, was on no schedule; I had nowhere to be anytime soon, so I sat down for a while. Over the next two hours or so, we chatted about James Dean, life in the town, its history, the price of houses here — a little bit about a lot of topics.
A few other museum visitors stopped by during that time, giving me a half-hour to set out walking a few blocks to another place that helped form James Dean the actor: his high school.
This was probably the biggest shock of the day. The Vine Street school where Dean developed his love of acting under the tutelage of teacher and drama coach Adeline Nall Brookshire has been closed for decades and is beyond saving. A 6-foot, chain-link fence surrounds it, for the protection of the public. Part of the roof collapsed long ago — a look through shattered windows reveals a view of the sky. Doors are boarded up, with "No Trespassing" signs posted. Tarps shield intact parts of the roof from the elements… too little, too late. The main school dates to 1898, though an addition was built in the 20th century. It closed for good in 1986. I headed back to the museum, a little sadder that such a big part of this town's past will soon, inevitably, be gone.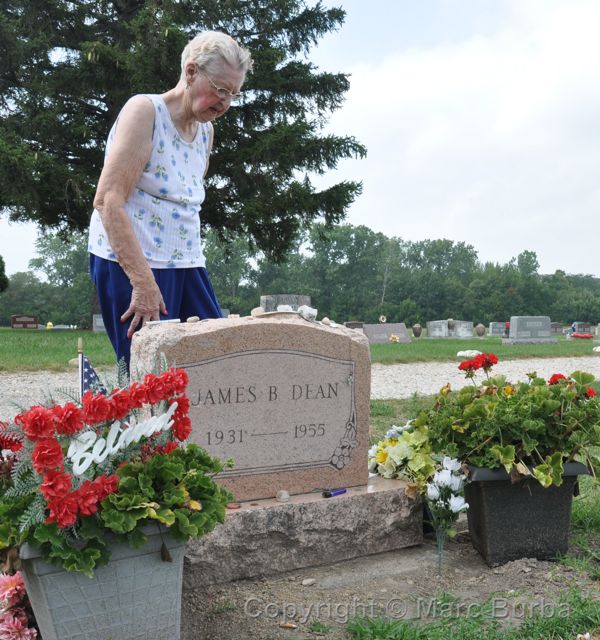 In the early afternoon, I talked a bit more with the women at the museum before bidding farewell. I wanted to stop back at the cemetery before leaving town.
Another visitor drove up soon after my return to the cemetery: Estella Ricker, a feisty woman of 90-plus who stops by the grave every now and then to remove the cigarettes, beer cans, and other "trash" from the headstone. She even talks to "Jim" sometimes, "but he doesn't talk back."
"You can call me 'Granny.' Everyone does," she said before telling of an impressive number of grandchildren, great-grandchildren, and great-great-grandchildren. She said she was older than Dean, but distinctly remembers him around Fairmount. "What you saw in the movies, it wasn't an act," she said. The people from town who distinctly remember him are becoming fewer and fewer — Dean would be in his 80s had he lived. She went about cleaning up the headstone, and I said another goodbye. I headed out of town, richer for having met such an unexpected collection of people from other generations.
Fairmount was but one stop on a journey to trace the lives and deaths of the three young stars of "Rebel Without a Cause." It also took me to a Los Angeles landmark, an island off the California coast, a West Hollywood apartment building, and a lonely stretch of road northwest of Bakersfield. Continue the journey here and here.