Cleveland, Ohio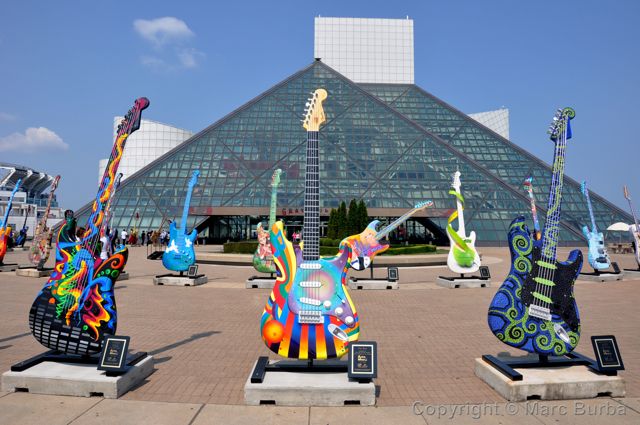 So, yeah, I've learned that a proclamation of "Hey, I'm going to Cleveland for the weekend" doesn't spark a lot of jealousy.
Sure, there's the Rock and Roll Hall of Fame, but what else would we do for three days? Turns out, a lot.
The GuitarMania art project had just kicked off at the Hall of Fame, with dozens of 10-foot-tall Fender Stratocaster guitars on the plaza. Each of the guitars had been transformed into a unique work of art, and would be on display all over the downtown area for several months before being auctioned off. This was the fourth GuitarMania installation.
Inside the museum, we got to check out a few beloved communist-era Trabants from an old U2 concert tour suspended over the lobby. Then we tackled several floors of exhibit halls featuring artifacts from music's greats — from Elvis and the Beatles to Michael Jackson and the Beastie Boys.
It can easily take a full day to wander and stop at all the multimedia exhibits. And knowing that the inductees have been around for at least 25 years can be a sucker punch of reality when you contemplate how old you're getting. It's just as interesting to poke through the galleries and wonder why some performers and bands are noticeably absent.

Later, it was a night at the theater. The revitalized PlayhouseSquare is a collection of five theaters built in the 1920s and saved from the wrecking ball in the 1970s. Over the course of two decades the buildings were refurbished under the guidance of a not-for-profit organization as part of a downtown revitalization plan. The theaters now host performing arts from Broadway shows to concerts and opera. We spent an evening at the Hanna Theater (built in 1921 and reopened in 2008 after a full restoration) watching "Sondheim on Sondheim" from balcony box seats. Afterward, it was on to City Tap to watch an NBA game and sample a few of the 40 beers on tap at the downtown bar. It's a good bet that we were the only ones there that night carrying playbills.
The downtown is spotted with sculptures, fountains, and statues. Cool Art Deco high-rises and other buildings from the early 20th century, built when Rust Belt cities were booming, have fallen on hard times. A lot of them have seen better days; some are shuttered and empty, while others have been on the auction block in recent years and will continue to struggle through the bad economy.
A brisk wind blowing in off Lake Erie kept the temperatures down for our weekend visit, giving us perfect weather for exploring the downtown. Cottonwood seed pods floated in the air like snow flurries and collected on lawns and in doorways. But on our last day the wind stopped and the humidity ramped up under the sunny sky. It really was Hot. In Cleveland.