Westwood Village Memorial Park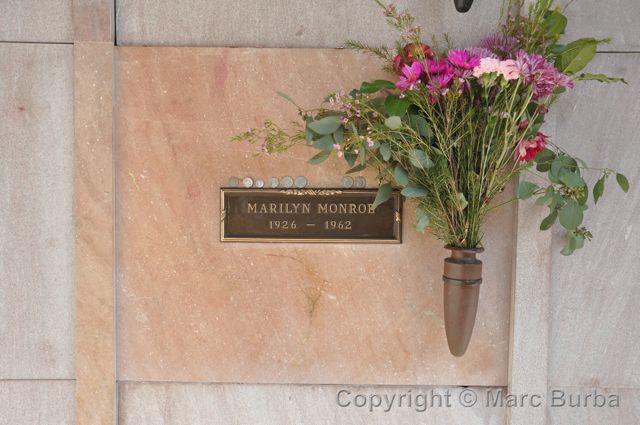 More than 50 years after Marilyn Monroe died, she would be happy to know she's still among the Hollywood elite.
A couple hundred feet away from her are Farrah Fawcett and Dorothy Stratten, sex symbols of another generation. So too, are Jack Lemmon, a co-star of one of her biggest films, "Some Like It Hot," and Billy Wilder, its writer and director.
They are but a few of the celebrities buried in Pierce Brothers Westwood Village Memorial Park in Los Angeles, a small cemetery with lots of star power tucked behind the high-rises of Wilshire Boulevard. Unless you know exactly where to turn, it's an easy place to miss. But once inside the manicured grounds, the sounds of the city disappear and it's easy to get lost in a search for favorite stars of the near and distant past. Every few feet, it seems, is another notable name.
I'll never forget the first time I visited Marilyn Monroe's crypt here. I was still new to California, and I picked a cold January day during an El Niño rainstorm. I felt a chill when I touched the stone panel stained darker than those surrounding it because of the thousands upon thousands of people who had touched it before me. Maybe it was just the weather, but maybe it was being so close to a legend. Even though she died before I was born, her story and her mystique will make her eternal.
I slogged through the rain-softened lawn that day and also found the grave of Natalie Wood, who drowned off the coast of Catalina in 1981. My fascination with "Rebel Without A Cause," and the tragic ends of its three stars, brought another chill. (That day also was the first time I visited Griffith Observatory, where key scenes from "Rebel" were shot.)
On my first visit to this little cemetery, I was younger than Marilyn (36) and Natalie (43) when they died. Now I have outlived both of them. Years later, I still try to stop by here and the observatory when I'm in L.A. The observatory is much different today, and the cemetery has even more stars now. But they both still remind me of my starstruck first year in California, when movies and TV and books started to become real life.