Westman Islands, Iceland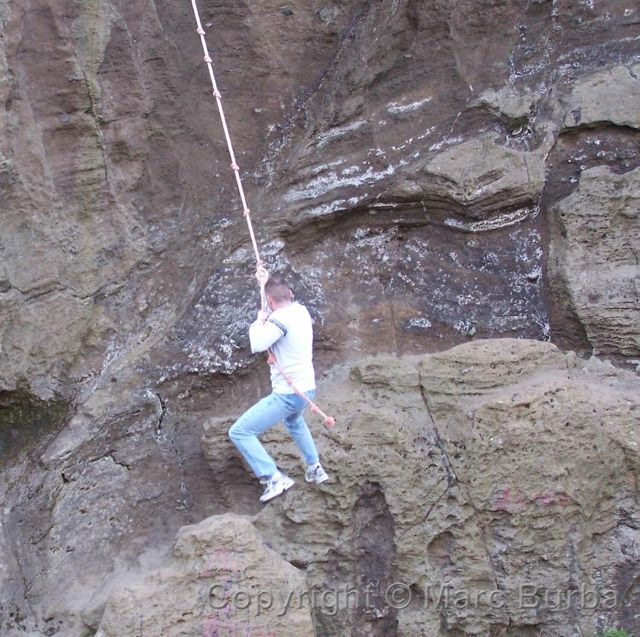 There's a spot on the island of Heimaey where local children master the art of scaling — swinging from a rope attached to a sheer rock face to gather eggs from birds' nests. It's a traditional task here.
We watched as a couple of young teenagers pushed off from a small ledge above the end of a street, gracefully arcing about 30 feet before pushing off again and gracefully winging back to their starting point. It was like an Icelandic Cirque du Soleil.
"How hard can it be?" I asked my skeptical partner, who just shook his head at my stupidity.
We watched the kids for a while and then continued to walk around the quiet, all-but-empty town streets on the largest island of this archipelago off Iceland's south coast. On this Monday afternoon, "rush hour" was an occasional passing car. The town's population is about 4,300.
We eventually circled back to the cliff. By then, the acrobatic teens had left. No one was around to watch my ill-thought-out next move.
The lowest ledge was only about 10 feet off the ground. I climbed up, grabbed the rope around one of its knots, and jumped. No graceful arcing for me; I swung straight out. I was already starting to spin out of control as the rope went taut and yanked me back to the wall of rock. My right shoulder smacked it first, and my forehead bonked a small outcropping. I twirled like a wind spinner as I struggled to get my feet back on the ledge. With breath knocked out of me and head buzzing, I climbed down and sulked away in defeat.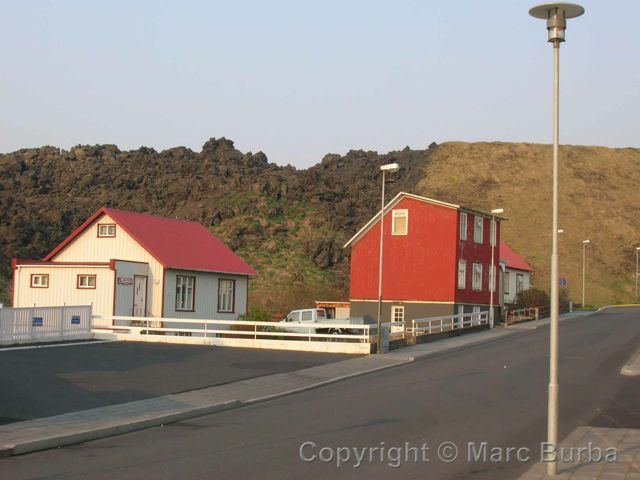 My misfortune still was nothing compared to what the island's residents experienced in January 1973 when the volcano Eldfell erupted — and kept erupting for more than five months. About 70 houses and farms were buried under tephra. Another 300 were destroyed by fire or lava flows, and the rest of the town was covered in ash. The remains of some destroyed structures still poke out from the hardened lava's edge. Old-timers have marked the surface of the hardened flow — about as deep as a three-story building — to indicate where streets and their homes are buried. Townspeople pumped seawater onto the advancing lava to prevent it from shutting off the harbor. That worked, but the cleanup and rebuilding took years.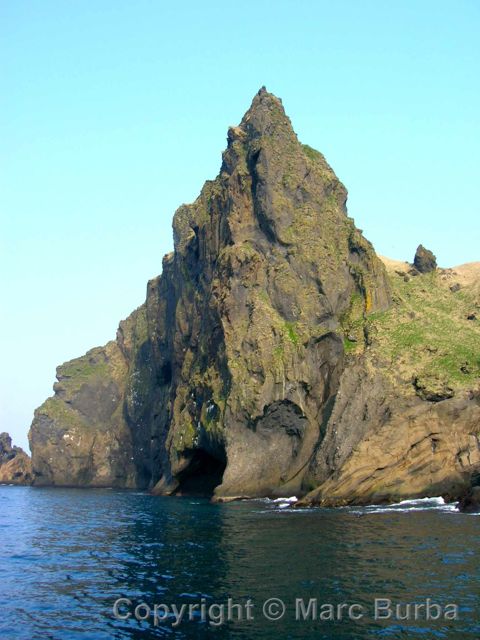 Eldfell is dormant now. We climbed its cone, which towers over the town, and felt the heat and steam that still rises from cracks in the earth.
We didn't stay on land all day. We hired a boat for a ride around the islands to gawk at other formations that were produced by volcanic activity and jut from the sea. We ducked into a small cave where the boat's captain hauled out a saxophone for an echoing serenade. We looked for puffins on the water and in rock crevices, but it was already too late in the season to see many. My only glimpse was of a few at a distance. I did, however, get close to one at Cafe Maria, where it's on the menu (like a lot of Icelandic food, it was not particularly tasty).
In the early evening, we boarded a small prop plane at the island's tiny airport for the 30-minute flight back to Reykjavik, where I nursed the bruises that were beginning to show.