One night in Bangkok
Yeah, I did just what the song says.
At the end of a long and hot visit to Cambodia, we flew here to live Murray Head's 1984 hit "One Night in Bangkok" — a song from the soundtrack to the musical "Chess." And I took video of what we saw.
We walked on the seedy side in the Patpong red-light district, where scary-looking women (and men) call out from dark doorways promising massages, girls, and lots of other things not appropriate for a family Web site. There's a night bazaar with sex toys and drug paraphernalia mixed in with the cheap shirts and tacky souvenirs. It's all harmless if you just go there to absorb the decadent ambiance, though we did see a fair share of glazed looks of determination prowling the neon-lit pedestrian streets lined with strip clubs. Some bars have outdoor seating so we could just have a beer and kick back to watch the circus unfold.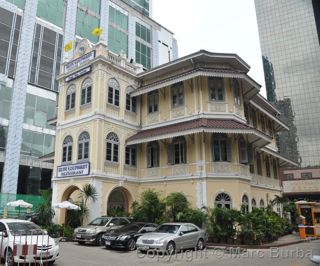 Our time was limited, but we still had enough time to explore. We employed a guide to take us to temples and the gleaming Grand Palace. Then we grabbed a shuttle boat from our hotel across the Chao Praya River to the SkyTrain station, bought a day pass, and just started riding.
Our final stop before leaving the city was at the Blue Elephant, a classy restaurant and cooking school. On this hot and humid May afternoon, we walked in drenched in sweat and felt out of place amid such luxurious surroundings. Then we were offered cold towels to cool down, and we knew the whole experience would be a treat. The wait staff was attentive, and each course of the meal was perfection. We ate each bite with gold-plated utensils. For such an excellent meal, the cost for two was still only about $60.