Switzerland
This is what 150,000 gallons of water rushing at you looks like.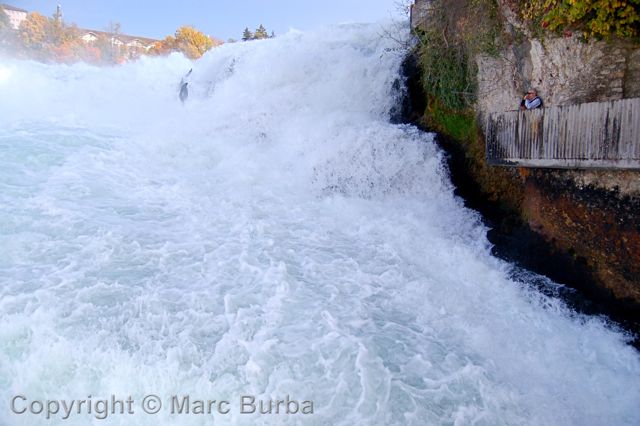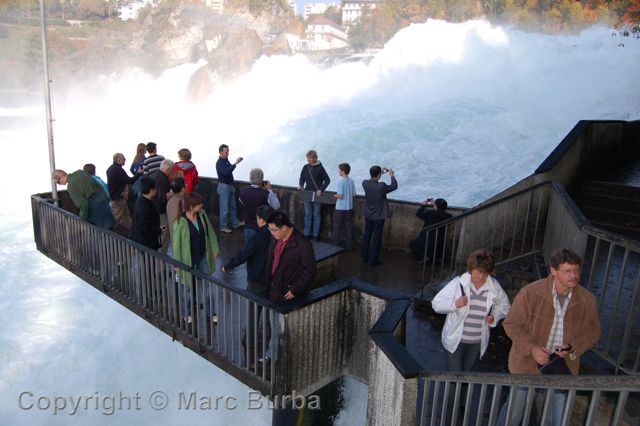 To get to this vantage point, we walked down slick steps and through narrow passages carved into limestone. We emerged at an observation platform that juts out in front of the roaring Rhine Falls. The platform is far enough away that we didn't get soaked by the onslaught, but I still had the sensation that I was about to be inundated and swept away.
Rhine Falls is near the northern Swiss town of Schaffhausen. A second platform is cut into the rock beside the falls, and another is perched atop a narrow and high rock formation in the center of the river. It's reachable by small boat, and then steep stairs.
Our base for this visit was the nearby town of Winterthur, about 20 miles north of Zürich, where we would be attending a wedding. It's the country's sixth-biggest city with about 100,000 people, and has dozens of small shops in its Old Town, a twice-weekly market, and good restaurants.
While the bride-to-be and her mother tended to girl stuff, the bride's dad ducked out of the house and took his new U.S. friends on a tour. We traveled all over the northeast part of the country — up to the German border, down to Lucerne, over Klausen Pass — in the midst of celebration get-togethers and the wedding itself. In mid-October, the country was cool and bursting with autumn colors. We were even caught unprepared in a sudden mountain snowfall.
Our stay this time was too busy, and too short, to see much of the country beyond a few quick day trips. We definitely hope to return.