2015 Spicewood Destruction Derby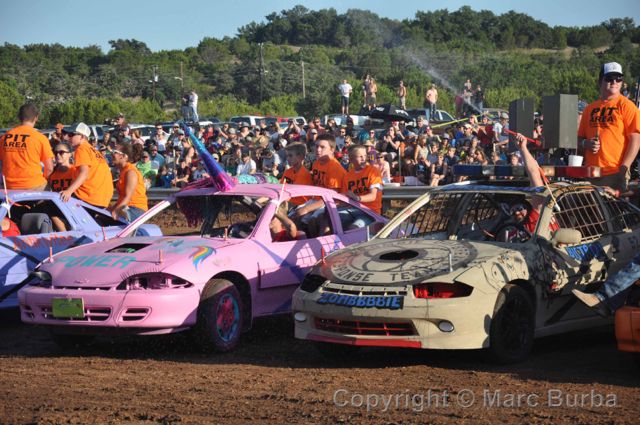 What have we learned from this year's demolition derby?
• To survive the zombie apocalypse, a Chevy Cavalier maybe isn't the best choice.
• Even the prettiest of cars can run into trouble.
• The amount of time spent prepping a car is not directly proportional to how long it will last.
• Never underestimate a sleeper — especially if it's a Toyota.
• Compact cars are TOUGH. That heat alone lasted more than 20 minutes.
• YouTube only allows me to post a 15-minute max video (sorry folks, I had to edit it down).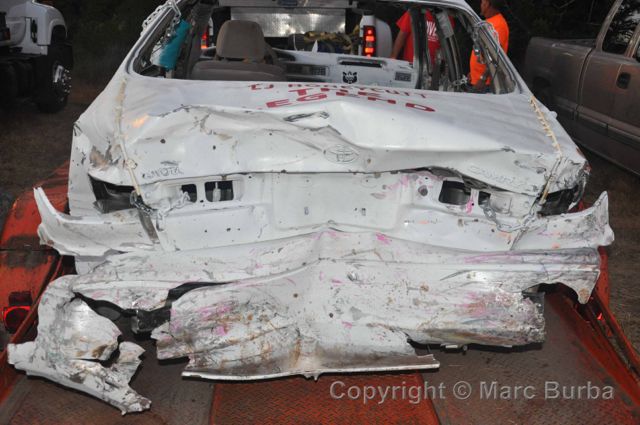 Toward the end of the marathon 9-car compact heat, the audience choices for best-looking cars — a tie between a My Little Pony Chevy Cavalier driven by Stephanie Conner and a Zombie Outbreak Response Team vehicle driven by L.D. Rossesetter that originally came complete with a water-gun turret — had been knocked out. It came down to Collin Chalmers in a basic black 1993 Toyota Corolla, Cody Williamson in a basic black 1995 Geo Prizm (a U.S. version of a Toyota model) that he only had for five days, and Wendell Ubernosky in a basic white Toyota Camry. After Collin's car died, Wendell and Cody continued to pummel each other until Cody's car could no longer move, and he was forced to break his flag. By that time, the old Geo's trunk compartment had compacted into the interior, and the driver's seat back had broken. Wendell's Camry was running on a rim.
It was a good show.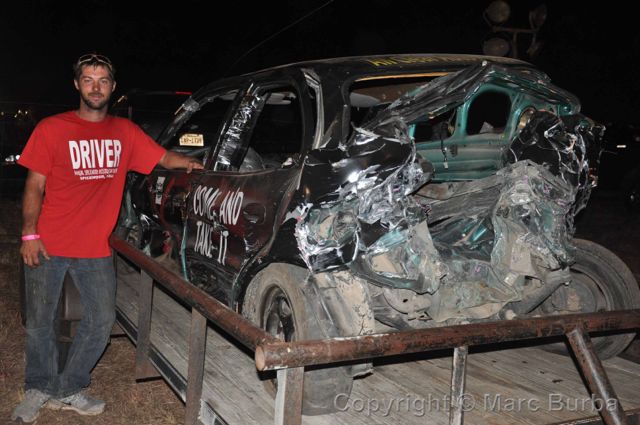 The (shorter) video of the full-size championship heat is below. Joe Bartole, in a Ford Crown Vic, narrowly bested 2014 winner Tommy Farrell, who brought back his champion Impala for a return appearance with a new paint job.
See videos of the other 2015 heats here.