Scotland
No wonder Arthur needed a seat after this climb.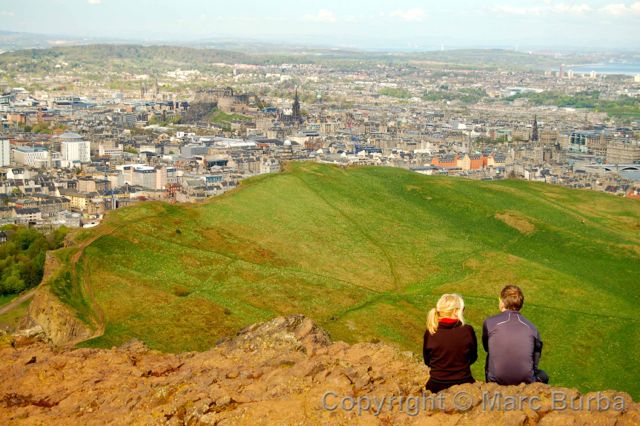 The 822-foot Arthur's Seat peak is the spot for a sweeping view of Edinburgh and the surrounding countryside. We're about to climb this hill formed by volcanic activity 350 million years ago and named for a British leader from about 1,500 years ago, though this was likely used more as a military lookout than a place for King Arthur to rest. We've already warmed up with a walk from our hotel nearly 3 miles away — through the city, across a bridge, and past the royal family's Scottish palace to here, Holyrood Park along Queen's Drive.
It's exactly 10 a.m. on a sunny, cool Friday. The temperature is in the low 50s. We start our ascent along a well-traveled path that isn't too steep at first. We admire a sweeping valley called Hunter's Bog and then start a tougher part of the climb. We pass a couple already winded from the exertion — and there's still a ways to go.
I warm up quickly from the exercise. Soon, my light jacket comes off, then my sweater. I am down to a T-shirt, and still sweating.
We stop a couple of times at lower lookouts to catch our breath and stretch out aching calves. I pet a little dog that's bounding up the trail a bit faster than his owners would like.
Thirty minutes after our start, we reach the crowded peak. Dozens of people are jockeying for a spot on this tiny rock mound like a herd of bighorn sheep. The rocks shimmer from the wear of all the feet that have climbed on them. But what a reward: views of these lush, green hills; the city in the distance; and the Firth of Forth, which flows into the North Sea.
The walk back down is a bit of a challenge too. Our momentum makes us go too fast in a few places with loose rock or muddy earth, and it takes effort to not slip and ride the rest of the way down on our bums. But soon we're back on flat road. We stop for coffee at a small café on the palace grounds, watch a military parade pass by, and plan out the rest of our day. There's more walking — and climbing — to come.
In the afternoon, we take a train northwest to Stirling, home of Stirling Castle and, off in the distance, the National Wallace Monument. The monument, built in the 1860s, honors Sir William Wallace, a Scottish hero who led a fight against English rule in 1297 in the Battle of Stirling Bridge here. Mel Gibson portrayed Wallace in the Oscar-winning 1995 film "Braveheart."
We first climb Castle Hill and poke around Stirling Castle and the graveyard near the Church of the Holy Rude. The Wallace Monument is on the opposite side of the River Forth — about a 2-mile walk from the castle, followed by a climb up Abbey Craig to reach it.
Displays in several rooms reaching ever-higher in the 220-foot-tall sandstone tower are really interesting — from the story of Wallace's life and death to a chronology of the 19th-century fight to build the monument. It's all accessible by a climb up a claustrophobic, 246-step spiral staircase that can only accommodate one person at a time going up or down. It's all about the timing. At the top is a sweeping view of miles of towns and valleys and hills.
We walk another 2 miles back to the Stirling train station, across the centuries-old bridge near where Wallace fought his 1297 battle, for our return to Edinburgh.
By the end of the day, we figure we had walked at least 14 miles, with a lot of hill climbing. Our protesting legs tell us to at least stay on flat land for the rest of the weekend.
West Lothian Highland Games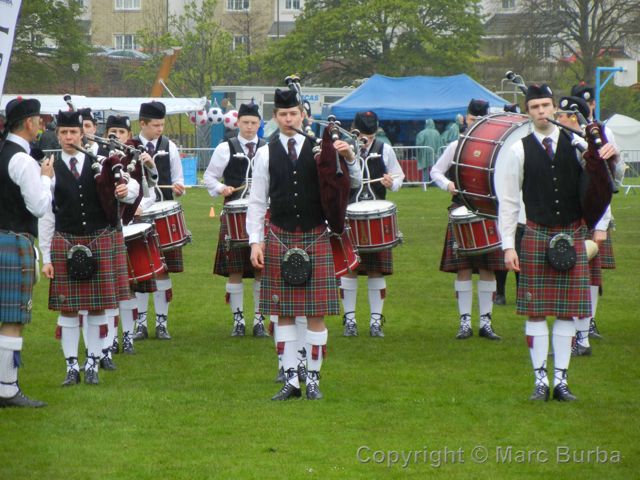 A kilt maker near our hotel told us about Highland games taking place on this weekend in a small town near Edinburgh. We figure we couldn't get a more authentic Scottish experience than that, so we board a train the next morning for Bathgate. The all-day event is at a park near the center of town. The sky is dark and rain is in the forecast, but it isn't supposed to last all day.
It does.
Soon after the games open, the clouds let loose. Pipe bands still play, though the musicians become drenched. Raindrops drip off their noses and bead on their instruments. Burly men still toss shot-puts, which send up glops of mud when they land. Kilt hose and shoes become caked in mud.
Umbrellas and rain jackets can't protect us from blowing rain. We are soaked too, and cold, but we decide to brave it out. The park field becomes a swamp. Even the hearty Scots, who are probably used to this weather, cry uncle after a few hours of relentless downpours: the games are called early.
We slog back to the train station for the comfort of a dry ride back to the city.
Lockerbie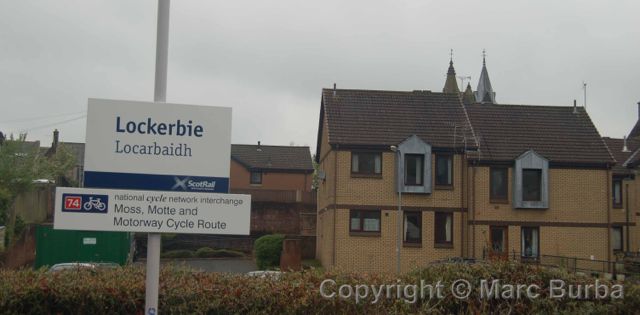 On Dec. 21, 1988, a bomb exploded aboard Pan Am Flight 103, a Boeing 747 en route from Heathrow Airport in London to JFK in New York. The disintegrating, flaming wreckage rained down 31,000 feet onto this village, killing 11 residents in addition to all 259 aboard.
We pass through the next day on our way south to England, and the train stops for a few minutes. We don't have time to get out and explore, or to see the memorial for the victims erected in a cemetery near the town, but it's still chilling to be, even briefly, in a place with such a tragic claim to fame.