East Coast road trips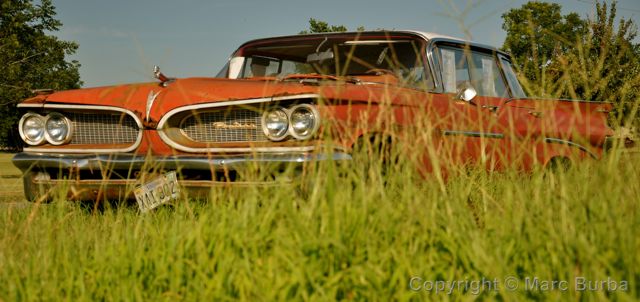 There it sat, along the side of U.S. 13 a mile or so south of Mappsville, Va.: A weathered 1959 Pontiac Catalina four-door vista hardtop for sale. I was driving too fast and saw it too late to stop immediately, but a car like that is so rare nowadays that I had to get a closer look. I wheeled a quick U-turn at the next crossroad and doubled back. Looks like it was once Roman Red, though that bold color had oxidized and faded. Most of the body panels showed significant rust, a few chrome pieces were missing, and the Virginia license plate with a sticker showing that it was last current in 1994 hung at an angle from a single bolt in the front bumper. But the mix of age and neglect, and its position in the tall grass next to a farm field made it a photographer's dream. I couldn't find a bad angle.
The Catalina's body looked pretty straight despite the rust, but the front bumper is pretty battered. According to the sign in its window, it had been running good when it was parked (the last state inspection also expired in 1994). It can be yours for $2,700. I hope someone is able to rescue it.
The Catalina was one of a few awesome old vehicles I came across during a week of driving through North Carolina, Virginia, Maryland, Delaware, and Pennsylvania. Others are in the slideshow. I drove by the same spot again a couple of years later, and the car was still there, now with other rare and rusting hulks. One of them was a dented, disintegrating, aqua 1957 Lincoln Premiere resting on a wooden trailer. The owner wanted $10,000 for it, but with just about every body part eaten through with corrosion, I doubt it will get any takers. One of these in top condition would only fetch about $30,000.
Sadly, during one of these trips I also had to say goodbye to a car that's been in the family for almost 50 years.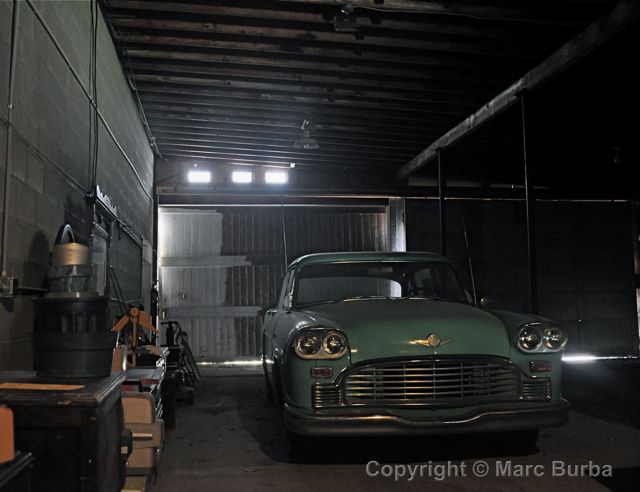 During a stop in Pennsylvania to visit an uncle, I learned that he had just sold his 1962 Checker Marathon, a passenger car version of the taxicab that was so famous in New York and other cities a few decades ago. He has been whittling down his impressive car collection for the past decade or so, and the Checker was the last holdover. It was sitting all alone in a sprawling garage that once held Packards, a couple of old Chevys and an Oldsmobile. Just imagine what's still behind all those garage door and barns we pass every day.
I got to climb inside the old Checker one last time and admire the metal dashboard and bench seat (no seat belts back then), and then take one last slow walk around it. I know he'll miss it. I know I will.