Krakow, Poland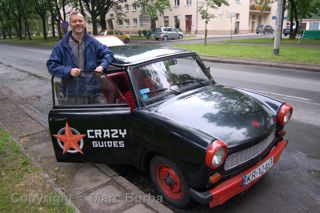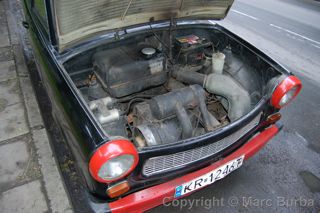 Meet the Plastic-Fantastic Rocket, a 1980s Trabant that was our ride during a Crazy Guides communism tour in Krakow. The Communist-era East German car spewed exhaust into the cramped passenger compartment as it creaked and complained through the streets of the city's Nowa Huta district.
Even though it had seat belts, we were told it'd be safer if we didn't wear them — since the fuel tank is in the same compartment as the sputtering two-cylinder engine, any crash would almost certainly guarantee a fire. The composite Duroplast body didn't offer much protection either.
So we put our safety second to the experience. This old car won't ever win a race, but at least it didn't break down between stops at a sprawling factory, a preserved apartment, a coffee shop, and a few other places in this industrial district that Poland's Communist leaders began mapping out in the late 1940s.
Food sampling was important here, too. My grandmother made the best pierogi, period. Her Polish roots made her an expert in the kitchen craft. So during this visit, I wanted to sample as many different styles of the traditional crescent-shaped filled dough as I could. I ate pierogi filled with cabbage and mushroom, meat, cheese and potatoes, onions, and fruit. They all were tasty, but none compared to Gram's. Local beers were just as good. I never had Polish beer before this trip, but I enjoyed sampling brands that included Okocim and Źywiec.
In the city center, a guided tour of the opulent Wawel Castle included the Royal Private Apartments, State Rooms, Crown Treasury, and Armory. Also on the grounds are a cathedral and royal tombs, including the new tomb of the Polish president and first lady, who were killed in a plane crash a few weeks before our visit.
A few miles outside of Krakow is the Wieliczka Salt Mine, which has been functioning since the Middle Ages and is one of the country's most popular tourist attractions.
To see the sculptures and even complete chapels carved in the mine's depths, we had to descend a narrow, 378-step shaft. The return trip is less strenuous but potentially just as stressful: a claustrophobic lift brings people back to the surface.
The main stop on this trip,though, was the Auschwitz concentration camp, which is about two hours away from Krakow by train. Click on the link to learn more about the memorial and museum.