Australian Outback
No photo can truly capture the immensity that is Ayers Rock. It is out of place, plopped down in the middle of the Outback with nothing around it for miles but red dirt and brush. It is colossal even from a distance, but as we approached it in our right-hand-drive rental Toyota, it seemed as if it would swallow us and everything around it.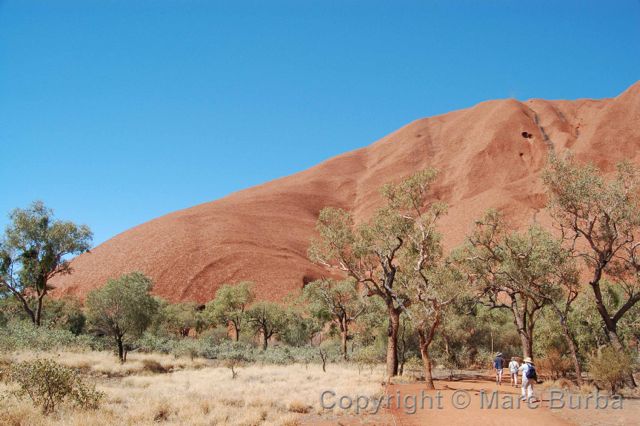 Ayers Rock — or Uluru, its Aboriginal name — is 1,141 feet above ground, but it also extends more than a mile and a half into the earth. It is 2.2 miles long and 1.2 miles wide. A walk around its base is 5.8 miles. That's what we're doing on this day.
Relentless flies buzzed around our faces. They, too, are oversized: I swear they were as big as walnuts. We laughed earlier at tourists wearing wide-brimmed hats with small corks or netting dangling off the brim to fend off insects, but now we wished we had a couple. We're expending just as much energy swatting them away as we are walking.
The monolith looks perfectly sculpted and almost smooth from a distance, and much of it is — it's rounded and wavy, almost as if someone had flash-frozen a chunk of ocean. Some of the shady spots at its base are shaped like the barrel of a North Shore swell. Hikers, including us, use the formations to escape the pounding sun for a few minutes. Ridges run in sometimes-vertical, sometimes-horizontal stripes. But there also are huge pock marks and holes, as though a sun-hastened cancer has started eating the rock. This is all caused by millions of years of erosion.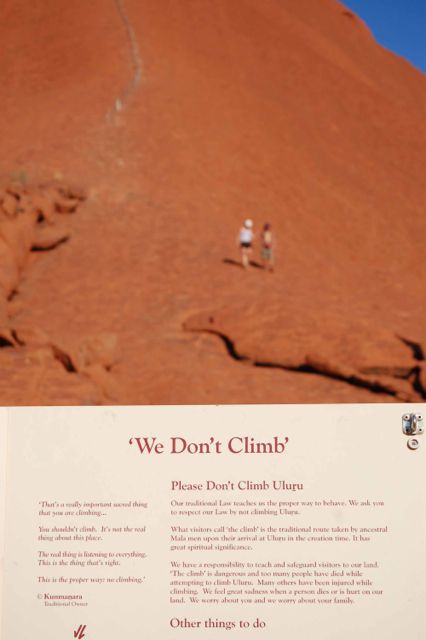 Up close, the sandstone surface is rust-colored and flaky. The color is from oxidation of iron content. There are pockets of trees along the hiking path, but their thin leaves offer precious little protection from the sun and heat. Even in September, one of the country's cooler months, temperatures quickly climb through the 80s in the mornings.
It's recommended to start the trek early, which we did — just after sunrise. We brought plenty of water, but I still started to feel the heat's effects a couple of hours in. Each long curve on the trail laid out more of the same in front of us: the towering rock to our left, brush and dirt straight ahead, a nearly-empty two-lane road to our right, the sun overhead. What a relief to finally spot the parking lot where we left the car. The walk took about 3½ hours.
Some people visit Ayers Rock to climb it rather than walk around. This is possible on a mile-long path on a steep ridge — there's even a chain safety rail along part of it to hold onto — but the Aboriginal people discourage it because of the route's spiritual significance to their ancestors. We deferred to the local culture, though we watched a few others struggling with ascents along a well-worn path. Their reward would be a sweeping view that goes on for miles — and a treacherous descent.
The route is off-limits during extreme wind or heat and the rare rainfall, and not everyone trying it is successful — plaques at the base memorialize the few dozen people who have been killed during their climbs. Countless others have been injured in falls. We didn't want to become a statistic. The base walk, too, is a once-in-a-lifetime experience, and it respects the people. That was our reward.
Alice Springs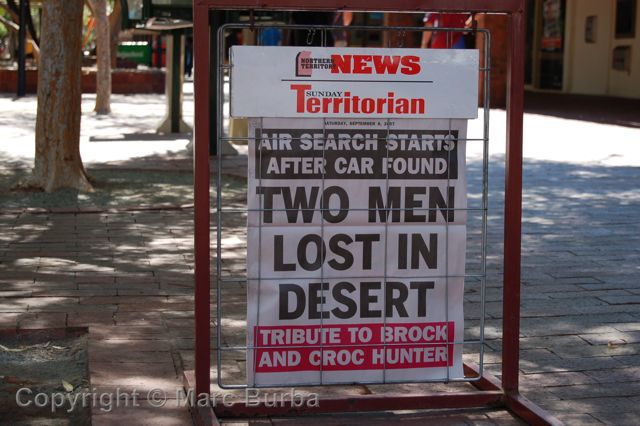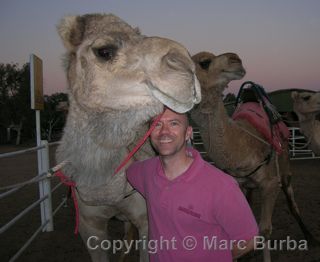 We arrived at the Ayers Rock Resort from Alice Springs after a six-hour, 210-mile bus ride through the nothingness that is the Outback. Alice Springs, the lonely desert town pretty much in the center of the country, is the destination of the drag queens in the Aussie film "The Adventures of Priscilla, Queen of the Desert," and the musical based on it. We didn't see any drag queens on this trip, but we stopped at the casino they were headed to in the movie. It was nothing special.
Alice is one of those places where it's nice to say you've been there, but overall it's a largely forgettable stop. I did, though, ride a camel for the first time on a touristy but fun sunset adventure in the desert a few miles outside of town.
The town has the vibe of an artists community, with plenty of Aboriginal works and other artwork for sale at galleries lining several streets. If that's what you're into, great, but for us it was no different than the glut of galleries we find (and avoid) in any tourist town anywhere in the world. My prize, which I picked up at rundown shop that was part flea market, part rummage sale, was a real Northern Territory license plate with "Outback" stamped on it. I'll take that over a watercolor any day.