California: Fellow Earthlings Wildlife Center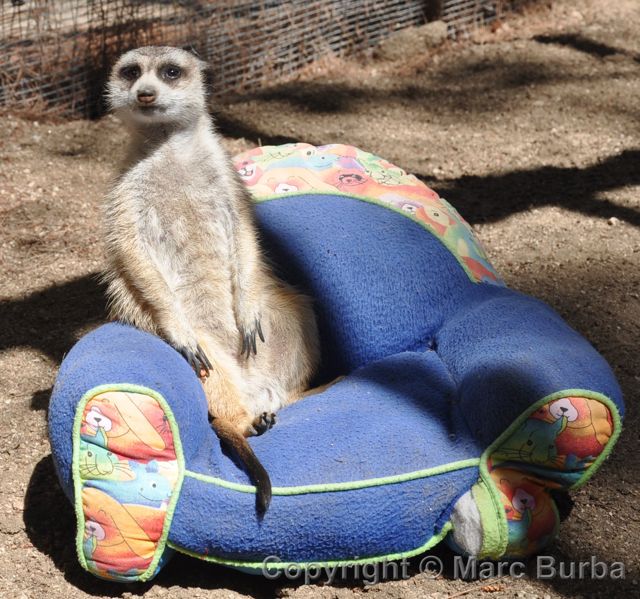 I sit cross-legged in the dirt, a dozen or so mealworms wriggling in my black-gloved hand. Rafiki the meerkat is smart enough to know that a snack is nearby, so up he jumps onto my leg to dig in to the treat in my cupped palm. When the glove is empty, he loses interest in his big visitor and walks off to dig for a minute before climbing onto his doll-sized plush chair to bask in the desert sun's warmth.
And so it goes for two hours in a roomy meerkat enclosure at Fellow Earthlings Wildlife Center in Morongo Valley, Calif., between Palm Springs and Joshua Tree. We sit still as three aging but still lively animals duck in and out of our shadows, climb onto rocks for a better view, forage in the soft earth for snacks, and occasionally check us out for more worms.
Rafiki, Nalo, and Bara retired here after a life at The Living Desert in the nearby Coachella Valley or the San Diego Zoo, about two hours away. Center director Pam Bennett-Wallberg says the meerkats here are basically cast-offs from these places — they may be old, ill, or just moved because their previous home got too crowded. But oh, these cast-offs are lucky to be spending their golden years at such an amazing place. The desert climate and altitude mirrors their natural habitat of Africa's Kalahari Desert, and they are well cared-for and happy. The serene, shaded surroundings include cottages and a water wheel.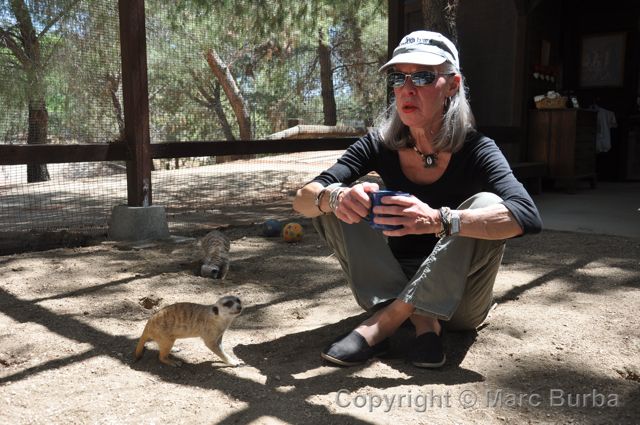 Pam sat with us during our stay, regaling us with stories of her meerkat experiences and her adventures in Africa, where she travels every year (a knowledgeable team ensures that the meerkats-in-residence back at the center are healthy and active). Fellow Earthlings has been in existence since 1989 as a nonprofit facility.
Because of Pam's expertise, Disney animators came knocking when they needed a consultant for their work on the character Timon for the movie "The Lion King" And then, a few years ago, along came "Meerkat Manor."
Pam became Animal Planet's publicity spokeswoman in the mid-2000s for the cable network's hit show, which was a documentary about meerkat mobs in Africa with a good dose of soap opera and reality TV mixed in. The matriarch Flower became the Kalahari's version of Miss Ellie. The popularity of meerkats — and Fellow Earthlings — exploded during the show's four seasons. Suddenly meerkats were the rage, and the fascination overwhelmed the center as people booked visits months in advance and arrived unannounced to get an uninvited peek inside its well-protected perimeter. Pam says things have calmed down again, but the center stays busy with visitors who can adopt a meerkat through the Fellow Earthlings Web site. The people who visit time and again become part of the Fellow Earthlings family (Check out the link at the right for much more information about meerkats and the center, including information about how to adopt). We hope to remain part of the family too with more visits.
Visits are strictly limited to a maximum of four people at a time, and only take place during certain times of the year. I had wanted to visit here for years, but my schedule and Fellow Earthlings' never seemed to match. But when we planned a June stay in the desert, a stop here topped the to-do list. It was nearby that I got my first glimpse of meerkats years ago, at The Living Desert. I was hooked — meerkats have a playfulness and a personality unlike any others in the animal kingdom.
Click on the video below for a better idea of what it's like to get up close to meerkats.