Lorraine American Cemetery, France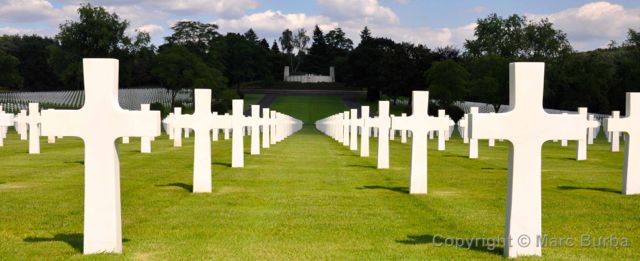 I got to know Staff Sgt. William E. Zwetsch today.
He was born in Chicago. He met his future wife, Peggy Nichols, at Look Out Mountain Lodge in Colorado, where they both worked one summer. He liked to give Peggy roses "for special occasions and just because." He arranged for roses to be delivered on Peggy's birthday in April and on Mother's Day in May, because they had just welcomed a daughter, Patricia.
The flowers arrived after his death. He was killed in action in southern France on March 15, 1945. He was 24.
• • •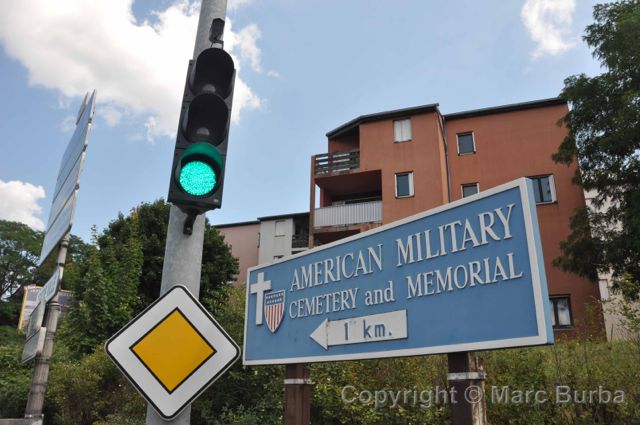 This cemetery on the northern outskirts of Saint-Avold, France, holds the graves of Staff Sgt. Zwetsch and 10,488 other men and women killed in the European Theater during the final year of World War II.
Today, I am here on a mission to find his grave and those of 40 other men.
This is the largest American World War II cemetery in Europe. It holds more dead than the combined U.S. casualties of Iraq and Afghanistan since 2001 plus the total killed in the Sept. 11, 2001, terrorist attacks.
Families that want closure, veterans groups looking to honor a local hero, and amateur researchers compiling data from this long-ago war have posted requests on a Web site for photos of headstones here. Forty-one requests had been posted over six weeks. I found them while researching the cemetery the night before I visited.
The printed list fills three sheets of paper. It gives me a purpose for being here while visiting Saint-Avold, which is just over the German border.
• • •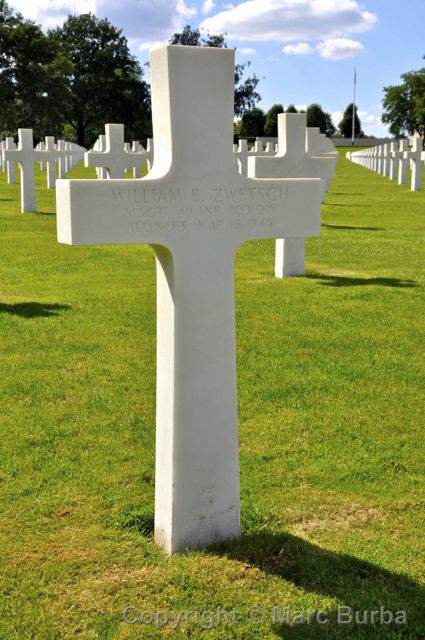 Staff Sgt. Zwetsch's final resting place is Plot E, Row 33, Grave 39. But those are just letters and numbers. They don't say anything about the man.
So I found out more, with the help of Gail Stirrat, Patricia's half-sister.
Bill graduated from Lane Tech High School in Chicago. He married Peggy in July 1942, and Patricia — their only child — was born on Valentine's Day 1945. He had worked at Wieboldt's, a long-defunct Chicago department store, and made the best pies ever. Before he was drafted, he was learning tool and die making at Auto Point. In the war, he served in the 411th Infantry Regiment, 103rd Infantry Division.
Gail said that Bill's best friend, who served with him, was killed in action about a month before he was. Bill waited to let Peggy know about that tragedy because she was nine months' pregnant and he didn't want her to worry.
"He was a good man who only wanted to be married and have a family.  His only request was that his wife make sure their child never forgot him," Gail said.
Patricia has not forgotten her father, Gail said, and neither have new generations of his family. Bill now has four grandchildren, nine great-grandchildren, and four great-great-grandchildren.
• • •
Four Medal of Honor winners — Andrew Miller, Ruben Rivers, David Waybur, and Frederick Murphy — are buried here. So is motion picture animator Willard Bowsky, known for Popeye the Sailor and Betty Boop cartoon shorts of the 1930s before enlisting in the Army in 1942. P-51 Mustang flying ace George Preddy and his pilot brother William, North Carolinians shot down four months apart, are buried side by side.
These are the graves often sought out by visitors. But the other 10,482 troops are no less important to their loved ones, as the posted requests showed me.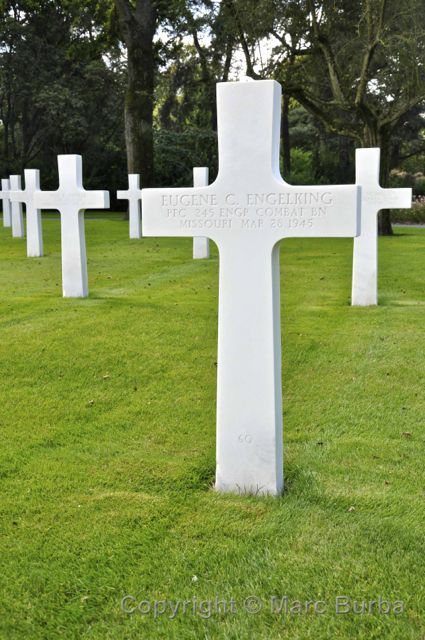 There's Pvt. Holger Beckwith of New York, who enlisted in May 1944 and was killed on March 29, 1945: "Please help. No one in my family has ever seen my grandfather's grave."
There's Pfc. Clifford Whatley of Thomaston, Ga., killed Nov. 25, 1944, three months after leaving for overseas service: "The hometown of this honored hero would be eternally grateful for a photograph of the stone which marks the spot of earth last reserved for her fallen son."
And Pfc. Eugene C. Engelking of Webster County, Mo., who died at age 23 on March 28, 1945: "My grandmother recently passed and in her belongings I found pictures of Eugene C. Engelking, my great aunt's son. I also found his military ID bracelet, a ring, and a letter to my great aunt from the military informing her of his death. No one left in my family, which is only a few of us, knew what happened to his remains. … 68 years later he has been found. … Please if you can take a picture of his monument; he is missed and loved by me, even though we never met. Tell Eugene he is not forgotten; he is in our hearts and souls forever and until I pass to meet him on the other side."
James Folderauer. Eugene Booker. Cosimo Quaglia. Fritz Braun. William Burns. William Hannah. John Keddy. Calvin Calp. Robert Luther. Donald Freese. Harold Karns. Maxwell Papurt. Thomas Williams. Haigus Tufenkjian. Glenn Hummer. Albert Bailey. Clyde Brunson. L.C. Floyd. Earl Propst. Bruce Forsberg. Elzie Boyce. Paul Johnson. French Wimer. William Hoffman. Charles Colison. Jesse Conley. Houston Evans. George Burke. La Verne Stackhouse. Gurney Davis. Paul De Kowzan. Walter Corbeil. Herbert Tubbs. George Alexander. William Earnest. Darrell Morrison. Lloyd Wagoner. I got to know each one, if only for a few minutes.
• • •
I spent about three hours here ensuring that all 41 requests were fulfilled. That night, I posted each photo online.
The next day, something unexpected happened: Notes of thanks began arriving in my inbox.
From Heather Lutes, the niece of Pfc. Engelking, whom she never met: "Thank you so much. Words cannot express my gratitude to you for this. … I knew his mother, Gertrude, as well as possible, but she passed when I was 5. His father, William, died in 1941. I have Eugene's military ID bracelet and a ring with his initials, the Bible the Army gave him, and some things from his time at Fort Leonard Wood, Missouri. My family did not know what happened to his body. It took Gertrude over ten years before she started cashing the checks from the Army. She kept them in a drawer and called them 'blood money' for the life of her son. I loved my great aunt dearly and Eugene was her world, so I went on a search in her memory and his."
Heather let me know that Eugene was thin and not too tall, with blond hair and blue eyes (his mother was Swedish).
"His ring and bracelet weirdly fit me perfect, and I'm 5'2, 120 pounds, so he was not a large man. So sad that he died roughly 6 weeks before Germany surrendered," she said.
And from the family of Staff Sgt. Zwetsch: "I want to thank you so much for this picture. It is for my mother who never got to say goodbye to the first love in her life. It is also for my sister who never got to meet her father. He died one month after she was born. His mother chose to leave him in France. This is a closing they have both been missing for over 60 years. Thank you very, very much. You will never know what this means to my mother who is 88 and near death herself. Thank you again. She has needed this for years. Thank you."
Was taking these photos worth my time and effort? Absolutely.