Mumbai and Chennai, India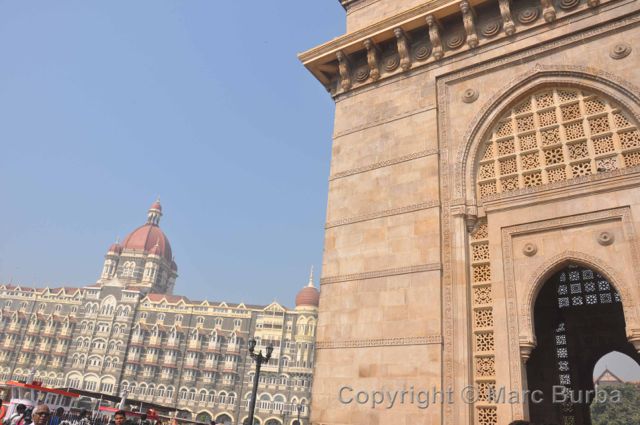 India may be a feast for the eyes, but we had our eyes on the feasts.
In the midst of a day of sightseeing, we needed a breather from the chaos and noise that is Mumbai. How about a spot of tea?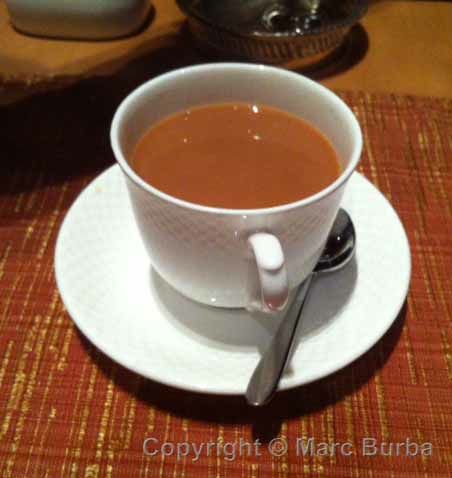 We ducked into the Taj Mahal Palace Hotel near Mumbai Harbour and marveled at its palatial lobby, ornate staircases, and high-end look-but-don't-touch shops. On the lobby level we found Masala Kraft, a contemporary Indian restaurant with a "smart casual" dress code. Our sweat-dampened shirts and standard tourist cargo pants weren't very smart, but we had casual nailed. Lunch and tea are served until 2:45 p.m.; we wandered in close to the closing time, but the waiter welcomed us.
I was amazed that I was even here. The first time I had heard of the hotel was a little more than six years earlier, when it was under siege by an Islamist terrorist group. More than 160 people were killed in the November 2008 attacks across the city, including 33 here. The first images I remember are of its century-old roof and rooms in flames.
But now, all signs of the attack have been erased. We savored the opulence and the attentive staff. Even in our ratty clothes, we still were treated like kings.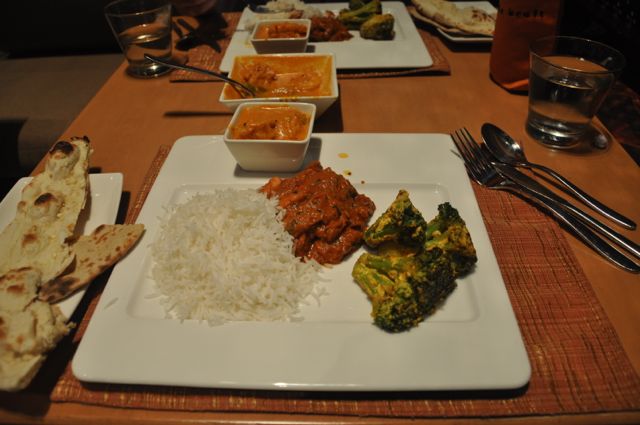 After a specialty tea, we dined on sarson ke phool (broccoli floats imbued with mustang and pickled spices); murg khatta pyaz (chicken and pickled onions); and aleppy curry (a prawn curry flavored with raw mango and coconut). We paid like kings too: more than $140 for 2, which was about 10 times more than we paid for any other feast in the country. And feast we did.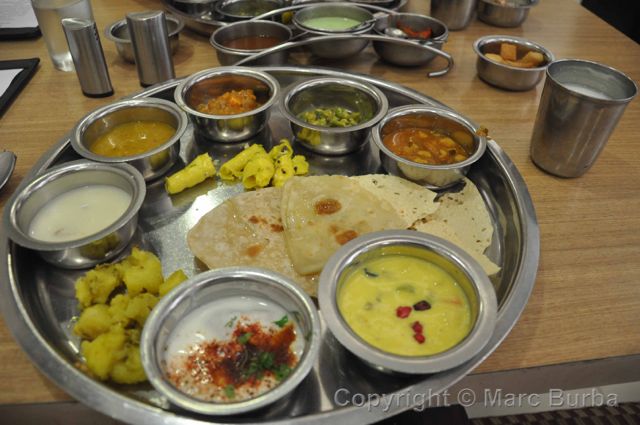 Near our hotel in the Juhu suburb of the city, a guide pointed us to The Class Thali restaurant. A thali is a round platter brimming with delicious food. On our second full day in Mumbai, we stopped here. Luckily we brought an appetite. On the menu for the day was tomato soup, punjabi samosa, dahi vada, sandwich dhokla, vegetable kolhapuri, aloo ki sabzi, vegetable hariyali, mix kathol, chapati, reshmi paratha, steamed rice and khichdi, dal fry, gujarati kadhi, jalebi, and fruit salad. This is not a list of our choices — it is the list of all we had. We had no idea what most of it was, but we know for certain that it was all delicious. And similar to a Brazilian churruscaria, waiters regularly offered more portions until we simply could not take another bite.
The price for all of this goodness? About $12 for both of us.
We also spent a couple of days on the other side of the country in just-as-chaotic Chennai to visit the main Indian office of the global company that employs me.