National Museum of Funeral History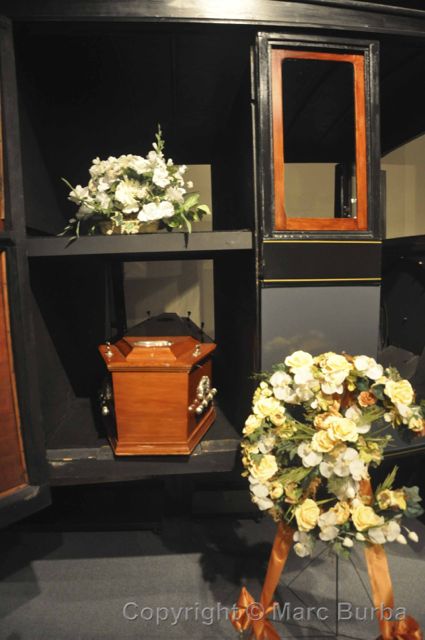 I'm sure a funeral bus sounded like a good idea at the time.
Load up a coffin, all the flowers, the pallbearers, and the mourners in one vehicle and head to the cemetery. Only problem was, the New York City-built bus was bought by a San Francisco funeral home. New York City is flat. San Francisco is hilly.
As the bus climbed a hill to the cemetery, the story goes, the heavy rear section tipped back. Mourners tumbled over each other and the casket overturned. The appalled funeral director took it out of service and removed the passenger compartment from its Kelly truck chassis. It was used as a ranch hand's home for four decades until another California funeral director discovered it and had it mounted on a Packard chassis. The current owner, the Robert D. Larrabee Merchant Funeral Home of Clarkson, Wash., returned it to running condition and put it on display at the National Museum of Funeral History in Houston.
Weird stories like this, side by side with unusual displays, make the museum so much more than a dark look at death. For me, this was a double draw: classic cars and death rituals. Both fascinate me.
There's the casket built for three, commissioned in the 1930s by a grieving couple after their child died. Their plan after the casket was delivered was for the husband to kill the wife, the child to be disinterred, and all three to be buried together. But they changed their minds and moved to another state, even though the casket had been paid for. It was completed anyway. Twenty years later the woman contacted the mortary, which had changed owners, and requested that her money be refunded. Her husband had died. The new owner told her a refund was impossible and that the casket must be moved. Nothing else was heard from her, and this casket too, ended up on display here.
There are a couple dozen classic hearses — motor-driven and horse-drawn — including a Cadillac that carried the bodies of two presidents and a Mercedes that carried the coffin of Princess Grace of Monaco. Special displays include funeral home memorabilia and a re-creation of an early 20th century casket company; a walk through the rituals after a pope dies; a look at presidential funerals; and a look at the memorial programs of celebrities and politicians. The museum is so well-designed that it's easy to get immersed in the displays and suddenly realize that you've been here for several hours.