2008 Summer Olympics, Beijing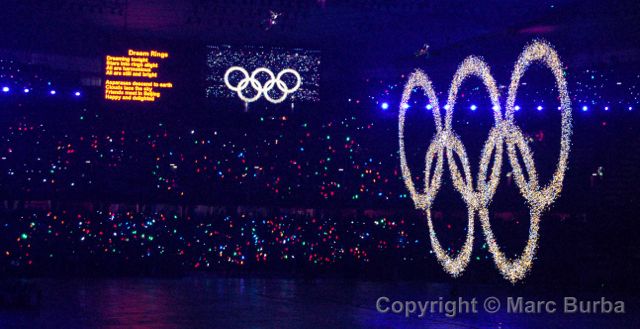 A few people have told us how lucky we were to have seen the fireworks display during the opening ceremony of the 2008 Summer Olympics. Truth is, all we saw were a few brief sparkles.
Many of the 91,000-plus people inside the new Beijing National Stadium — or the Bird's Nest — on that hot August night didn't have a good vantage point for the display. The architecture's curves shielded much of it from us. It was more of a made-for-TV event.
But oh, the sights we did see during those few hours: about 15,000 performers in a choreographed spectacle that London could not come close to matching four years later; the Parade of Nations, with athletes representing more than 200 countries; the lighting of the Olympic flame. We even spotted David Schwimmer from "Friends" — he was in a line next to us buying souvenirs.
Beijing's heat and humidity in the height of summer kept us drenched in sweat, and the smog hung thick and cast the city in a choking gray haze, but the experiences outweighed the discomfort.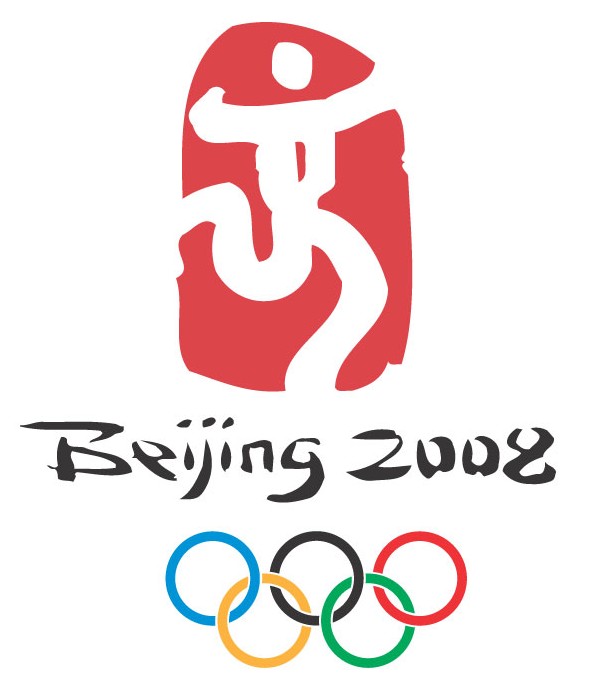 This trip was all about the opening ceremony, on 08-08-08. A year and a half earlier, we had submitted our names to a lottery for tickets to opening and closing ceremonies as well as several sporting events. Months ticked by with no word, and then in the fall of 2007 we learned that we were selected to attend the opening ceremony. Winning this lottery, though, meant shelling out a lot of money for tickets. Oh well. We didn't score any other event tickets, so we decided to make the trip a full-blown tour of the country.
We touched down in Beijing about 14 hours late because of a tropical storm lashing Hong Kong, where we were stranded in the airport as our flights were delayed, then canceled, then rebooked. It was muggy even at 3:30 a.m., and smog doused buildings and streets in a thick haze during our taxi ride to the hotel.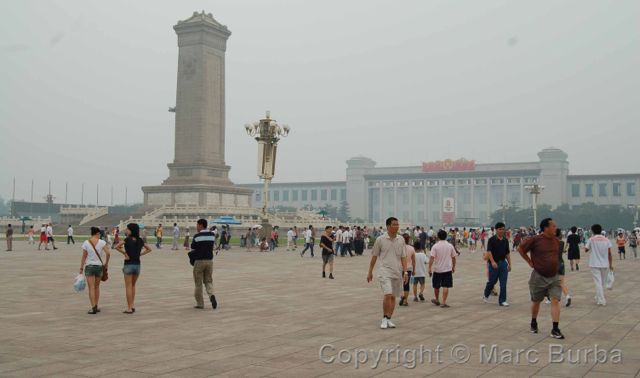 But with only a few days here we had a lot to see, so there wasn't much time for sleep.
A few hours later we were awake again and heading to Tiananmen Square (the site of quashed pro-democracy protests in 1989) and the Forbidden City, the imperial palace complex that was the home to emperors for five centuries before becoming a museum in the early 20th century. The day was a haze, even without the smog, because of our exhaustion and the relentless heat.
OK, here's where I pause for a minute to talk about bang ye, or "exposing grandfathers" (I looked it up). When it gets hot in China, men roll up their T-shirts to about armpit level to stay cool, exposing their midsections. Now, I'm not talking about showing off Men's Health cover model six-pack abs. These are more like Buddha bellies. Everywhere we looked — in front of stores, in parks, even on the bus — there they were, in their pasty glory. Imagine a few of those coming at you on the street. China has tried to fight it by encouraging etiquette, but it's not going away anytime soon. God help us all if bang ye gains traction in the U.S.
The big day
On 08-08-08, we started the day at the Great Wall of China. We expected a respectful, historical visit.
But what the hell? At the wall's Mutianyu section, we battled hordes of bused-in tourists on a path between dozens of food and souvenir vendor stalls. There's a ski-lift-type ride taking people up to the wall, and for the trip back down there's a toboggan ride. It's like a kitschy theme park — though walking the steep slopes of the wall was pretty amazing.
The long list of rules for the rides gave this editor endless pleasure: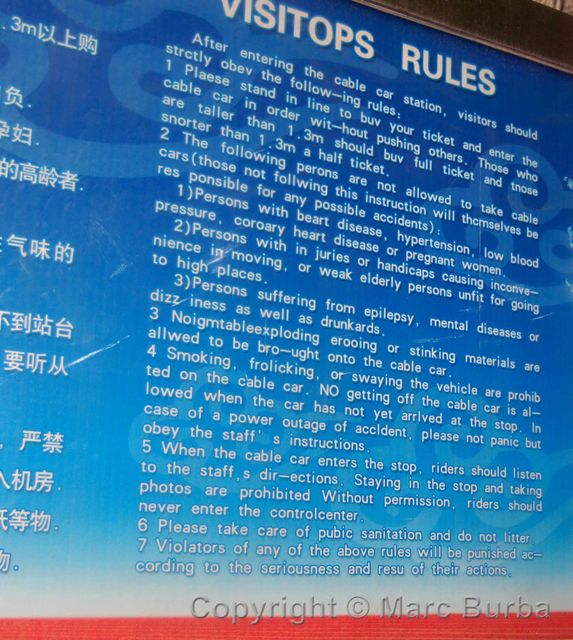 The day was so hot and so humid (did I mention that yet?), and we got stuck in traffic on our return to the hotel. The Bird's Nest was a lengthy bus and train ride from there. By the time we got back, there was no time to shower or change — we just grabbed our cameras and tickets and headed to the Olympic Green. We were going to get sweaty and dirty getting there anyway. Then we waited with the mass of people for another couple of hours just to get through the security lines to get inside.
None of that mattered in the stadium. Everyone else was just as hot and sweaty and wilted as we were. And nobody minded, because we were all a witness to history.