St. Louis Cemetery No. 1
Not long after Hurricane Katrina hit the Gulf Coast, we returned for the first time to the still-wounded New Orleans. I remembered my fascination as a child of the above-ground tombs that are a necessity because much of the city is below sea level, and I hoped to wander through a couple of the cemeteries again.
With the post-hurricane uptick in crime, though, we were warned at the hotel to steer clear. The ornate and crumbling tombs also were the perfect cover for robbers. In that first post-Katrina year, the entire region beyond the untouched French Quarter was more a Third World land.
Even years later, the city has many scars, and the larger, outlying cemeteries probably are a risk. But near the French Quarter, one of the most famous of the city's cemeteries is once again filled with visitors seeking out the strange.
St. Louis Cemetery No. 1 dates to 1789, when it as established just outside the city limits after an existing cemetery filled. This information is from the Web site of the Architectural Conservation Laboratory and Research Center of the Graduate Program in Historic Preservation at the University of Pennsylvania. It has a lot of great insight on the cemetery's history and preservation efforts. Find out more by clicking on the link at the right.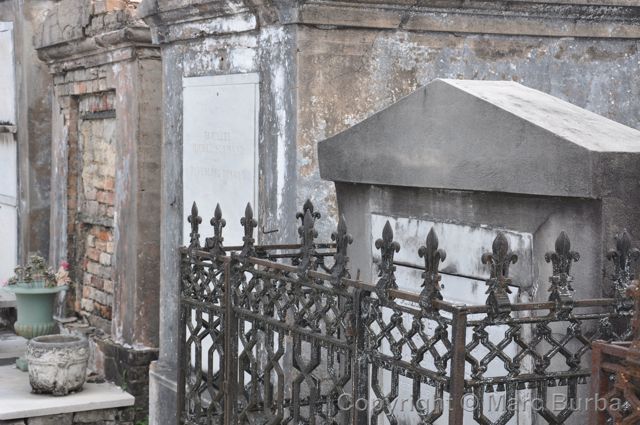 Anyway, on this day we enlisted a tour guide to take us through to visit the much-vandalized grave of voodoo priestess Marie Laveau, the monstrosity that someday will house actor Nicolas Cage, and the final resting places of many other city notables over the past two centuries.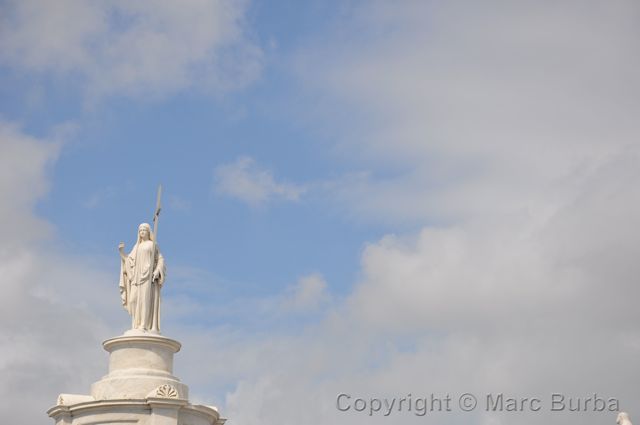 The tombs that sometimes house generations of remains are beautiful in their decay. Preservation projects today focus on retaining the tombs' character rather than attempting a full-on restoration.