Cancun, Mexico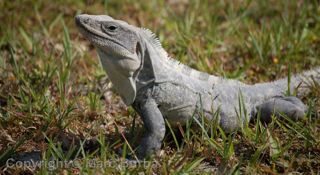 "I know I look like a fool," I said, "but this is what TripAdvisor said to do."
And so the 15-minute walk from our beachfront hotel began on this Sunday morning — camera in one hand, an unopened loaf of white bread in the other. A few people stared as we walked to the El Rey ruins, a small Mayan archaeological site at the southern end of Cancun's hotel zone. I'm assuming it was because of the bread and not the camera.
At the site, under a gorgeous blue February sky, it didn't take long to spot the residents: hundreds of iguanas that call the ruins home. I had read that it was easy to draw them out with pieces of bread. So I tried it. A piece thrown here, a crust placed on a rock there. At first, one or two tentatively approached a potential snack. As we walked deeper into the ruins, though, the rustling in the grass increased. More heads popped up. Other heads peeked out from the ruins. Soon, like a band of robbers honing in on an armored truck, they had us surrounded, with their eyes on the prize.
The bread bag was soon empty. Dozens of iguanas waddled away, satisfied with a good meal. And after an hour or so exploring, the sun started to beat down stronger and we knew it was time to get back poolside.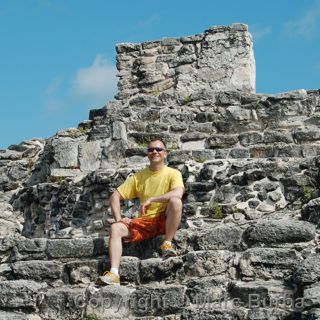 Even the night before we left for this long weekend, we had no plans for when we arrived. Head out to Chichen Itza? Tulum? Cozumel? Friends who love visiting this part of the world settled it when we went to their home for dinner: "Why do anything? The beaches are beautiful, the water is amazing. Just relax for once." Wow. What a concept. Going somewhere and then not going ANYWHERE. But then, maybe it's OK to just kick back instead of playing tourist.
So that's what we did: A beachfront villa, an infinity pool, an attentive wait staff to bring food and drinks, and a swim-up bar for emergencies. Sunshine the whole time for a glowing tan when we returned to reality. Perfection.