California: Joshua Tree and Death Valley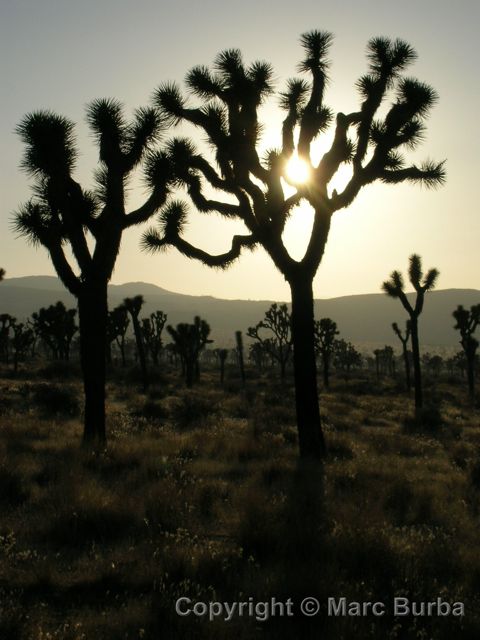 The warning in the National Park Service's Joshua Tree National Park guide is pretty dire: People have died here from preventable accidents. It's even in italics.
What follows is a need-to-know list that will have you wondering whether you'll leave the park alive or in a body bag: Cell phone coverage is generally poor! Stay away from abandoned mines! Carry at least one gallon of water per person per day! Flash floods are a danger! Do not climb unless you are properly trained and equipped! Watch where you put your hands and feet, especially in spring and summer when snakes are active! Off-road driving is prohibited!
The exclamation points are my addition, but you get the point. And still, visitors die here every year — usually of heat exposure, fall injuries, or rock-climbing accidents.
If all that isn't intimidating, and you pay attention to basic, common-sense rules, Joshua Tree is a great place to visit for its otherworldly scenery on a day trip or, for the more hearty souls, camping and rock-climbing adventures. We stopped at one of the three visitors centers for guides and guidance before heading into the 1,234 square-mile park on paved two-lane roads that wind through desolate and sun-baked scrubland and amazing rock formations that pop up in the middle of flat sands — the result of long-ago volcanic activity. After nightfall, the sky fills with stars that aren't visible under the lights of civilization. We even saw the thick stripe of the Milky Way. Temperatures are more tolerable — and days are much shorter — in the winter, but be sure to bring warm clothes because nighttime lows could quickly fall below freezing. Even in the summer, long-sleeve shirts are a good idea to protect yourself from the harsh sun.

On the way, we stopped at the Morongo Valley Café and Museum, along Highway 62 between Desert Hot Springs and Joshua Tree. The tiny café can crowd about 50 people at its tables for a filling breakfast or lunch (hours are 6 a.m. to 2 p.m.) Historical photos of businesses, fires, and snow that fill the walls count as the museum. It's got friendly staff, great comfort food to prepare for the visit to Joshua Tree, and the most entertaining menu I've ever seen. You WILL read it cover to cover, even after you've made your choice.
Death Valley
Death Valley National Park is several hours away from Joshua Tree by car, even though it's all part of the Mojave Desert. Even from Las Vegas, which was our base for this Death Valley visit, it's about a 120-mile drive through remote lands and across the Nevada state line. This trip was in March, when the high was already in the 80s. The weather was just right to bring out lots of people to the Furnace Creek area, to see the lowest point in North America at 282 feet below sea level and roam the Mojave Desert without worrying too much about heatstroke. A couple of months later, though, highs climb into the triple digits and only the heartiest (or dumbest) people make the trek here. The highest temperature ever recorded here was 134 degrees in July 1913. The average July high is a much more tolerable 116. During the winter months, the low can fall below freezing.