California animal adventures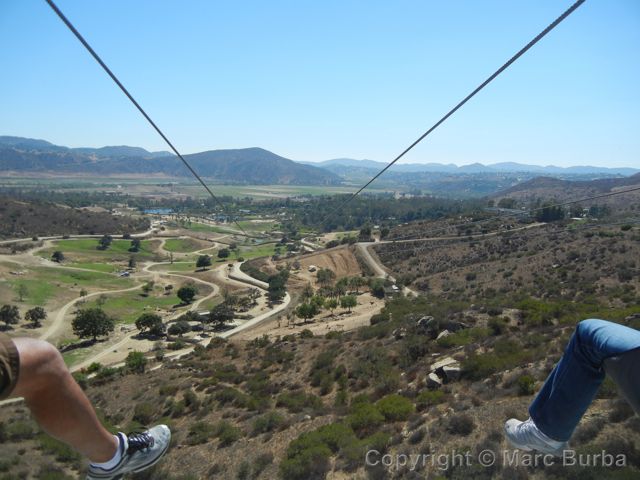 The sun beat down and the wind howled atop the Flightline launch tower, at an elevation of about 900 feet. Nothing but a zip-line cable in front of me, and a long way to the ground below. I was harnessed in the swinging seat attached to a trolley overhead. My feet dangled a few inches above the perforated metal platform. And then: Launch!
Rhinos marched below me in the San Diego Zoo Wild Animal Park as I sailed at about 45 mph to the end of the course more than two-thirds of a mile away. It only lasted a couple of minutes, but time seemed to slow as I drank in the scenery. The total elevation drop is about 400 feet, but I was never more than about 160 feet above the ground — small comfort if the cable snaps. It was exhilarating. And we enjoyed it so much that we did it again that day (there's a discount for a second zip). So, another bouncing ride in the back of a four-wheel-drive truck up the dirt roads of Condor Ridge to the platform overlooking the expansive park. And then (again): Launch!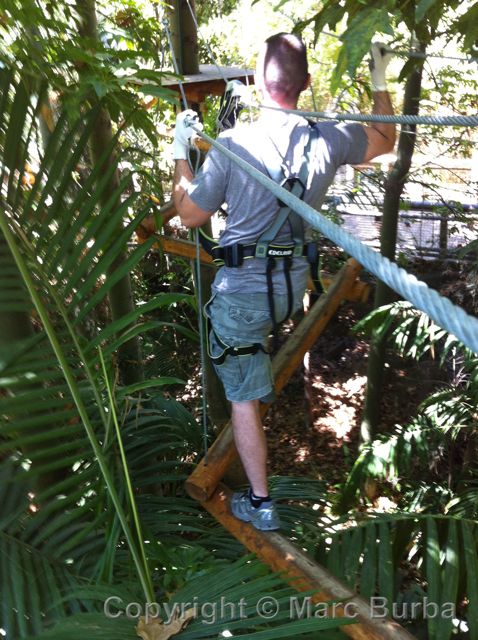 This day was about conquering my fear of heights. The zip line was the climax. To psyche myself up for those heights, as soon as we arrived on this summer morning we navigated two ropes courses in the trees above the park. Each of the Jungle Ropes Safari courses has about a dozen elements to challenge balance and fear. There's no danger of falling — we were securely fastened to a Smart Belay system — and I did good for the most part. I navigated every swinging element with relative ease but one: I had to coax myself to cross a gap of about 30 feet on a pulley-propelled, trapeze-like contraption with nothing but a 40-foot drop below me. That was my "Fear Factor" moment.
There are animals, too, at this park near Escondido and about as close as you can get to the middle of nowhere in Southern California. But my experiences with heights turned the rest of the day into a blur.
San Diego Zoo
The safari park is part of the San Diego Zoo, which is actually more than 30 miles away. I've never really been a zoo fan. Many of the animals seem depressed in enclosures are too small, and they look more like prisoners instead of protected treasures. But this place does it right. The 100-acre zoo in the city's Balboa Park gives its animals the space they need in habitats that, for them, mirror home. Pandas play on rocks and trees, koalas munch on eucalyptus leaves, meerkats dart in and out of burrows — they all look happy. Five panda cubs have been born here, as well as 123 koalas. The koala colony here is the largest outside Australia.
The Living Desert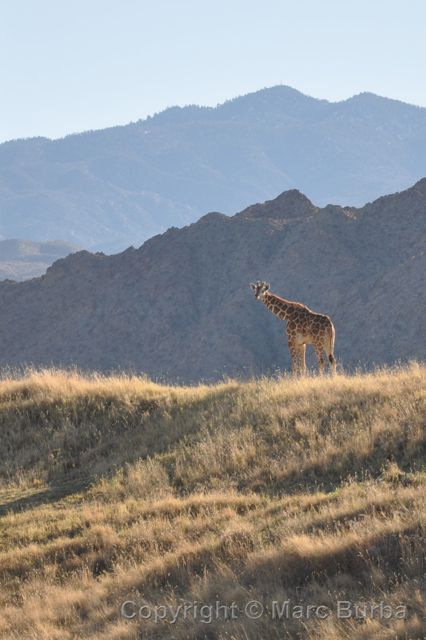 Years before Flower and her brood invaded the Animal Planet network and became reality TV stars on "Meerkat Manor," The Living Desert in Palm Desert gave me my first look at the cute critters.
The 1,200-acre wildlife preserve about 10 miles outside of Palm Springs has been nurturing African and North American desert animals and plants since 1970. It's sometimes harder to see the animals in these enclosures — probably a good thing for them, because they have room to roam. Bighorn sheep climb on and blend into rocky ledges. Giraffes wander in the distance along scrubby hills.
Winding paths take us through the desert habitats. Heartier visitors can go beyond the exhibits and into the desert nature preserve on trails of varying difficulties — anywhere from a quarter-mile to 3.5 miles. The trails are closed in the summer because of the desert's intense heat that can easily reach 120 degrees in July and August. Even in the winter months, desert wandering gets hot fast.