Brussels, Belgium
A crowd of maybe 35 people was gathered at the intersection of Rue de l'Étuve and Rue du Chêne. We joined them. Everyone was looking at a fountain recessed into one corner. Atop it was the figure that they, and we, had come to see.
"Um. That's … it?" I asked.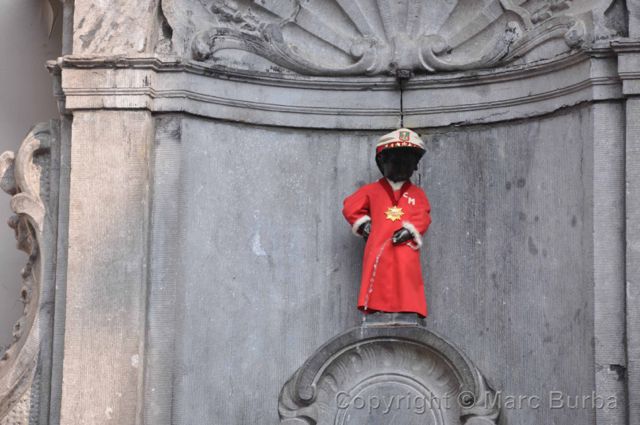 Manneken Pis is a bronze sculpture of a little boy peeing into the fountain. It's a tiny thing (the statue itself, not just its willy), and in a costume that made me think both of a child's doll and a lonely spinster's unfortunate lapdog.
The tradition of dressing up the little boy started centuries ago but really took off in the 20th century, and today the 2-foot-tall statue has hundreds of different costumes. A city employee changes them regularly.
I guess people find the dress-up adorable enough, but it's sort of like plopping a big baseball cap on the sphinx, or erecting a billboard in Machu Picchu. People come here to see a little naked boy peeing into a fountain. Don't keep it covered, no matter how twee it looks.
We stood there for an obligatory couple of minutes, shrugged, and moved on.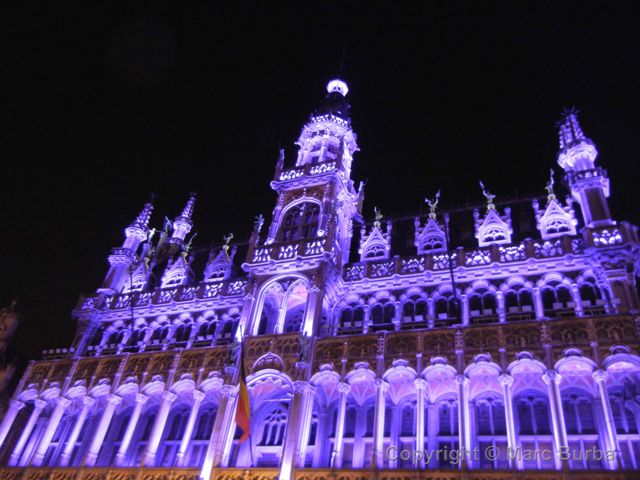 Now, the central square in Brussels is impressive. The Grand Place is a large, open space surrounded by ornate 17th-century buildings. In the daytime, the square has the standard collection of vendors and open-air cafes. But we returned at night to find the buildings bathed in a white light, which we admired before heading off down a side street to find another Belgian waffle, because nothing says nutritious dinner like a Belgian waffle. It was probably our sixth during this long weekend in the country.
That craving satisfied, we started walking back to the square. We heard a chorus of "Oooohs" and "Aaaaahs" before we turned the final corner. Well, while we were gone someone had flipped a switch that changes the color of the lights projected onto the facades. They went from green to pink to purple to white every few minutes, each change met with a orgasmic exclamation from the crowd. There wasn't much else to do besides ooooohing and aaaaahing, so we headed back to the hotel.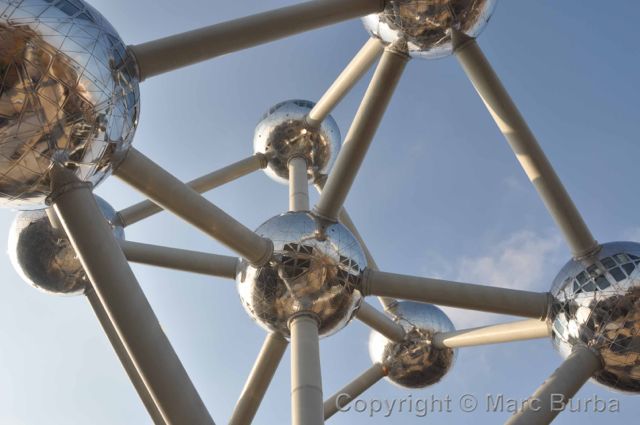 The next morning took a metro train fto the city's north end to see the Atomium, the 335-foot-high symbol of the 1958 World's Fair. This was a timed event: we had to be back at the main train station for our six-hour trip back to southern Germany. We studied and timed connections, and realized we had less than a 30-minute window after our arrival at the metro station nearest the landmark.
The Atomium is about a five-minute walk from that station. We took the distance at more of a trot to get the most out of this all-too-brief visit. Of course it's large enough to be seen from a distance with its nine gleaming, interconnected spheres, but we wanted to stand right under it. We did, and took a quick circle around. No tours or rides to the top this time, though. Then a quicker jog back to the station, and back to our hotel in the city center to grab our bags. We made it to the train station with minutes to spare.