Bratislava, Slovakia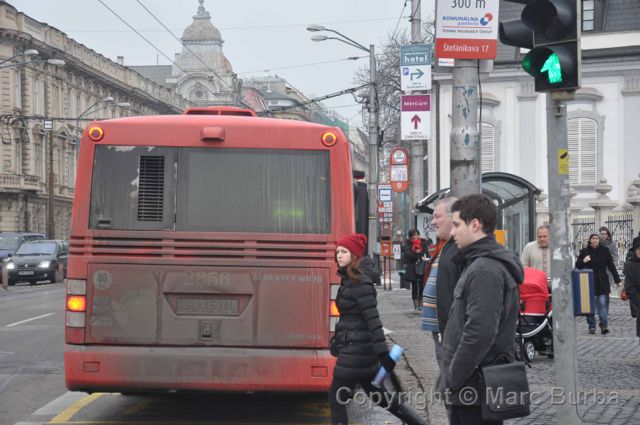 I guess a dreary winter day isn't the best time to get a good first impression of a post-communist capital. The sky is heavy and gray. Puddles of dingy water from melting snow pock roads and sidewalks. Flurries are still falling.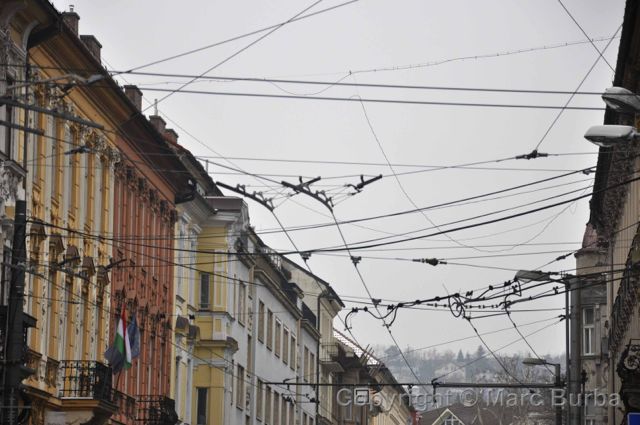 Rooftop melt drips on my head as I walk from the central train station, where I just arrived from Budapest, to the old town about 15 minutes away. Red public buses, now sprayed dark gray with road grime, grind by along Štefánikova, the main street leading to the downtown. Buildings that once must have been stately are grime-covered too, their crumbling facades tagged with graffiti. Overhead, a tangle of electric lines that power public transportation may reduce air pollution but are a blight.
I walk through St. Michael's Gate, the only remaining passage of the town's medieval fortifications, emerging in a much calmer and prettier place — the streets are narrower and the only traffic is pedestrian, the building facades are cleaner and brighter, and most of the overhead power lines are gone. Smaller cobblestone lanes and courtyards branch off from the main routes. Tourist-trap shops and restaurants are not here, but not overwhelming.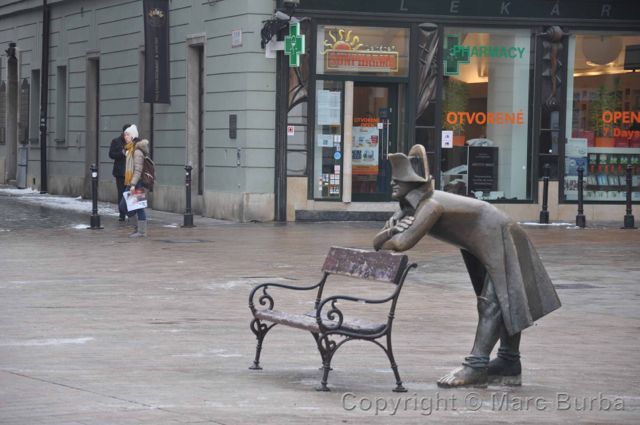 On this day old town feels almost abandoned. Even the main square is largely deserted — I could throw a pebble and likely not hit anyone. A poor Napoleonic officer statue leans on an empty bench, waiting for someone to pose for a photo. Maybe it's the gray day. Maybe it's the damp cold, which is biting through my gloves and stinging my cheeks. Maybe it's the treacherous sidewalks — even though most are just wet, there are enough lurking snow and ice patches to surprise even the surest-footed.
I find an ice-skating rink set up in front of the National Theater. Looks like fun, but my time is limited. I move on to Bratislava Castle, passing a graffiti-covered wall and crossing under a busy highway that thunders mere yards from a historic church. The highway is an insult to preservation, and a reminder of the communist era. The graffiti is an insult to the city. It even tarnishes old town building. I don't think I have ever seen so much in one place.
The castle is beyond old town, up a hill from which lots of snow and ice has yet to be removed. Still, I manage to stay upright during the climb up winding streets and crumbling stairways. The hill has been the site of a castle for centuries, but this is relatively modern construction: 1950s communist bland. I don't even go inside — a quick walk-around is more than enough, along with a stop to see the city from above.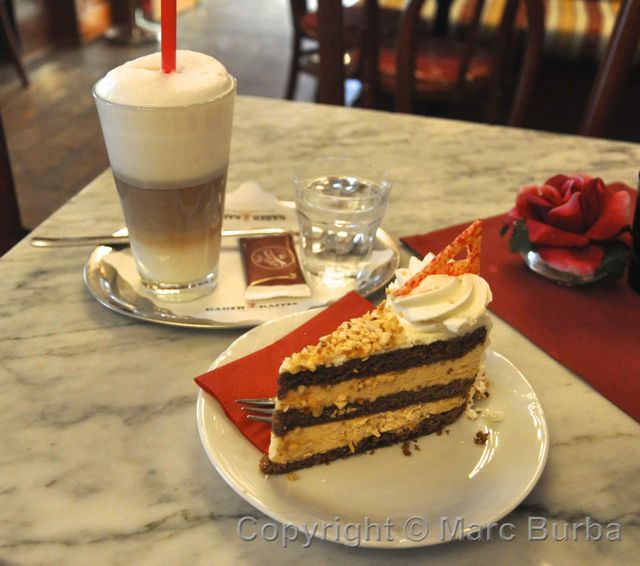 I had allotted four hours here. The time goes by quickly, and it's an almost-three-hour return to Budapest. Before I head back to the train station, I duck into Kaffee Mayer to warm up with a latte and a piece of caramel cake. The café has been selling these treats for nearly 150 years, and the expertise is obvious — I walk in to find a couple dozen colorful choices in a brightly lit display. Classical music plays softly over speakers. Even this place is nearly empty, despite its dark-paneled, chandelier-lit charms. Only two other tables are occupied when I arrive. I eat my treat and drink until I warm up and my fingertips are no longer numb. I have a train to catch. Budapest awaits my return.