Berlin, Germany
When it rains all weekend, there's not much to do but drown yourself in food and drink.
The rain is already falling on the Saturday morning we arrived after a quick stop in Hamburg.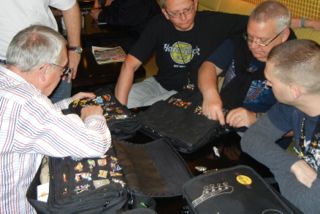 No big deal, we think. We can ride it out. Our main stop for the day is the Hard Rock Café, for a meeting of the brand's rabid pin collectors. The first Hard Rock pins debuted in 1985, and more than 44,000 have been created since. Collectors from all over Europe are here to talk and trade. Cases in hand, people wander from table to table to find pins that fit in with their collections. Outside, the rain only intensifies.
The trading ends by early afternoon, but the rain does not. Tours are out. Hell, walking any distance is out. Rain is blowing sideways under our umbrellas and soaking our shoes and pants. Drenched, we duck into the Italian restaurant Luardi to warm up, dry off, and have an early dinner. Lots of others have the same idea, because there's not much to do outside. I order an off-the-plate big calzone and chow down.
The rain continues.
Hard Rock is luckily only a couple of blocks from our hotel. We stop there again at night for a snack and a drink, then spend the rest of the night in the hotel bar sampling beers and watching the Union of European Football Associations Champions League final live on television from London.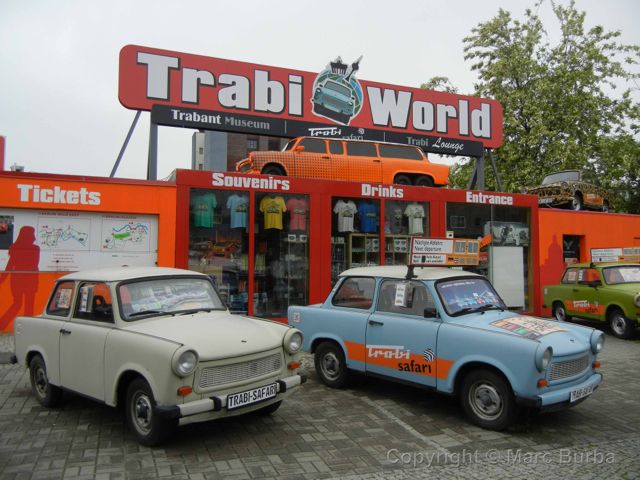 On Sunday, more rain. This same system will cause flooding in southern Germany, the Czech Republic, and Austria over the next two weeks, causing $16 billion in damage. But it the afternoon, it lets up just long enough for us to stop at the Brandenburg Gate, Checkpoint Charlie, and Holocaust memorials and museums. We see a still-standing section of the Berlin Wall. The Berlin Cathedral. And the largest collection of Trabants I had ever seen in one place (belonging to a tour company; alas, it is closing for the day by the time I discover it).
Rain starts falling again, so we find Dicke Wirtin, a hotel-recommended restaurant nearby, and fill up on traditional German food — a huge schnitzel, warm potato salad, a cucumber salad, white asparagus, and local beer.
Good food can brighten even the most miserable days.