American Samoa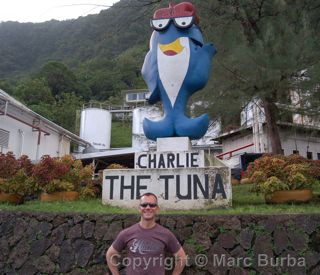 We felt like rock stars when we stepped off the plane at the Pago Pago Airport on the main island of Tutuila. Even late at night, hundreds of people crowded into the arrivals area to greet family and friends on this flight from Honolulu. On this island of about 67,000 people, every arrival and departure is a community celebration, a blend of chaos and camaraderie. We maneuvered through the crush of people to find our hosts. We felt like rock stars for the rest of the week too. People all over the island knew who we were and why we were there — after all, our arrival had been reported on TV and in the newspaper.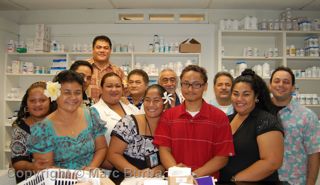 I traveled with three University of Hawaii-Hilo College of Pharmacy professors and two third-year students for a weeklong medical mission. The professors talked with and trained staff at the Lyndon Baines Johnson Tropical Medical Center and promoted the pharmacy program at the community college while the pharmacy students assisted with health fairs and in the hospital pharmacy. I was there to document it all.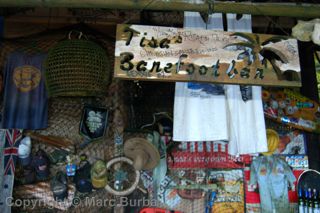 It was a lot of work, but we had some time to be tourists. We stopped by Tisa's Barefoot Bar in the village of Alega east of the capital of Pago Pago. The place has no doors or walls, just a roof and a deck overlooking Alega Beach. We sat on the deck, relaxing with a drink and absorbing the peacefulness of the remote island. It's a popular spot — just look at all the shirts, hats, patches, and autographs left behind by satisfied visitors. Seems like there's always some kind of event planned here, as well as a weekly Samoan feast. The bar has been around for more than 20 years, and has survived cyclones and tsunamis.
East of Tisa's, along the two-lane road that hugs the coastline, is a small boat harbor at Auasi. We hopped a small fishing boat over to the island of Aunu'u. It's a small, car-free island with one village and a broken and rusting shipwreck on a beach.
The tsunami of 2009
Exactly three months after our visit, on Sept. 29, 2009, a magnitude-8.1 earthquake off the coast generated a tsunami that roared into Pago Pago Harbor. A pharmacy technician we met during our stay said she was on her way to work when the waves struck. The water hit her car and pushed it into an alley near a house, where she was able to get out and race up the mountain and out of harm's way. Others weren't so lucky. The tsunami killed 34 people in the territory and caused millions of dollars in damage.