Arnos Vale Cemetery, Bristol, England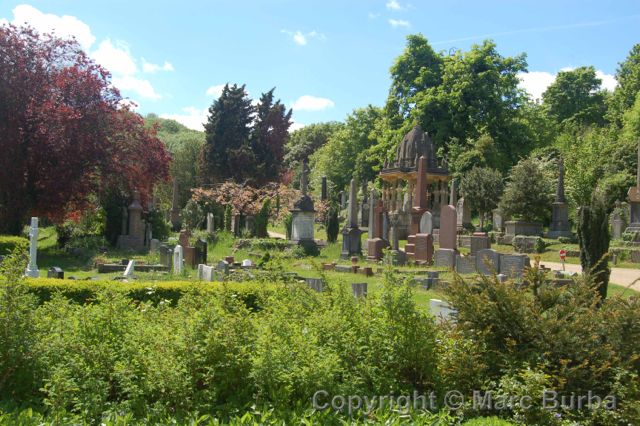 I wasn't impressed with Arnos Vale Cemetery at first.
Interesting monuments to Bristol notables towered over its central garden, on both sides of a circular path called the Ceremonial Way, but the place looked overgrown. It was a hodgepodge of … well, everything. Trees of different species, heights, and leaf colors competed for attention. Varieties of plants, bushes, and flowers grew unchecked and untrimmed. Even the graves themselves were a strange mix of headstones, slabs, and monuments of different sizes, colors, and compositions. It was chaos.
Still, TripAdvisor had ranked this place as one of the city's top sites. And I generally love wandering around old cemeteries. There had to be something more to it.
I ventured farther in along Ceremonial Way, and noticed that some of the graves weren't just overgrown — they were overwhelmed. Some markers, even this close to the main entrance, had been consumed by grasses and ivy to the point that they were barely visible through the greenery. This even as nearby graves were immaculately tended. So weird. What's going on?
I veered off the main circle to a smaller path that led up a hillside (the cemetery grounds have the shape of an amphitheater). I was on the left side, heading into darker woodlands that kept the path in deep shadow. I spotted more graves, their headstones protruding from thick undergrowth. Ivy had enveloped many of them, leaving only a few words readable — sometimes just a name, or a date from the 1800s. Row upon row of carved slabs that probably once were evenly placed now tilted at odd angles, like some were being swallowed into graves while others were being thrust up.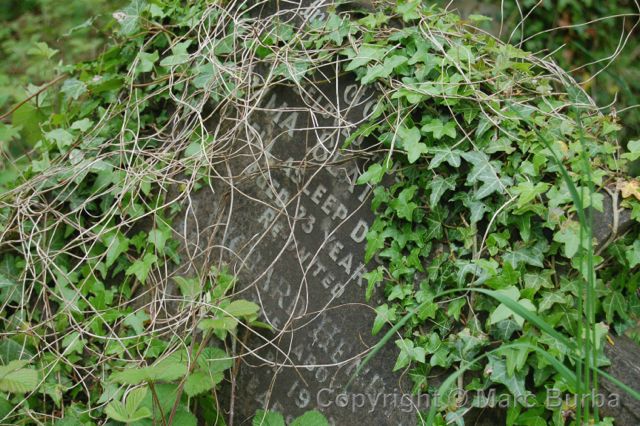 And on and on it went. Paths became narrower and more uneven, with roots ready to trip anyone not paying attention. Entire sections were overgrown and inaccessible — even the sure-footed could not navigate the tangles of growth to reach interior graves. And some of those had subsided.
But it wasn't chaos anymore — it was all hauntingly beautiful. Daylight filtered through the trees and birds sang. The tilted stones and crosses had become natural sculptures, still keeping their shapes but covered in moss and wrapped with vines. Wildflowers bloomed.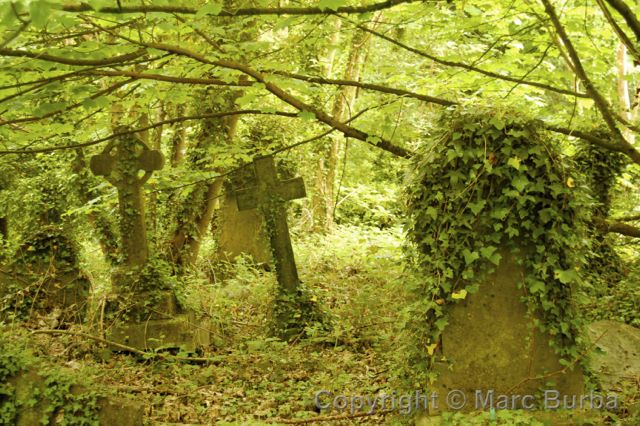 What had happened here?
Thanks to a small museum on site, guidebooks, and helpful staff and volunteers, I found out.
Arnos Vale opened in 1839 on land that was once part of an estate and that had housed an asylum. Bristol's churchyards had filled up, and large, suburban cemeteries were coming into fashion. Arnos Vale's design of bright gardens was inspired by ancient Greece and Rome. Two lodges were built at the main gate — one for offices and the other for a caretaker's residence. Two chapels were built around Ceremonial Way — one for Church of England members, the other for Nonconformists.
In the Victorian era of the later 1800s, wealthy families erected elaborate monuments to their loved ones. A photo from nearly a century ago shows the hillside covered in monuments — but few trees.
Arnos Vale grew to 45 acres in the 20th century. The dead from two world wars are buried here. Bombs even fell here during the Blitz of World War II.
Also in the 20th century, cremations became more accepted. A crematorium was built on the grounds in 1928 — the first in Southwest England. Over the next 70 years, more than 124,000 people were cremated here. This helped business, because the site had become nearly full. A columbarium was built to house ashes, and those with family plots could have ashes interred in them. This is why many gravestones list entire families: graves were able to accommodate several generations.
By the late 1990s, more than 50,000 graves and monuments were here for more than 300,000 people. The cemetery's popularity contributed to its downfall. Flowers and plants placed on graves spread seeds that took root. Ash and sycamore trees grew out of control on the hillside, and vegetation took over. Nature's grip on the land became relentless.
With profits from burials diminishing, there wasn't enough money anymore to care for the grounds, now in the hands of a private owner. The crematorium lost its license in 1998, shutting off the main income source. The owner began looking into selling the land for development, and announced that he was closing the cemetery and locking its gates.
That started a community outcry: an organization formed to preserve Arnos Vale, marching and encouraging the city to take action. The Bristol City Council in 2001 issued a compulsory purchase order and fought a legal battle to acquire it. The Armos Vale Cemetery Trust took over management, and secured money from the Heritage Lottery Fund to restore it. The "Arnos Vale Army" had won.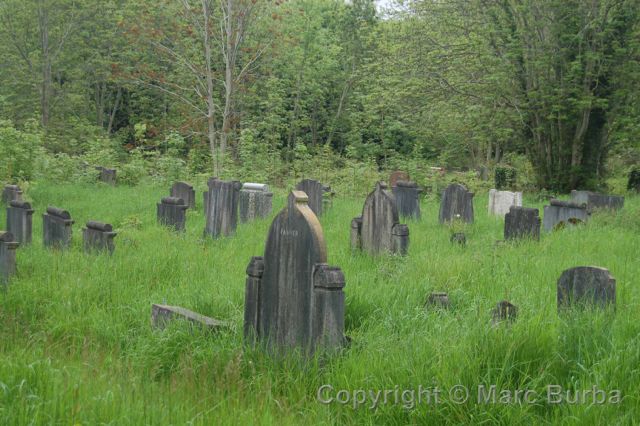 Decades of neglect could not be undone quickly. Many graves and tombs had been damaged or destroyed by trees and root systems. The plan today is not to remove this wilderness, but to manage it. The crematorium chapel was demolished, but original buildings are being restored. The original Victorian landscape will emerge in some places. Invasive and diseased trees are being removed, letting in more light for grass and wildflowers. Paths have been upgraded, but some sections likely will be left as they are.
It is reinventing itself, too, to draw in the community. A café has opened on site. It hosts picnics, yoga, concerts, runs, wildlife and history tours, night tours — even wedding ceremonies in the restored chapels. People come to walk, run, push their babies in strollers, and play with their dogs.
I end up completely losing track of time as I explore long-forgotten, hidden paths and read the detailed lettering on old markers. I talk at length with staff to find out more about the place's history. It's sad to think that all these people, no matter their prominence when they were alive, were all but forgotten for decades. But now they have become part of something larger: a place that is once again alive and thriving.
'Being Human'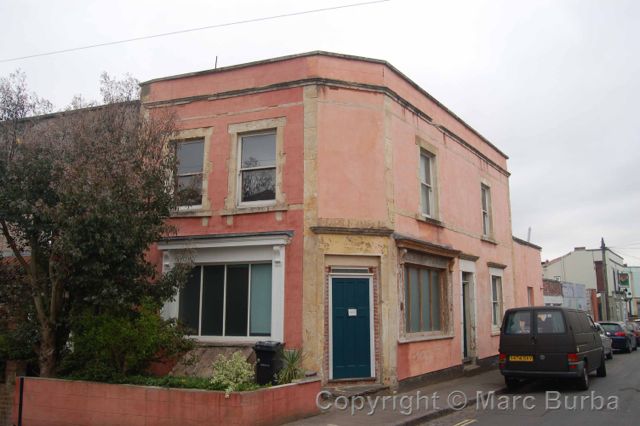 The reason I stopped in Bristol in the first place? To see the main locations from the BBC Three series "Being Human," about a ghost, a vampire, and a werewolf living together and fighting evil. Its five seasons were broadcast on BBC America as well. The pink building was the home of Annie, Mitchell, and George during the show's first two seasons (they moved to Wales in Season 3). The New Found Out, at the other end of the block on Henry Street, was a prominent location in Season 2. Much of the show's first two seasons were filmed in and around the Windsor Terrace neighborhood, which is less than a mile from Arnos Vale.